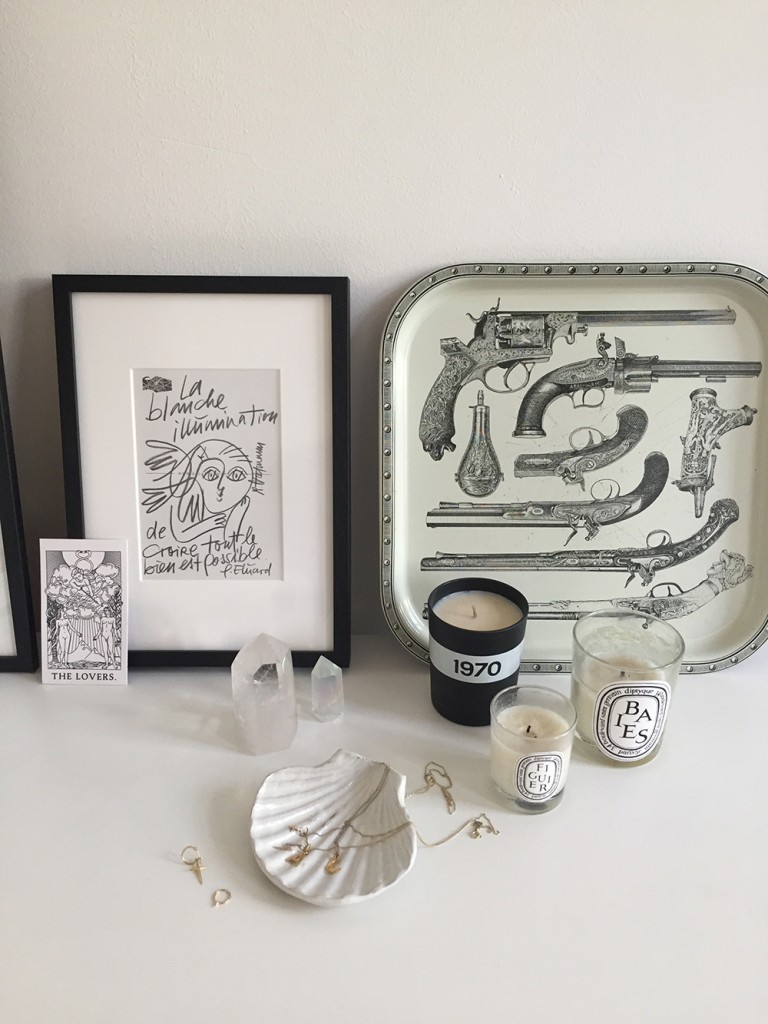 What a crazy year this has been – and suddenly it is December and it's coming to an end. While I am already looking forward to my Christmas holiday I'd still like to look back on things that brightened up the grey November.
BLACK AND WHITE INTERIOR TREASURES
The very talented artist and illustrator Ralf Nietmann drew this Picasso-inspired postcard and gave it to me as a gift. It will always remind me to stay optimistic whenever I look at it.
The vintage Fornasetti tray I found in an antique shop in Hamburg. I think it had been waiting for me. The candles are by Diptyque and Bella Freud; and the ceramic shell is by Frances Castelloe.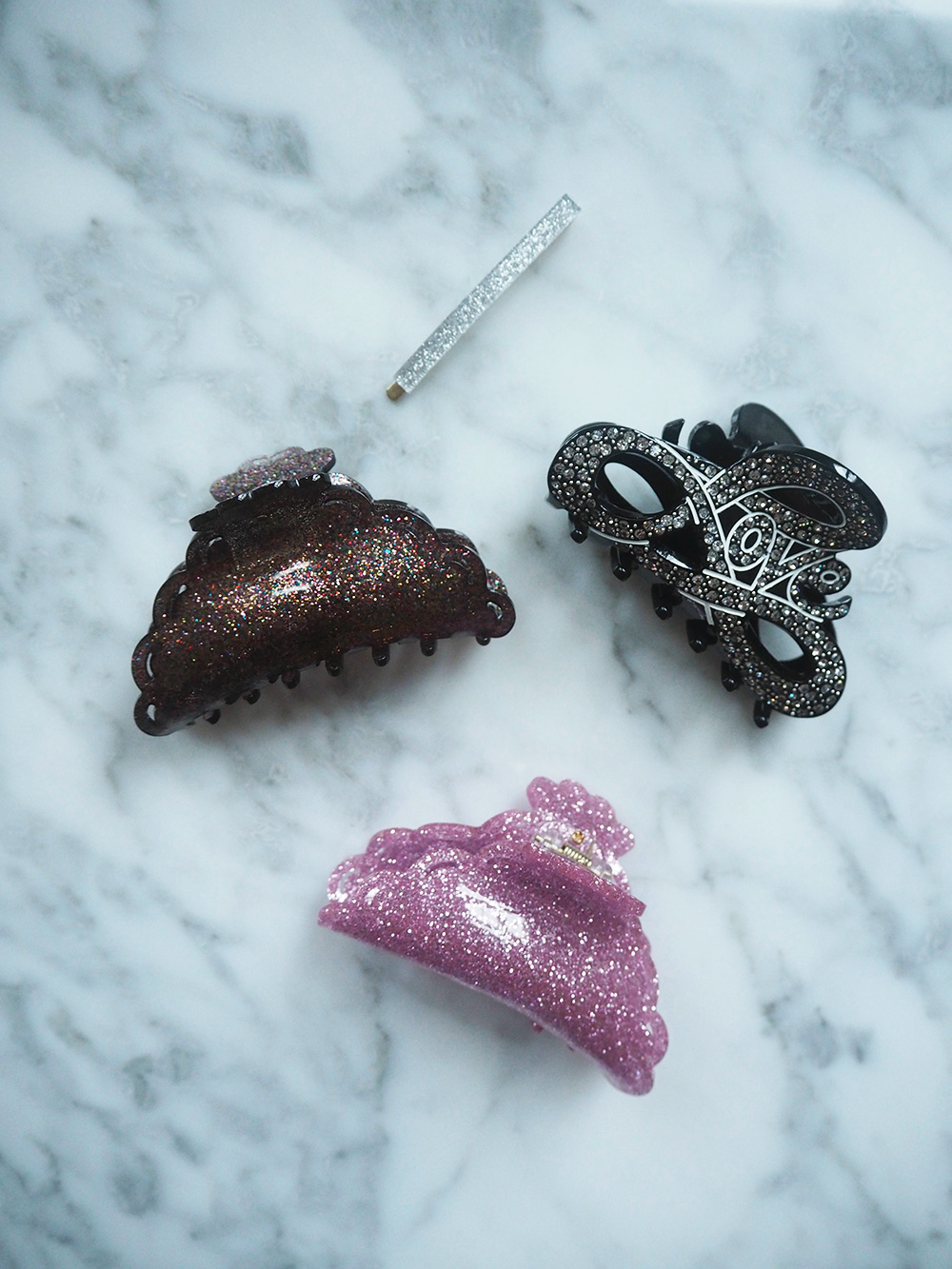 HAIR CLIPS
This Copenhagen trend got me all of a sudden! Glitter hair clips by Pico (via Hello Love and Mili Store) and "Love" clip by Pico for Edited.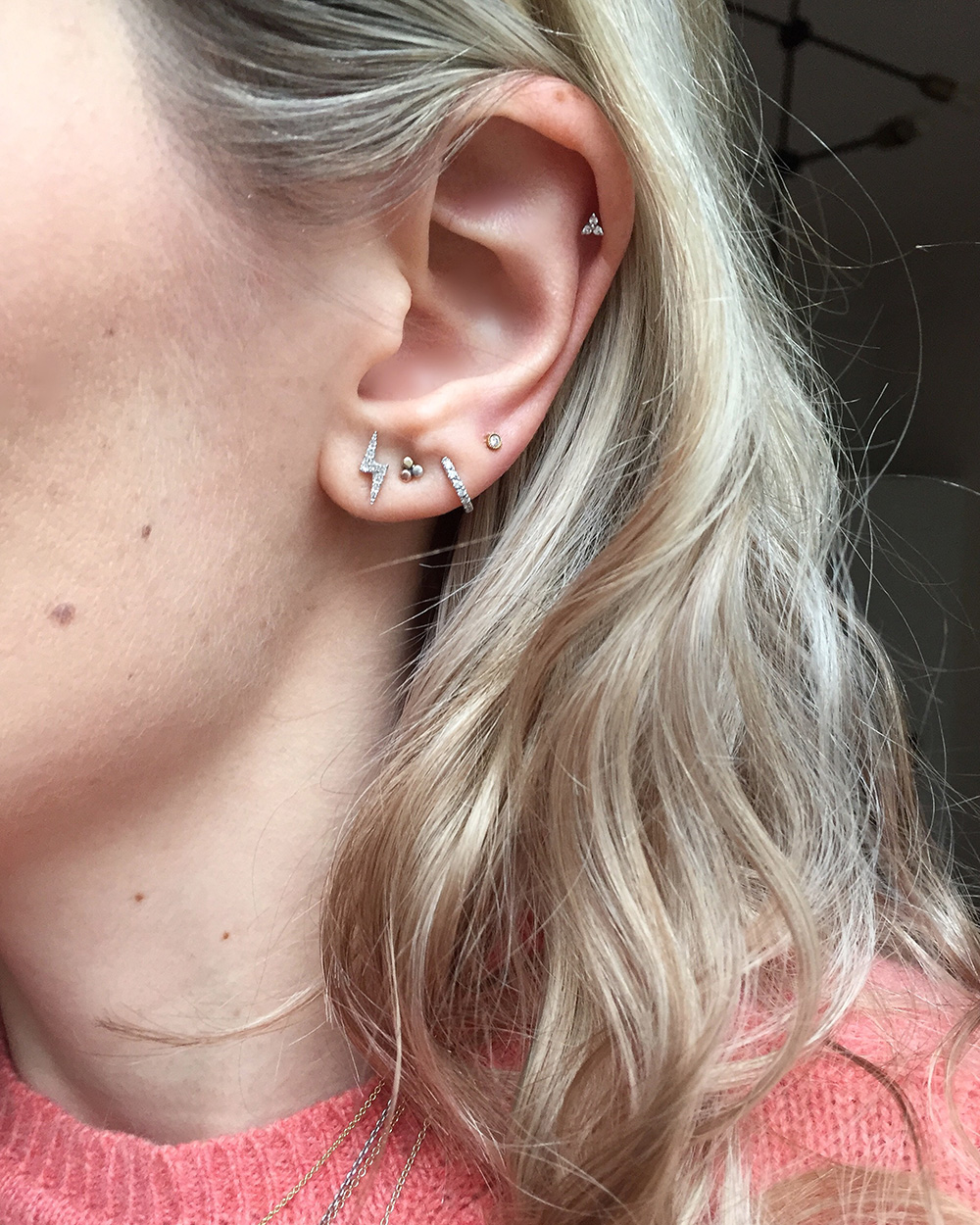 NEW PIERCING AND JEWELLERY
When having the pleasure to host Hamburg's first "Fine Piercing Party" together with Anita Hass and Juuls Juuls I also got a new piercing myself! Thank you, Juuls Juuls!
The little diamond stud is by Maria Tash (just like the triple diamond stud), the new diamond hoop is by The Last Line (similar here).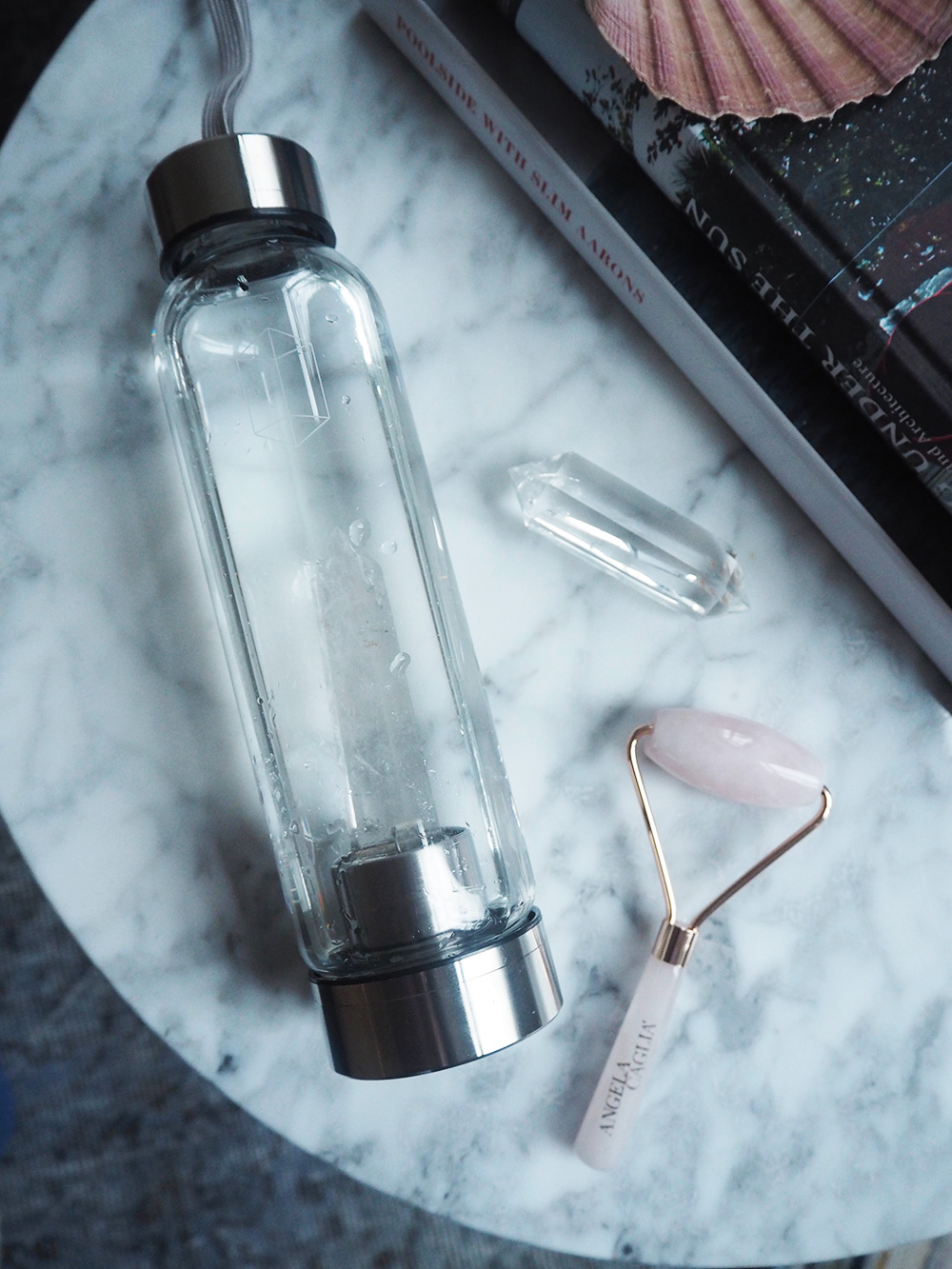 CRYSTAL TOOLS
My quartz and crystal obsession was elevated to a whole new level with this quartz water bottle (via Soul Zen), which I absolutely love and which is a daily reminder to keep my thoughts clear (and which hopefully gives me energy as well – at least that is what quartz is said to do).
My favourite beauty tool at the moment is this rose quartz face roller (via Niche Beauty), which is not only very beautiful but also the most relaxing and wonderful thing in the morning! I keep it in the fridge for an extra refreshing face massage. I am obsessed!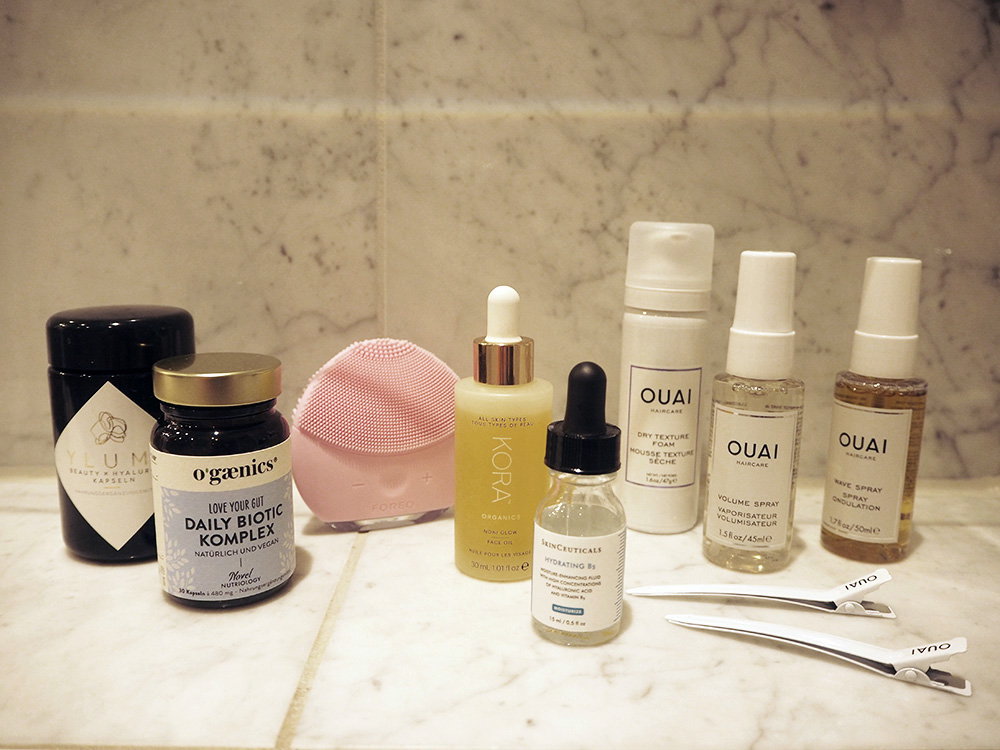 BEAUTY FAVOURITES
And speaking of beauty … I had been wanting to try the Foreo face brushes for a while – and ever since I used the Foreo "Luna Mini 2″ for the first time I understand why so many people love this brand. My skin just feels so much cleaner and smoother after I have used the face brush.
Two other discoveries I made: the "Noni Glow" face oil by Kora Organics (via Douglas) and Skinceutical's "Hydrating B5″ serum (I basically love all their serums!).
I have also been taking two new "inner beauty" supplements: "Daily Biotic Complex" by Ogaenics and "Beauty x Hyaluron" by Ylumi.
Something else that made me very happy: one of my favourite hair care brands ever, Ouai, has created a travel set which contains three of their best products: "Dry Texture Foam", "Volume Spray" and "Wave Spray" – and it also includes several hair clips to create wavy hair! You can shop it via Niche Beauty.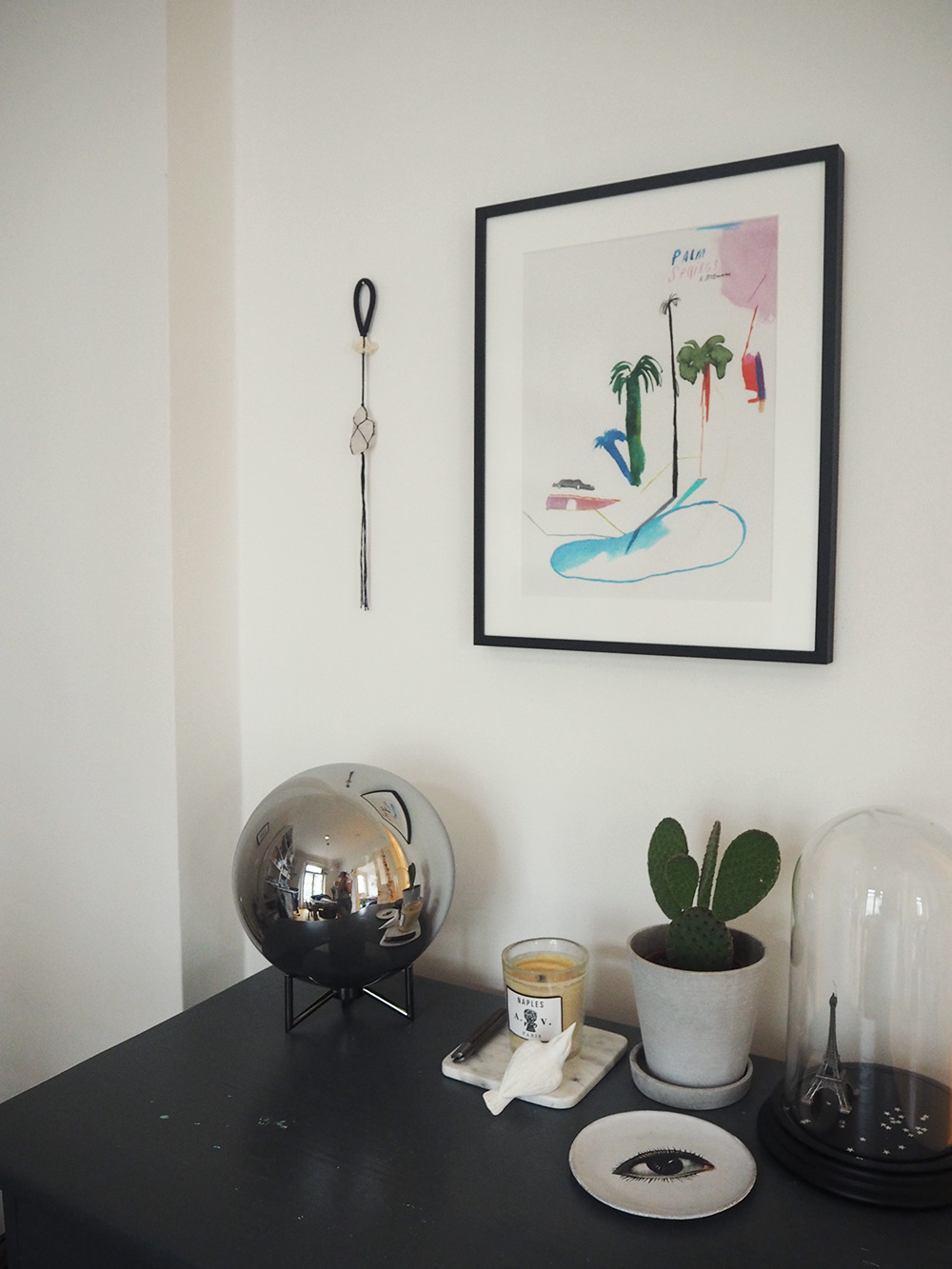 "PALM SPRINGS" BY RALF NIETMANN
I have changed a few things about my home: a new rug, new pictures, … and some other little things that help to give my apartment a fresh look.My favourite new additions are the artworks by Ralf Nietmann (you have seen the other one above). This one is called "Palm Springs" – and I am always on board with California dreaming …
– Advertisement: this post includes press samples and affiliate links –