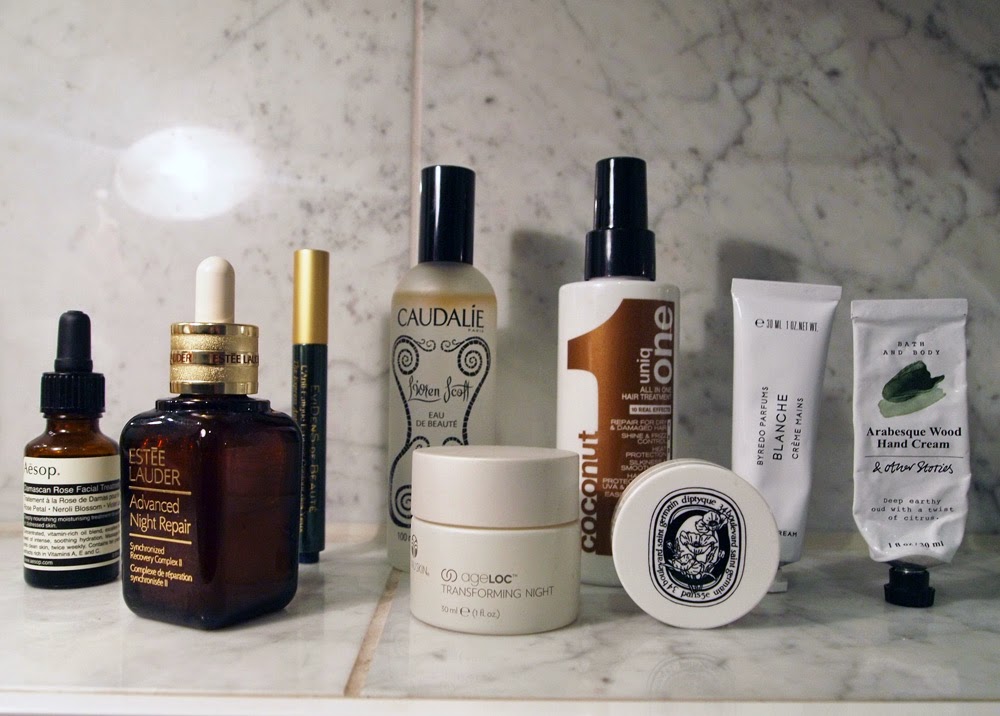 I love trying new beauty products and I must admit I rarely stay true to cosmetic brands (I always fall for new promises as well as textures and scents). But there are some products which have made it onto my winter beauty toplist and which I will definitely buy again once they're used up. Of course I need to share these with you.
From left to right (first photo): Aesop's "Damascan Rose Facial Treatment" (I do not use this every day, but only when my skin feels particularly dry). Estée Lauder's famous "Advanced Night Repair Serum" (I use it every night before my night cream). "The Express Anti-Fatigue Eye Contour Solution" by Evidens de Beauté (this is basically an eye treatment in a pen, which I apply whenever the contours of my eyes feel like they need some extra love). Caudalie's "Beauty Elixir" facial spray (refreshing and highly addictive). "Ageloc Transforming night" by Nu Skin (I like how this night cream makes my skin feel, plus it's neither too heavy nor too light).
Something for the hair: Revlon's "Uniq One Coconut Treatment" (a leave-in treatment I use after washing my hair. If you love coconut you have to get this!).
Lip balm by Diptyque Paris (I use this before I go to bed). Two hand creams because they are equally great (both in textures as in scents): Byredo's "Blanche" (I love love love this scent and I am so happy I can now get it not only as perfume but as hand cream, body wash, body lotion, …), and "Arabesque wood" by & other stories.
Click on the images to see them larger.