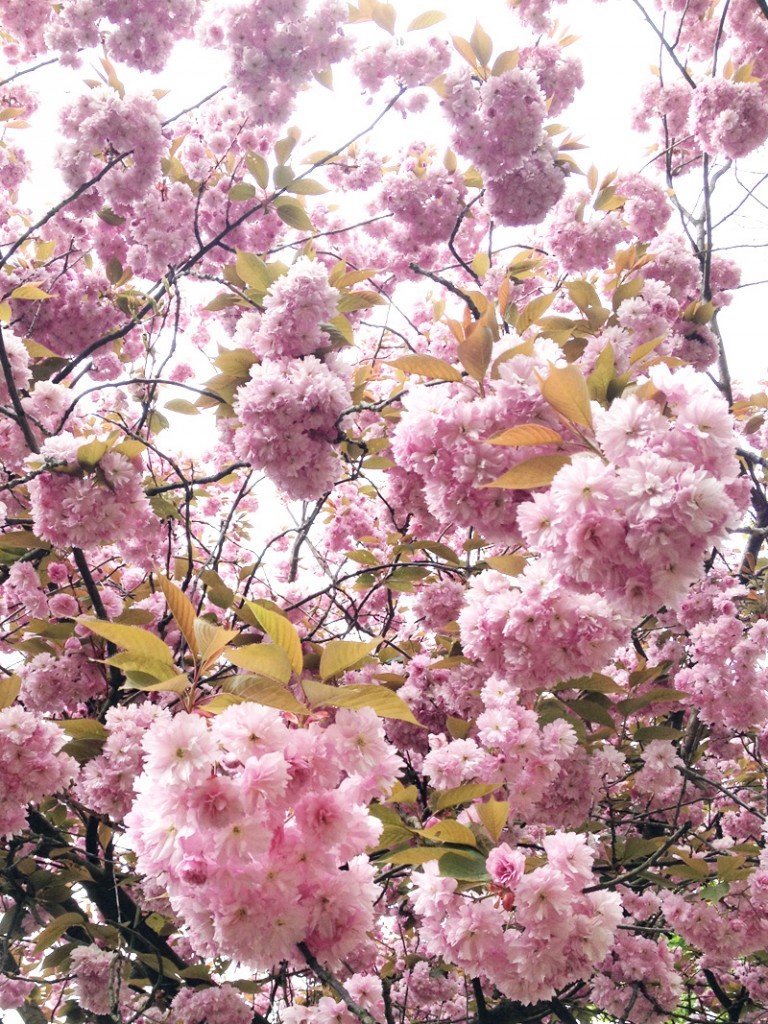 I am sorry there is so little going on here at the moment. I promise this will change very soon (the blog's relaunch is finally about to happen – stay tuned!). You might think that starting a freelancer career will give you enough time for blogging, but since I do not work as a fulltime-blogger my jobs keep me pretty busy. And there is, of course, another reason why I do not have much free time to blog. If you follow me on Instagram you will have read about it (wink wink).
But let's start with my favourite things in May!
1. CHERRY BLOSSOMS IN FULL BLOOM
Number one will have to be the abundance of blossoms you can see everywhere now that spring is in full bloom and it isn't very long (we hope) until summer. Every year I am newly gobsmacked and captivated by the fluffy pink and white wonders the trees turn into. I am sad to see them go – but then again this means we're moving towards summer.
2. FEMTASTICS
Here's the reason why I have been neglecting this blog a little bit lately: I am starting a new digital magazine together with two friends/colleagues. It is called Femtastics and it is due to launch on Monday! Naturally, we are super excited, a little nervous and very busy right now. Please follow us on Instagram and make sure to visit our website on Monday!
3. TINY TRI-COLOURED EAR STUD
You know I am the worst magpie and an ardent jewellery collector. This tiny three-dot-ear-stud is just perfect because it goes so well with my other ear studs – and it's so minimalist and cool. It was made by Stefanie Sheehan, a jewellery designer from New York.
4. MENORCA SANDALS
I wear my Espadrilles as soon as the sun puts in an appearance and the temperatures rise above 15 degrees, because they remind me of holidays in France and Italy and bring a little bit of that "La dolce vita" feeling into everyday life. And these Menorca sandals do the same, while providing a sole that's a bit thicker and more suited for asphaltic roads. I love the classic version by Avarcaria. These Avarcas are handmade by the Spanish family-owned company RIA and the soles are made from recycled tires.
5. DELICIOUSLY ELLA'S HEALTHY GRANOLA
I am a big fan of Ella's blog and pre-ordered her cookbook as soon as I read about it. I love experimenting with vegan, clean eating recipes and I soon got hooked on Ella's healthy granola. I have re-made it several times since I got the book and I eat it almost every morning with my oats, chia seeds and fruit. You have to try it!
6. NEW SAME OLD SAME OLD
No matter how much fun it is to play around with new trends, shapes and materials, there are some items which will always stay in your wardrobe and make you feel comfortable. I own five or six Breton shirts and never tire of wearing them. I know that this striped T-Shirt by Cake and Tee will become a new wardrobe staple (did you notice the little print that says "Hello"?).
7. BEAUTIFUL TOOTHPASTE
I always fall for products that make my bathroom/kitchen/office look prettier (good packaging design  is definitely a sales argument for me). I love that the design of Couto toothpaste still resembles its original look from 1932. But why change something if it's so successful and convincing?
8. MINI MAPLE TREE
I wish I lived closer to my parents' garden and the woods. Whenever I visit them I cannot wait to see the garden and go for a run or bike tour around the forest. Of course a backyard garden or balcony in the city can never be a substitute, but it still makes me happy to have miniature trees like this little maple tree on my balcony.