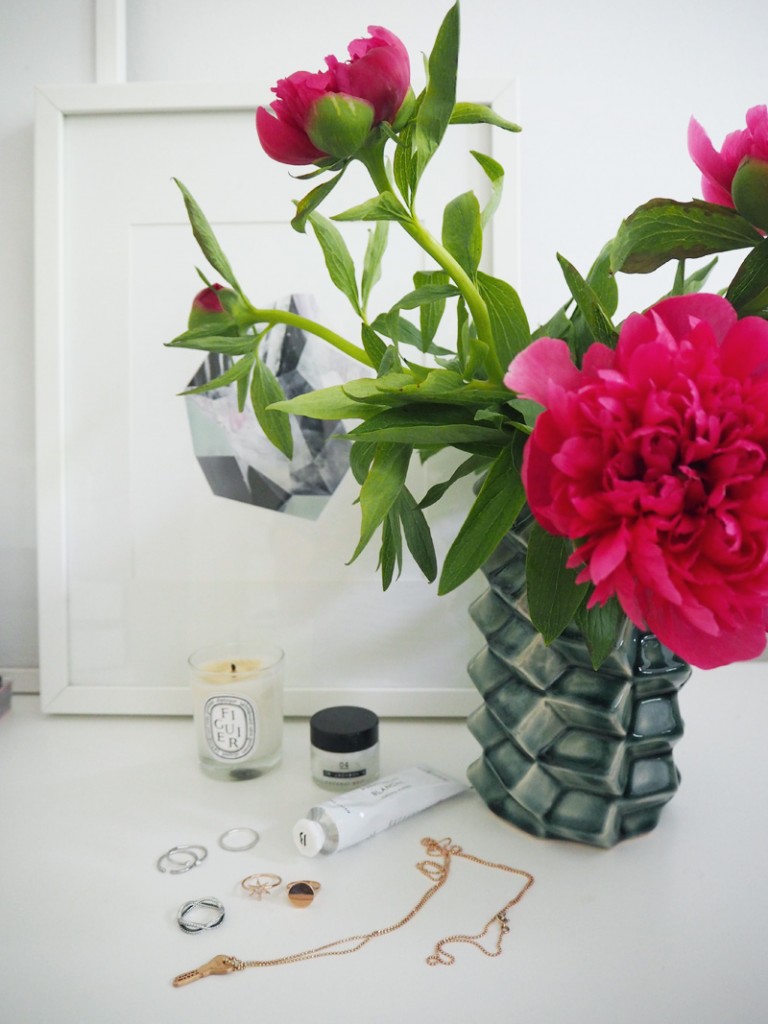 May has brought us some very hot days that truly felt like summer and I did my best to use them well. I went sailing with my family, ate a lot of ice cream, sat outside at night, drank rosé and had BBQs, I bought peonies and strawberries, grew herbs on our balcony, … it was wonderful – and it helped me to overlook the colder, rainy days that we currently have to endure. June is around the corner (birthday month!) and I'm sure summer will return soon. Here are some things that made and make me happy in May: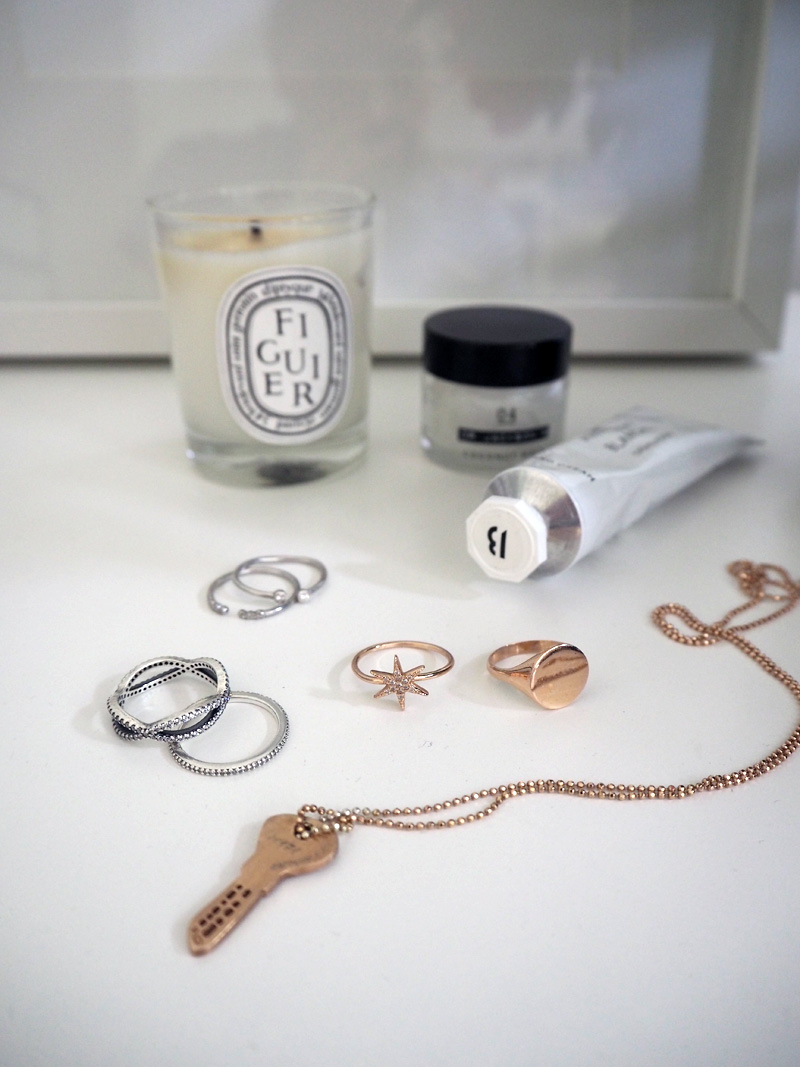 1. TWINKLE TWINKLE
I usually wear several bracelets, layers of necklaces and stacks of rings every day – and my favourite combo changes every few days to weeks. This month, the piece that I added to my collection was the "life lines" ring by Pandora, a very unique ring with tiny, glittering stones speaking to the magpie in me. I love to wear it with my diamond band by Monica Vinader and my dot rings by Stine A. The other pieces you can see above are: star ring by Shashi, signet ring by Maria Black, key necklace by Carolina Bucci.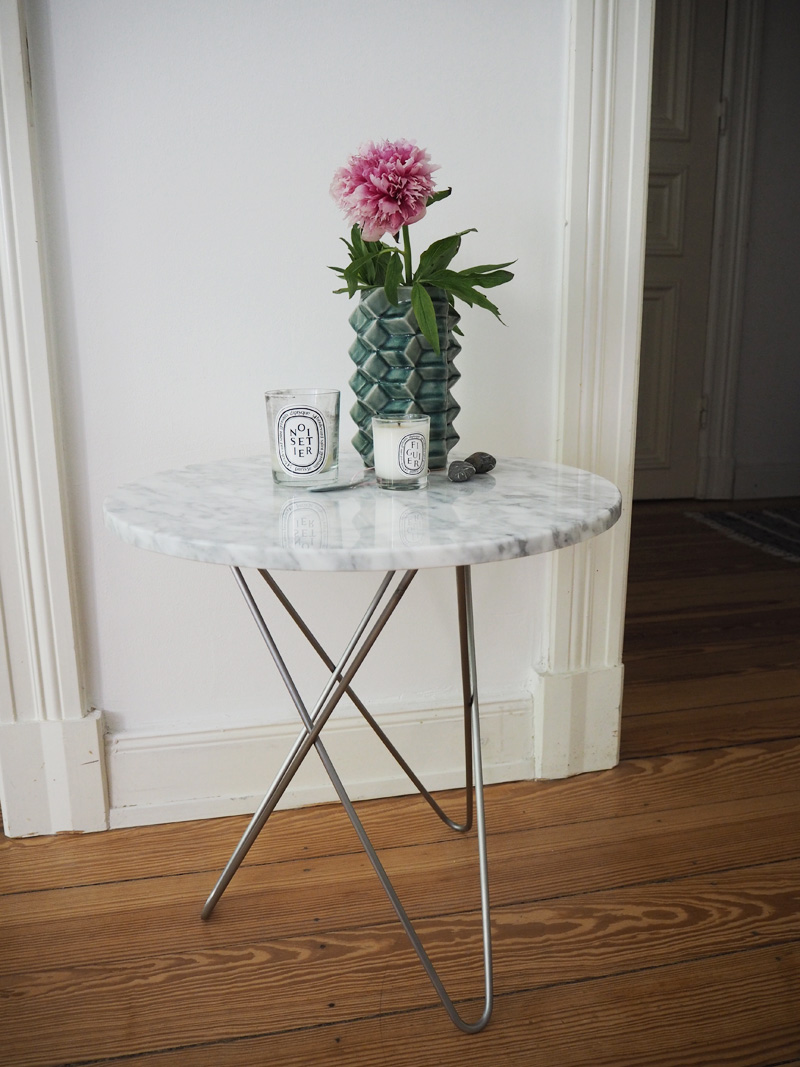 2. MINI O TABLE
I don't know how many times I have admired this table in Danish furniture shops and Scandinavian interior design blogs … Now the Mini O Table by Ox Denmarq is finally mine! It is an early birthday present and I am super happy. I actually love all versions of the O Table (green marble with brass table legs looks amazing, too!) but I chose the Tall Mini O Table in white Carrara marble with stainless steel table legs. Isn't it chic? I know that it will stay with me forever.
3. FACE MASKS
I try to apply a face mask once a week (usually Sunday night is when I remember it) and I have discovered some new favourites. When my skin looks a little dry and dull I use the Hyaluronic Intensive Treatment Mask by Magicstripes. It's a little unsual because it's a moist cotton mask that you put on your face but it actually works wonders. I also love Dermalogica's Skin Hydrating Booster, which is like a serum that smoothes and refreshes your skin. On days when my skin feels a little out of balance I like to use a charcoal cleansing mask. Both Dermalogica's Charcoal Rescue Mask and Origin's Clear Improvement are great for clearing your pores and restoring a fresh, glowing teint. I prepare my skin with a warm, wet face towel to open the pores before applying the masks. Almost feels like a visit to the spa.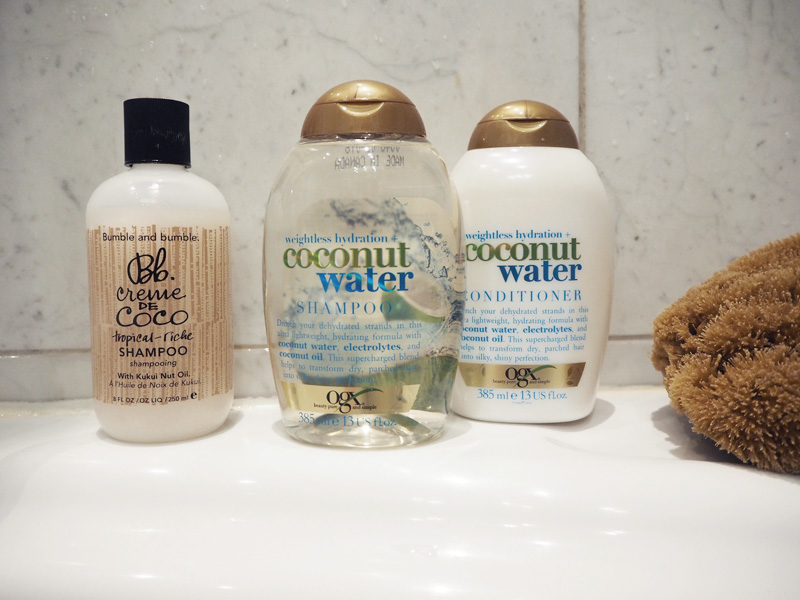 4. COCONUT SHAMPOO
 And talking of cosmetics … I think I've told you before how much I love the scent of coconut (I've raved about "Coccobello" by Heeley and Mermaid Hair here) and lately I have accumlated a little collection of coconut scented shampoos. "Creme de Coco" by Bumble & Bumble doesn't just smell really good it also gives my hair a very nice, smooth feeling and makes it easier to comb after washing it. And a few days ago, during a visit to the drug store, I noticed the "Coconut Water" shampoo and conditioner by ogx and couldn't walk past. Both bottles immediately landed in my shopping basket. I am eager to try them out and I'll let you know how I like them.
5. STRAWBERRY SEASON
Here's something quite simple but absolutely wonderful I love about the month of May: it's the beginning of strawberry season. Of course you can buy them all year round, if you must – but seasonal, locally grown strawberries are the best, no doubt about it. It always makes me happy when the strawberry stalls of local farmers pop up in the streets – they're like marks of the beginning of summer – and I'll have strawberries for breakfast, strawberry cake in the afternoon and strawberry punch in the evening.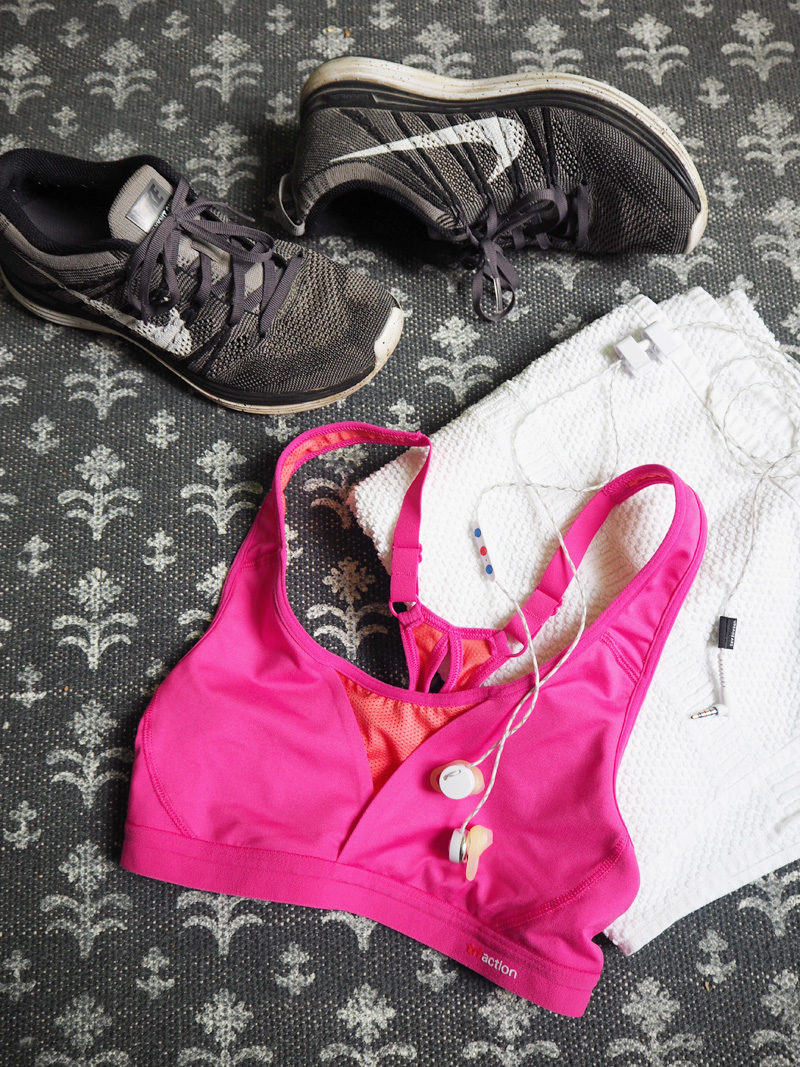 6. OUTDOOR RUNS
 While my fitness routine mostly involved indoor workouts during winter and spring, this month I have rediscovered my love for running outside. Nothing relaxes like a long run around the woods, water or parks when you come home all sweaty, exhausted and happy. And thanks to Urbanears I now have the right headphones for the task (don't you hate it when your headphones fall out of your ears while you work out?). "Reimers" fit into your ear perfectly (and stay there), the cable is reflective so you're safe when you run in the dark, and with its included microphone and remote control you can even take calls while running (if you'd let someone disturb your running high).
The sports bra in the photo is by Triaction – a brand I discovered at a press event. I love it because it's so comfortable, you don't feel it at all, while at the same time it gives ultimate support.