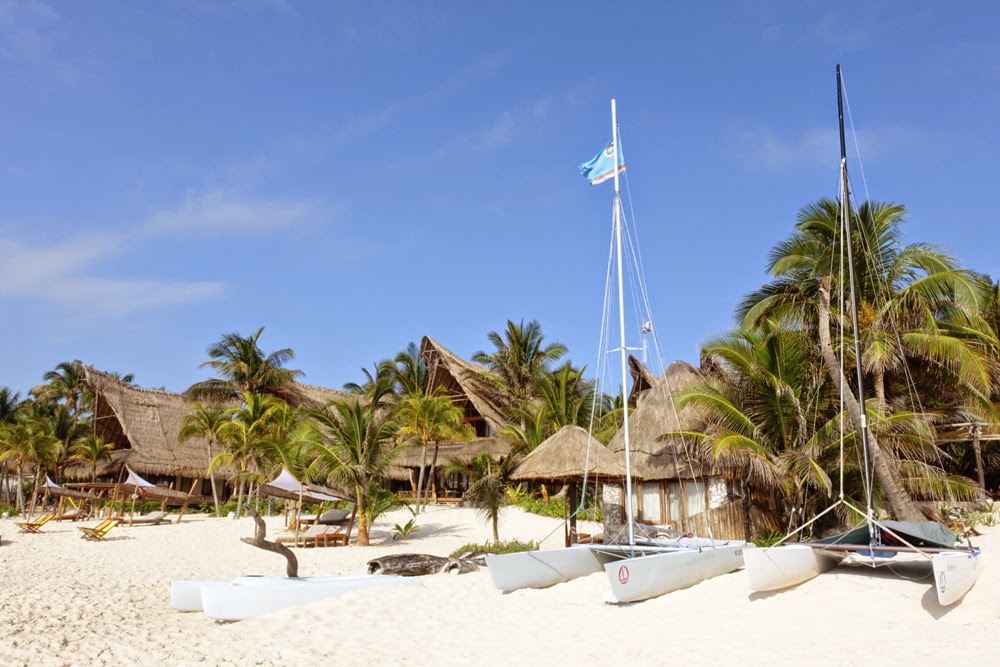 In the first part of my travel diary about Tulúm I shared some general information and advice about what to see and do in the area. As I promised, this second part will deal with hotels and restaurants. I will let you know where we stayed – four different hotels in total – and which ones among the many places to eat and drink you can find in Tulúm were our favourites.
As I have already said, even the most beautiful hotels in Tulúm will have their "rustic" sides, meaning mosquitos, little geckos in the bathroom, possibly sea water from the shower and maybe not 24 hours of electricity. But none of these things lessened how happy we felt on this beautiful stretch of the Caribbean coast.
Our beautiful ocean view Casita at Papaya Playa Project.
Papaya Playa Project spreading good vibes.
After-Yoga breakfast at Papaya Playa Project.
Dinner at Tulúm's most famous restaurant: Hartwood (in the photos: our appetizer, a crunchy salad, and dessert, lemon cheesecake).
Mezcal Cocktails (and later dinner) at Gitano. I am wearing a tunic by Caroline Blomst for Esprit, sandals by EMU and handmade clutch (made by my mother).
Relaxing at Hemingway.
Posada Margherita – equally gorgeous during the day as at night.
Bikini Bootcamp at Amansala Resort.
Mexican lunch at Tacolum.
Perfectly happy at beautiful Casa Violeta.
The jungle shower in our beach front cabana.
Breakfast at Casa Violeta: whole grain pancakes with cacao nibs and chia.
Amazing dresses and accessories at Casa Violeta's boutique.
Dresses in the above photos: borrowed from Casa Violeta's boutique.
Where we stayed:
Where to eat and drink:
Of course there are a lot more places to discover in Tulúm, this was just a little collection of my favorite places. I hope you've enjoyed it.
All photos taken by myself with the Sony RX100 III Cybershot (or my iPhone).