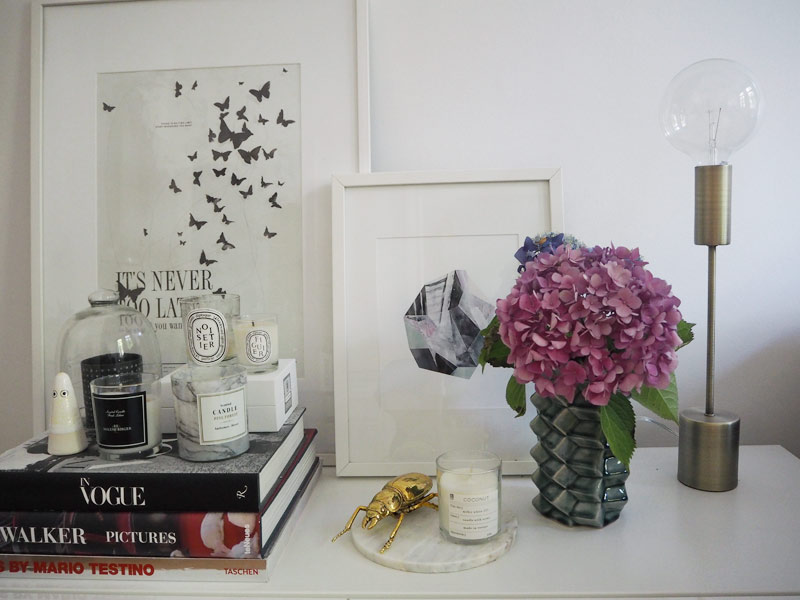 I am still trying to cope with the fact that it's August already … Why is this year running so fast? July practically flew by and I skipped my "favourite things of the month" post. That said, I'm even prouder that I managed to shoot it this month. So without further ado, here we go: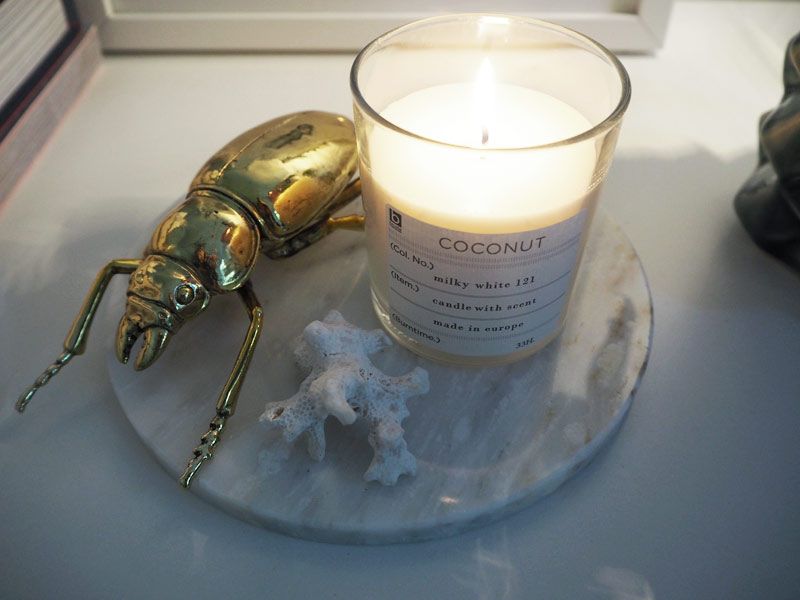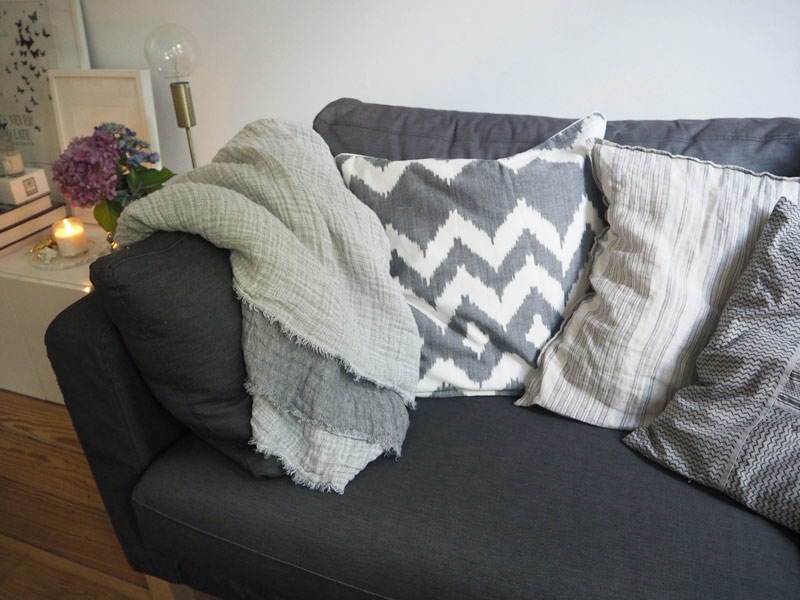 1. NEW LIVING ROOM DECOR
I love how a few little things can lighten and freshen up your home – a new lamp, pillow, plant or other accessories. This month I went a little crazy at Westwingnow and got a brass lamp, pillow case, coconut candle (as you might know, I LOVE anything coconut), and marble plate (I could spend hours browsing their web shop, there's just so much to discover). The golden bug is from Minimarkt (currently they only have ants available) and has found its place on the plate.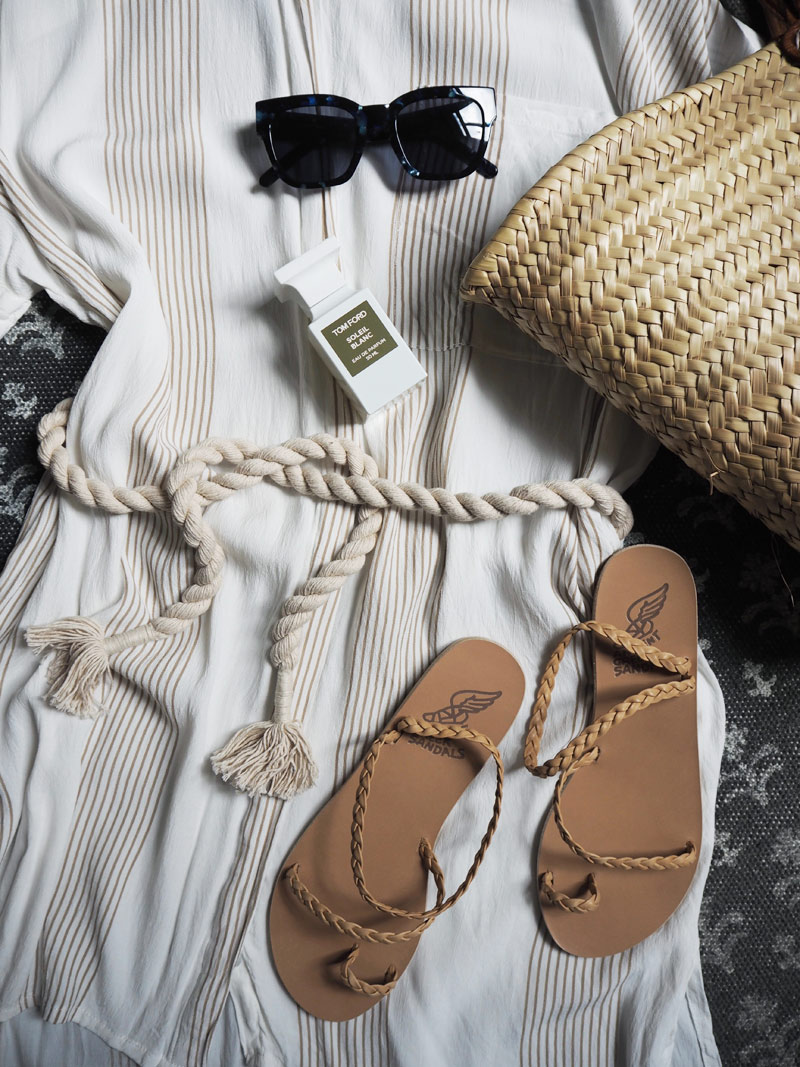 2. HOLIDAY PIECES
 Beach clothes, scents and summer shoes are a recurring subject in these posts. It seems I constantly buy pieces that I plan to wear in warmer places (as if I went on holiday every other week …). Anyway, this month I actually have a little trip planned and I will definitely take this dress by Faithfull (I think I bought it in April, it has been waiting a long time for this trip), my "Yves" sunnies by Ace & Tate, my new sandals by Ancient Greek Sandals and Tom Ford's "Soleil Blanc", a lovely summer scent which is unusually sweet for my taste in perfumes, but a great mix of Bergamot, Cardamom, Pistachio, Ylang Ylang and Coconut.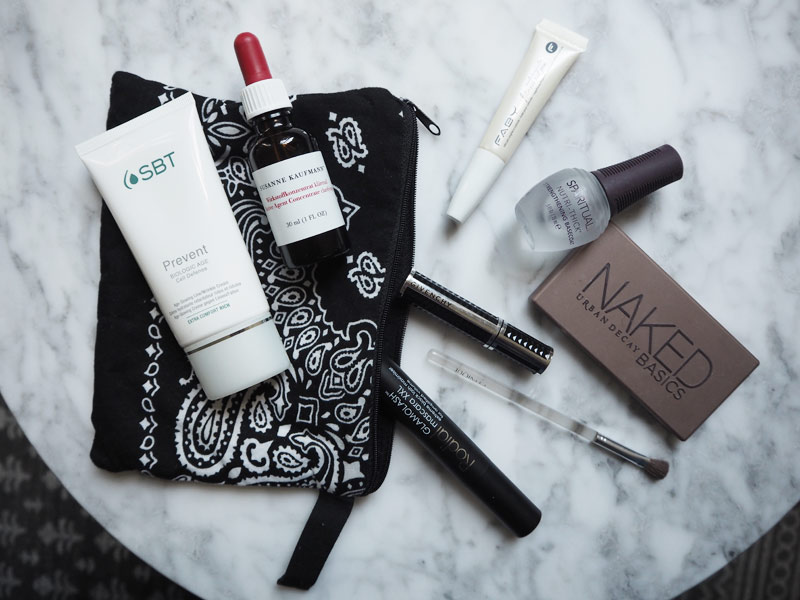 3. NEW BEAUTY FAVOURITES
 Here are some products that I have been usung daily/regularly over the last weeks: clearing serum by Susanne Kaufmann (I feel it calms by skin and helps it find its balance), "Prevent" age-slowing moisturizer by SBT (a great day cream which nourishes the skin without being too rich), "Fitness oil cuticle pen" by Faby (I have been using this every night – it helps to keep it on the bedside table – and my nails are looking so much better!), another nail wonder product: nail hardener by Sparitual (my nails used to break to easily and since I've been applying this nail treatment daily they have improved a lot and definitely gotten stronger). In terms of makeup: I'm always on the lookout for the ideal mascara and Rodial's "Glamolash" mascara is definitely a new favourite! When I'm travelling I'm currently using this sample of Givenchy's "Noir Couture" mascara and it's great, too! And an oldie but goldie: I love Urban Decay's "Naked" eye shadow palette for daytime smokey eyes (I've been using this a lot for wedding makeups). So convenient because you've got all colours you need in one palette – and it look so nice for daytime looks because the colours are matte.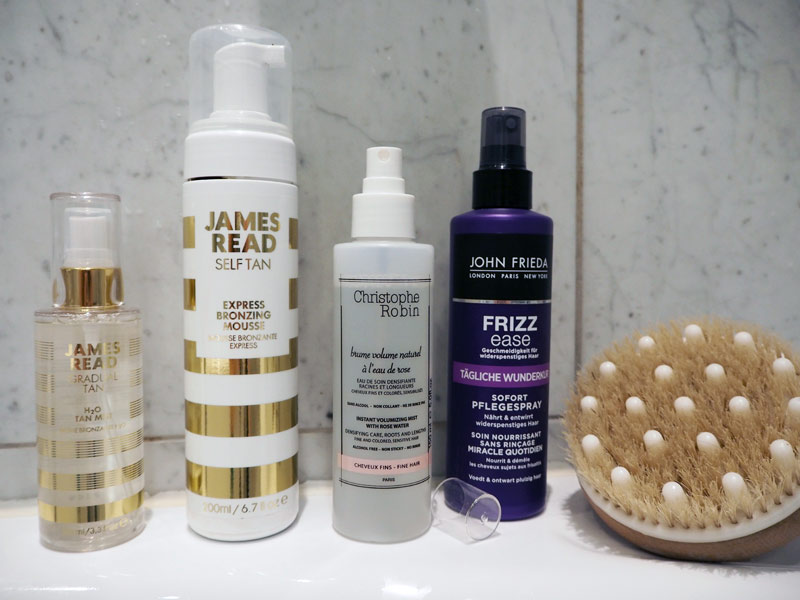 4. TANNING AND HAIRCARE
Niche Beauty kindly sent me some products by James Read to try – and I must say, they work wonders. The bronzing mousse is my favourite: it's pretty easy to apply (use bronzing gloves!) and it gives your skin a natural looking summer glow which lasts about a week. Brilliant! Another recommendation: John Frieda's hair treatment which makes wet hair a lot easier to comb and style (I've bought this for the second time already). Christophe Robin's "Volumizing mist" is something for your hair as well as for your nose – it smeels of rose water and is kind of addictive.