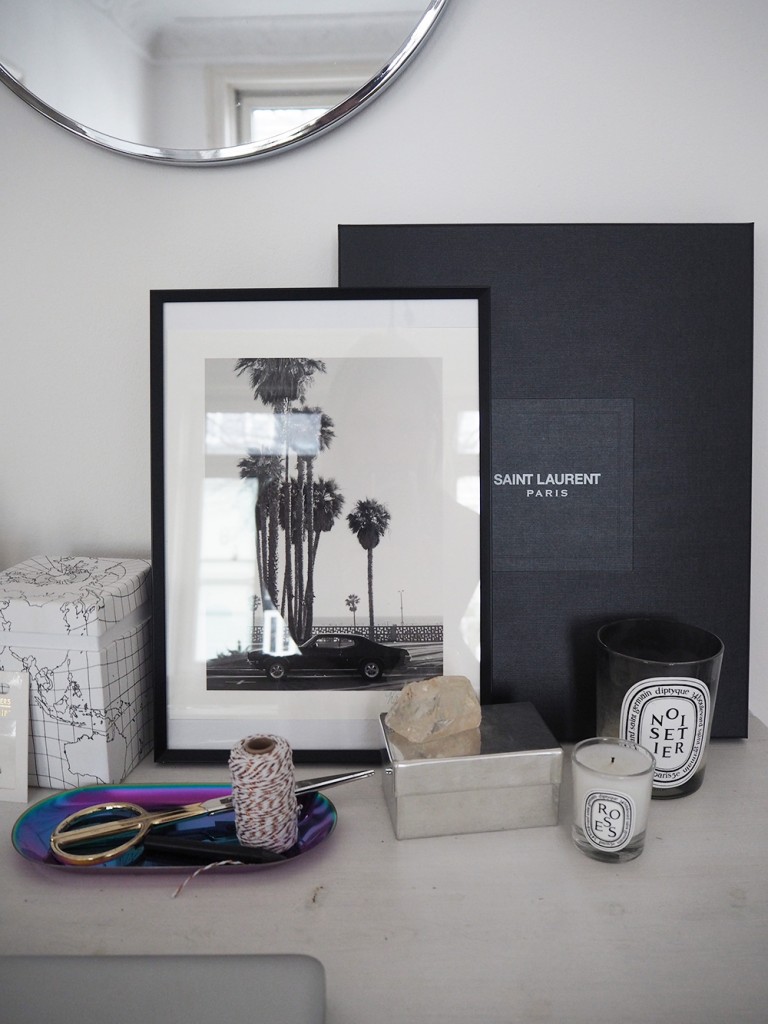 Most days seem annoyingly grey and wet this month (so grey and wet, actually, that I'm currently planning an Italian holiday in a few weeks from now – February is just too much!). No wonder I've concentrated on my home during the past weeks: I've finally gotten the new chairs for our dining room that I have mentioned and I've given my home office a little update with a photography that spreads some L.A. vibes.
1. HOME OFFICE DETAILS
When I saw this print by Kaitlin Rebesco on Minted.com, I knew I had to get it for my home. Yes, it's cliché but I love California palm trees and the photo makes me smile whenever I see it. I also added this rainbow tray by Hay to my desk – the golden scissors were a Christmas gift.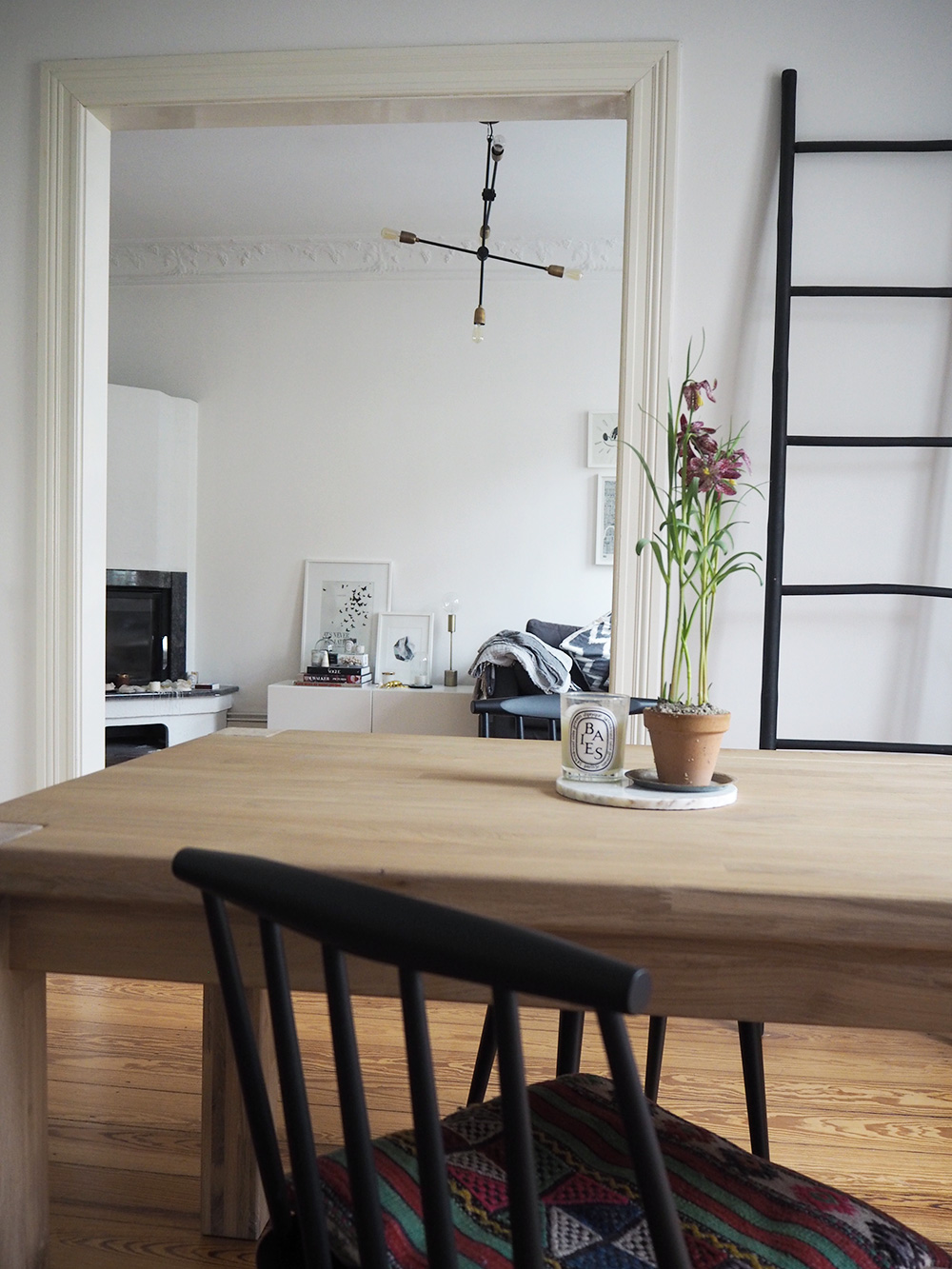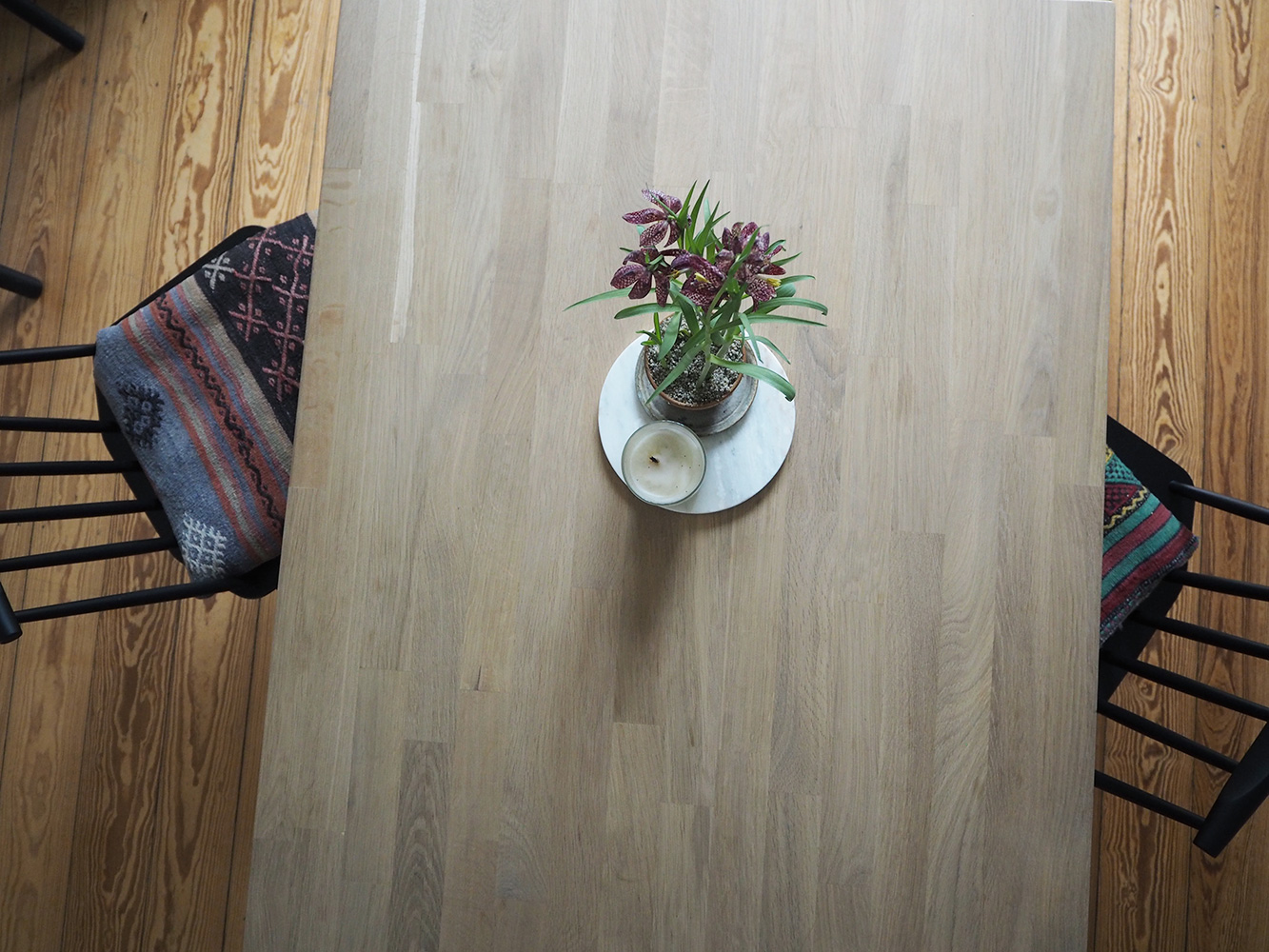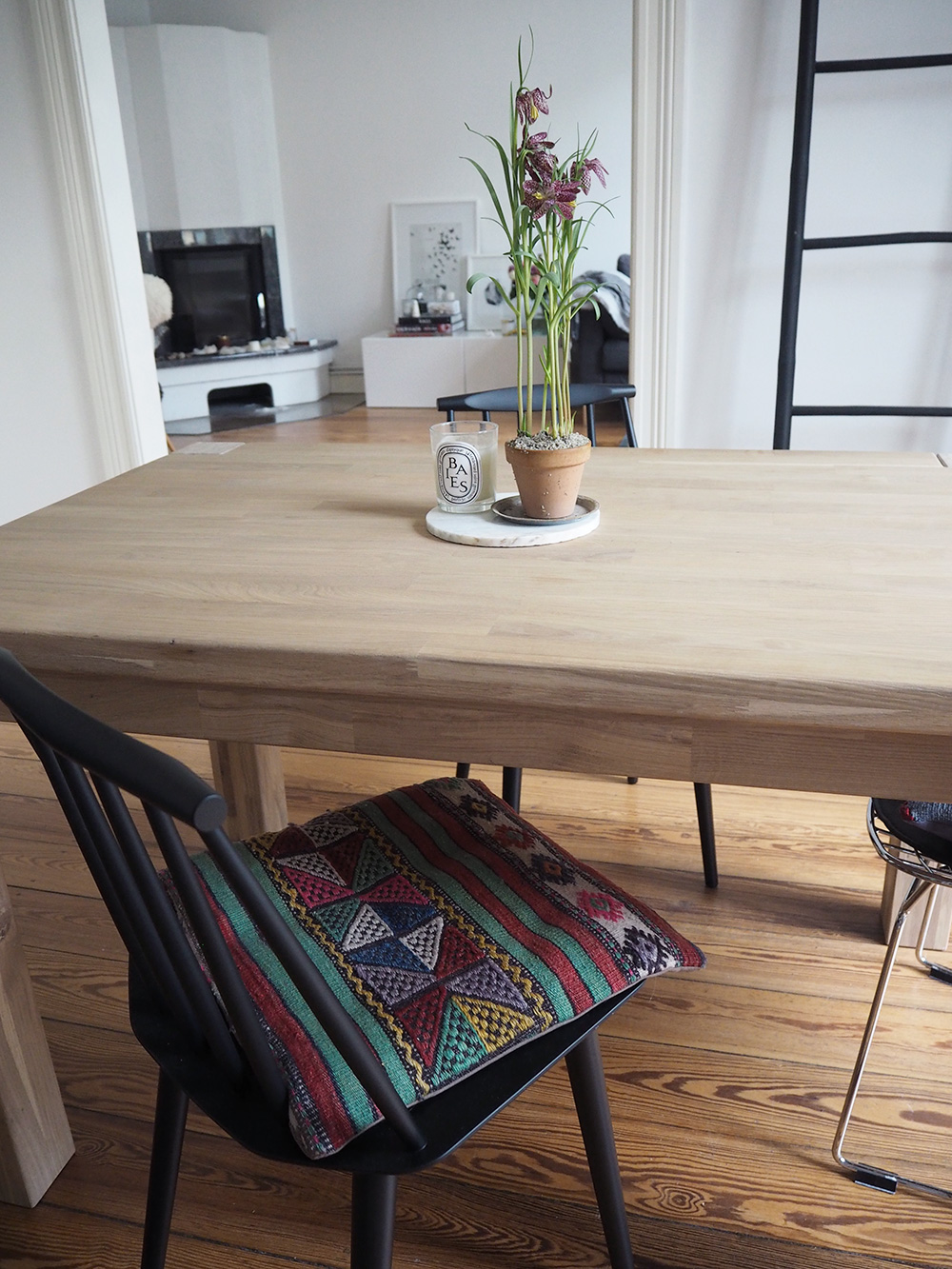 2. HAY J77 CHAIRS
Hay seems to be the brand of the month, in terms of interior, … I've had my eyes on Hay's black J77 chairs for a while and finally ordered them via Einrichten-Design. (They have an amazing selection of furniture – I'd also love to order Vitra's Wire Chair for my dining table). Two other things that make meals at home even nicer: a chequered lily and "Baies", one of my favourite candles by Diptyque.
3. FAVOURITE FACE MASKS
I've tried out a lot of amazing face masks lately and I just have to recommend these to you! First, there are two superb clay masks by the Berlin based organic brand Lovely Day Botanicals: you start with the charcoal cleansing mask, which is certainly one of the best charcoal masks I've tried so far. It cleanses your skin very well, but – other than many other charcoal masks – it doesn't dry your skin out. Follow with the Hyaluron pink clay mask to moisturize your skin. A brilliant combo!
I'm also a big fan of sheet masks for a quick and easy home spa moment. Dr. Jart's masks (which are available via Douglas) are certainly a favourite. I actually love all of them – from clearing to firming to eye lift. When I feel like my skin is out of balance, I like to use Artemis' clarifying mask. It leaves my skin feeling very clear and soft.
And whenever I look a little older than I should and feel like I need a fresh-up, I  put on Rodial's Dragon's Blood eye masks (which are available via Niche-Beauty). Last month, I recommend the hyaluronic face mask, and these eye patches are equally great!
When you don't have the time to apply a face mask but still want to deep-clean your skin, try out Dr. Jart's Dermaclear micro foam. You just leave it on for a few minutes and then wash it off to remove make-up and impurities. I like to use glov with it.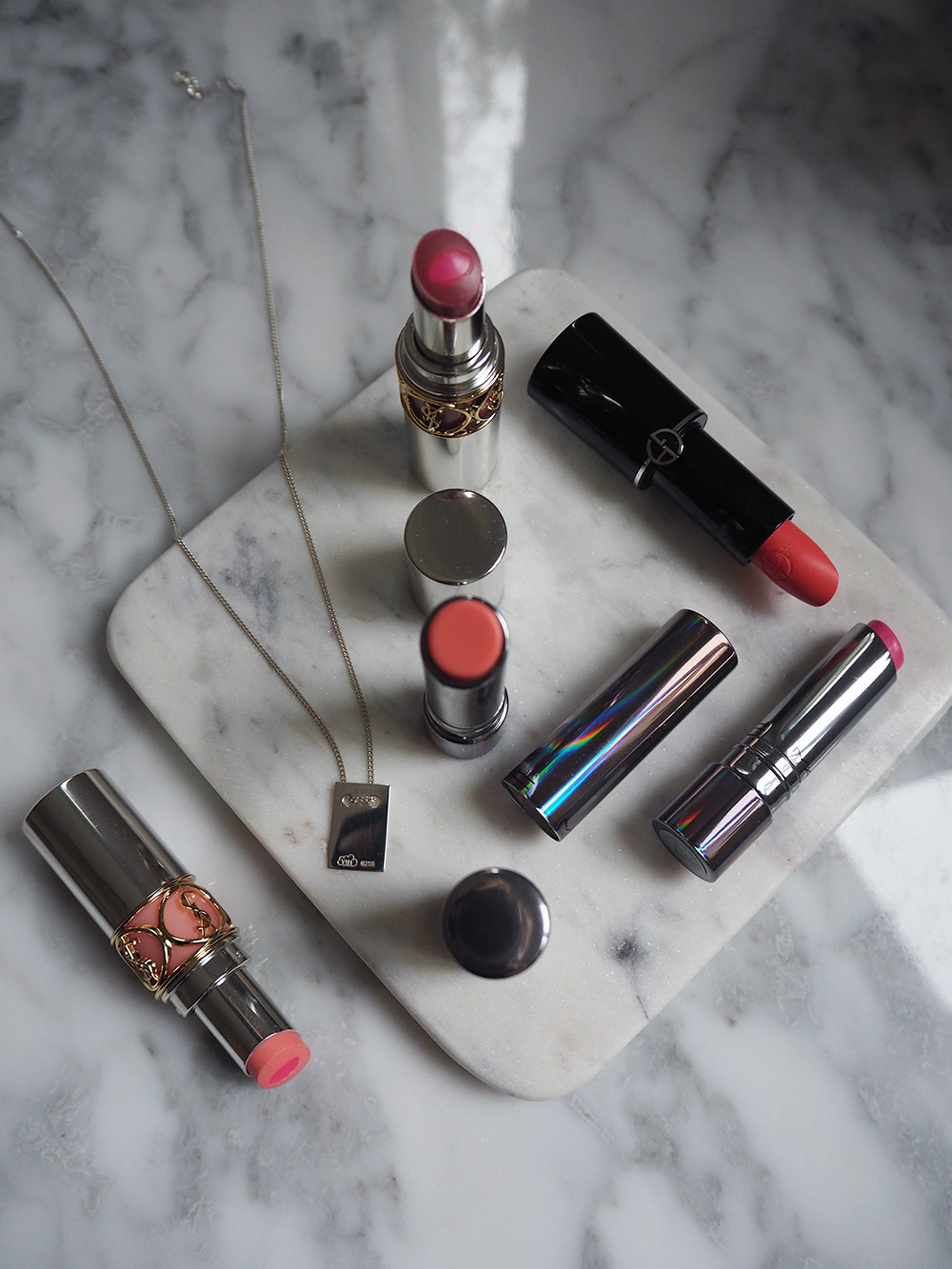 4. SHEER LIP STICKS
They've got a hint of colour, they moisturize your lips and you can easily apply them without a mirror (and still look good): I never leave the house without a sheer lipstick in my bag. My favourites are: Rouge D'Armani Sheer "305" by Giorgio Armani Beauty (a beautiful light rose), "Pretty Me Up" by MAC (a light peach) as well as "Teddy Pink" by MAC (a sheer pink). I also love YSL's Volupté Tint-in-balm, a mix between lip balm and lip stick, in "Dream Me Nude" and "Call Me Rose".
The necklace in the photo is the "Anna" necklace by Vibe Harsloef.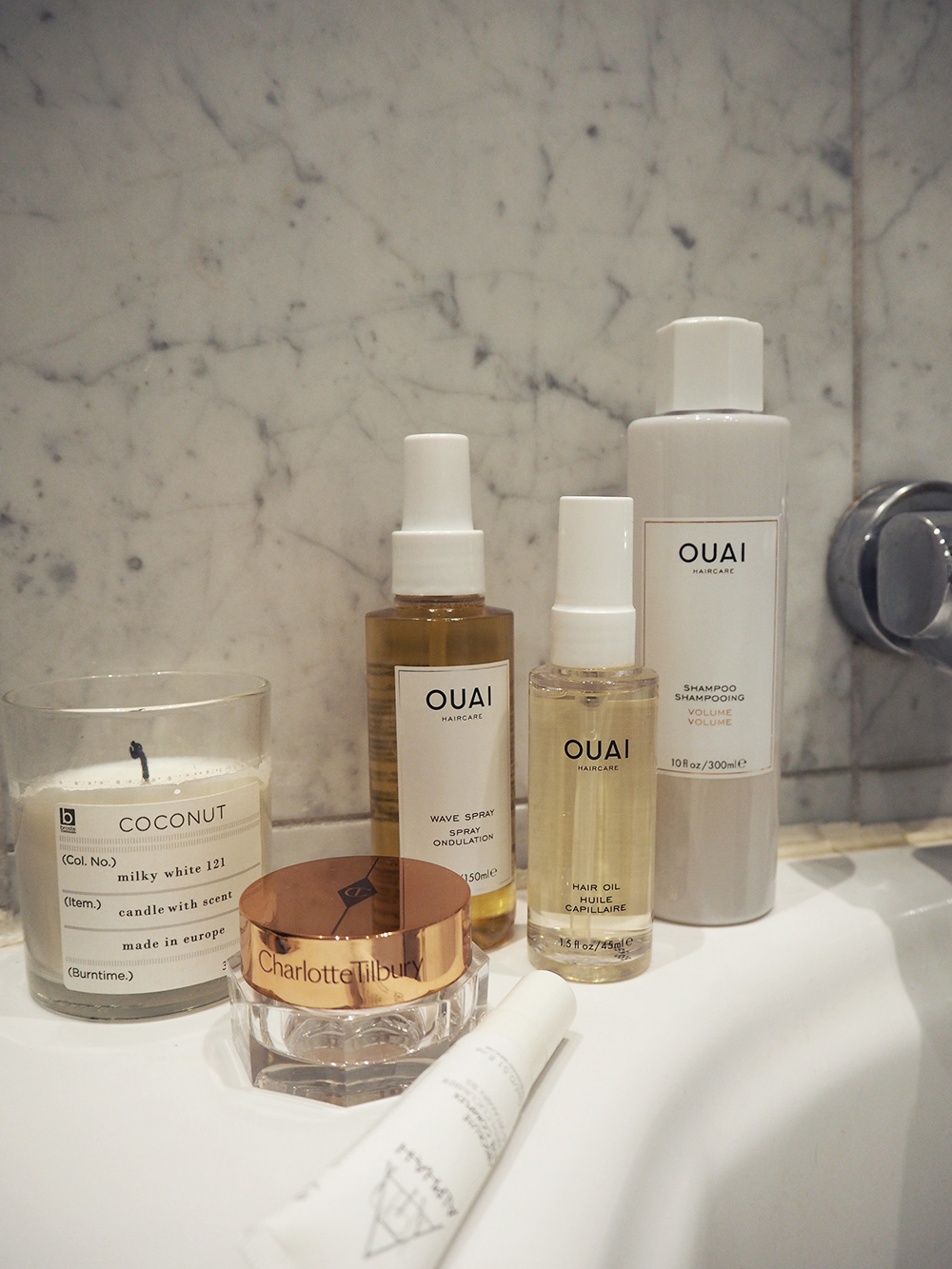 5. OUAI HAIR CARE & EYE MAGIC
Possibly my favourite hair care brand of the moment: OUAI, which was founded in L.A. by Jen Atkin. Ever since I tried OUAI's hair oil, I was dying to try other products as well. (I like to massage it into my hair's ends before blow drying to give them moisture and texture. I think it has a light jasmine scent). Talking of scent and texture: OUAI's wave spray is even better: the scent is addictive and it's great to make your hair a bit beach-wavy. I also love the volume shampoo – it's actually worth its price. Give it a try!
I've also been using two new eye creams: Alpha-H "Absolute Eye Complex", a fresh, light eye gel that helps to smooth fine lines. And Charlotte Tilbury's "Magic Eye Rescue", a rich anti-aging eye cream that feels very nice. Even though the textures are very different, I like both of them. I suppose it depends what you prefer.