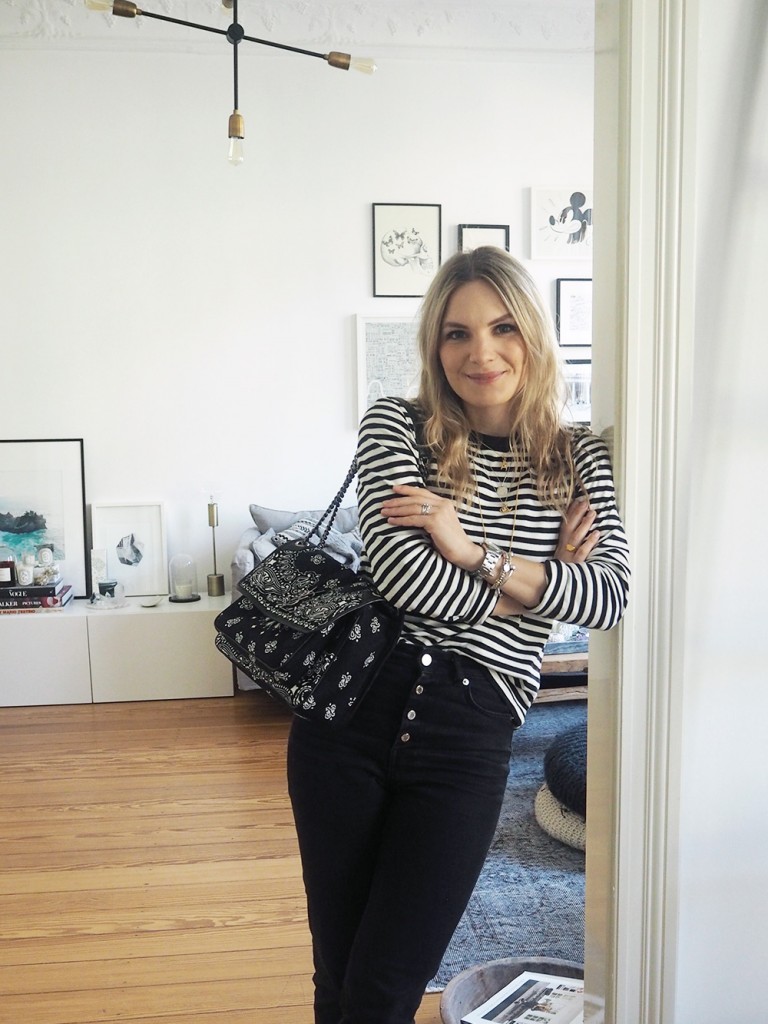 How are you getting on with your New Year's Resolutions – if you had any? At the beginning of this year I decided I wanted to meditate more. And, so far, I'm doing not too badly. Which is why I actually should include my yoga breathing app in this post, when I'm listing my "favourite things of the month" (but it's no fun to photograph). Here are some other things that are currently making me happy.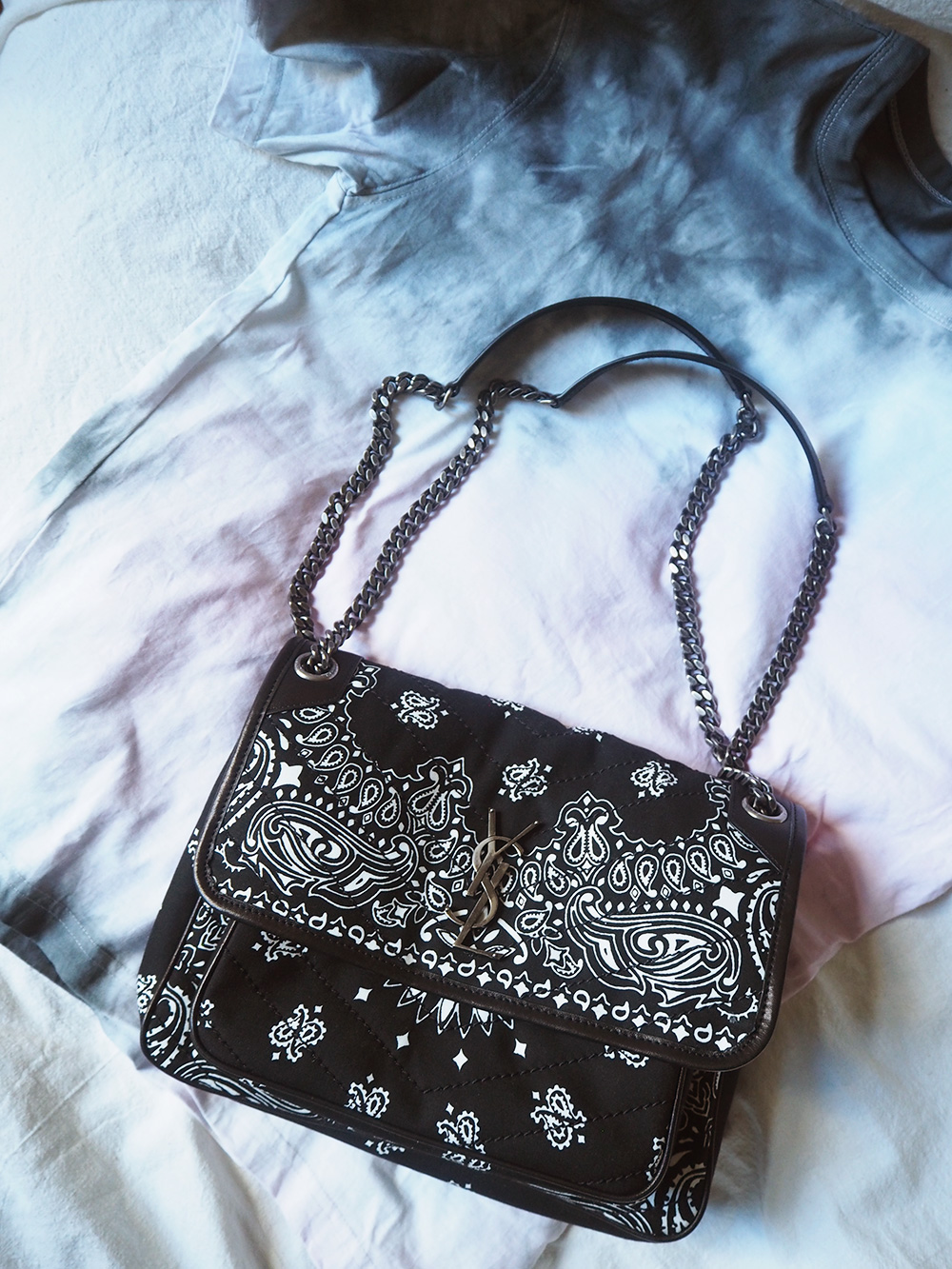 SAINT LAURENT BANDANA BAG AND DIY-TIE-DYE
Even though I am generally trying not to buy too many things – and even though I generally believe that I have everything I need – sometimes love at first sight strikes me like a lightning bolt. When I saw this bag in the Saint Laurent boutique I just knew it was perfect for me. (I actually missed the Chanel bandana bags a few years ago, but dreamed of them ever since.) Well, last Friday I decided to get this bag for me – and it is making me so happy!
In the background of the above photo you can see a tie-dye T-Shirt I made myself a few weeks ago, during the DIY-tie-dye-session I had at my home with a friend. I am obsessed with tie-dye shirts, sweaters and hoodies at the moment. They're so much fun! And I am already planning a second tie-dye-party with friends.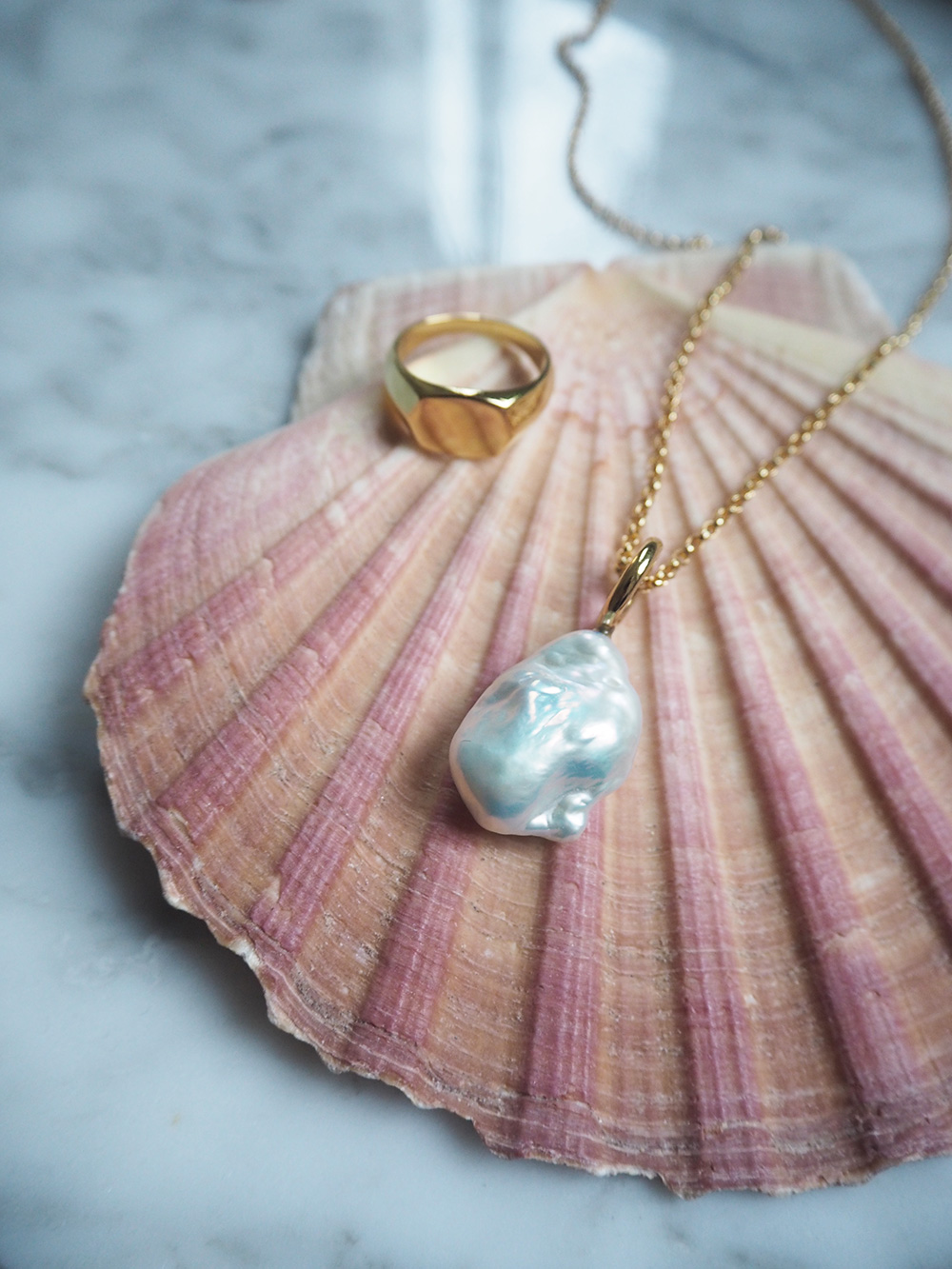 BAROQUE PEARLS
How beautiful is this baroque pearl necklace by Sophie by Sophie? I have been a fan of her classic, yet modern designs for years and this necklace is definitely a new favourite piece in my jewellery box! Every baroque pearl is unique – I like to look at them as the rebels among the pearls.
The golden signet ring in the above photo is by Maria Black. I absolutely love it and I wear it almost every day. Such a cool piece that really upgrades every outfit! I think Maria Black is making amazing tough and cool, but equally elegant signet rings – this one is great, too.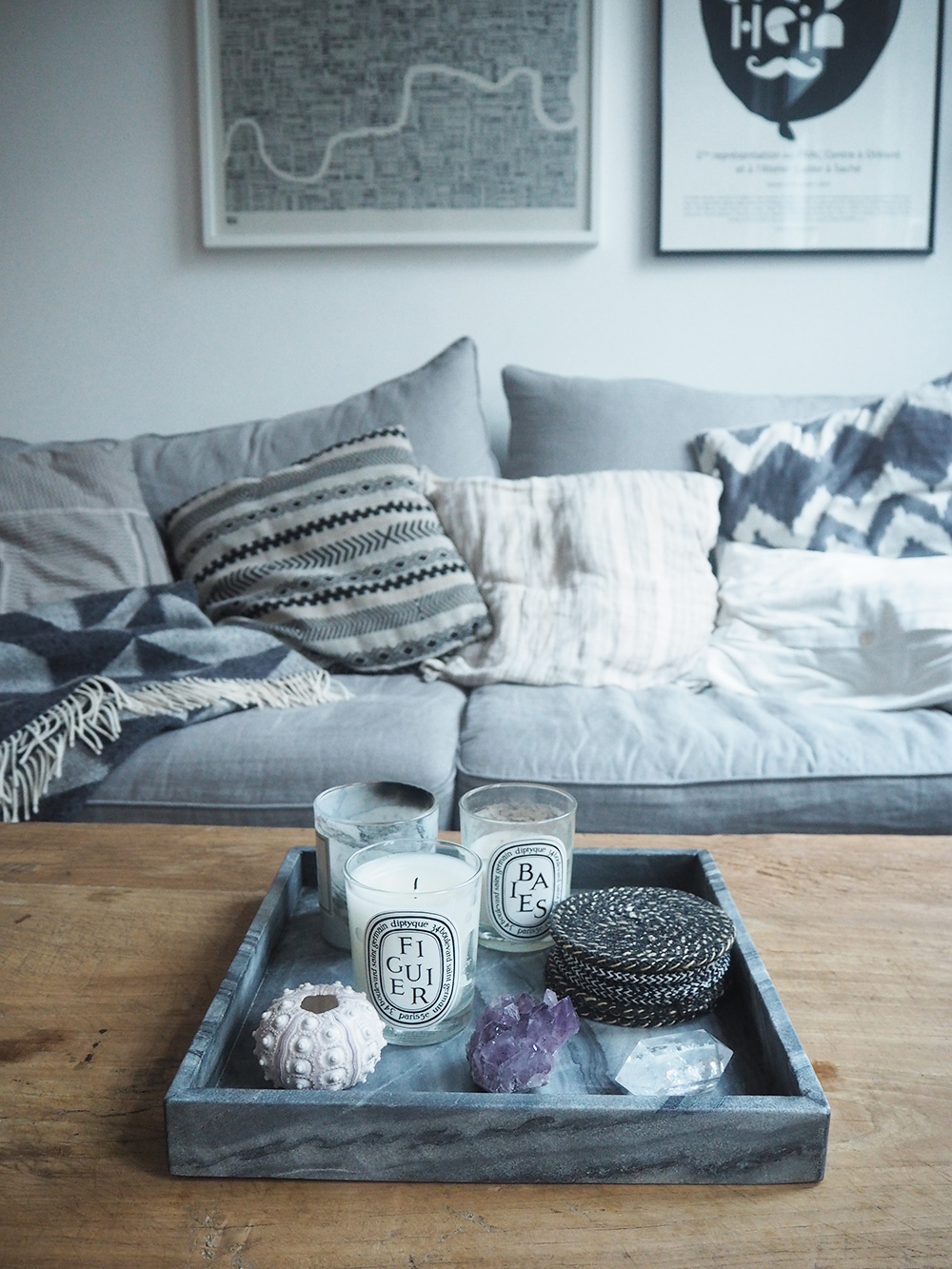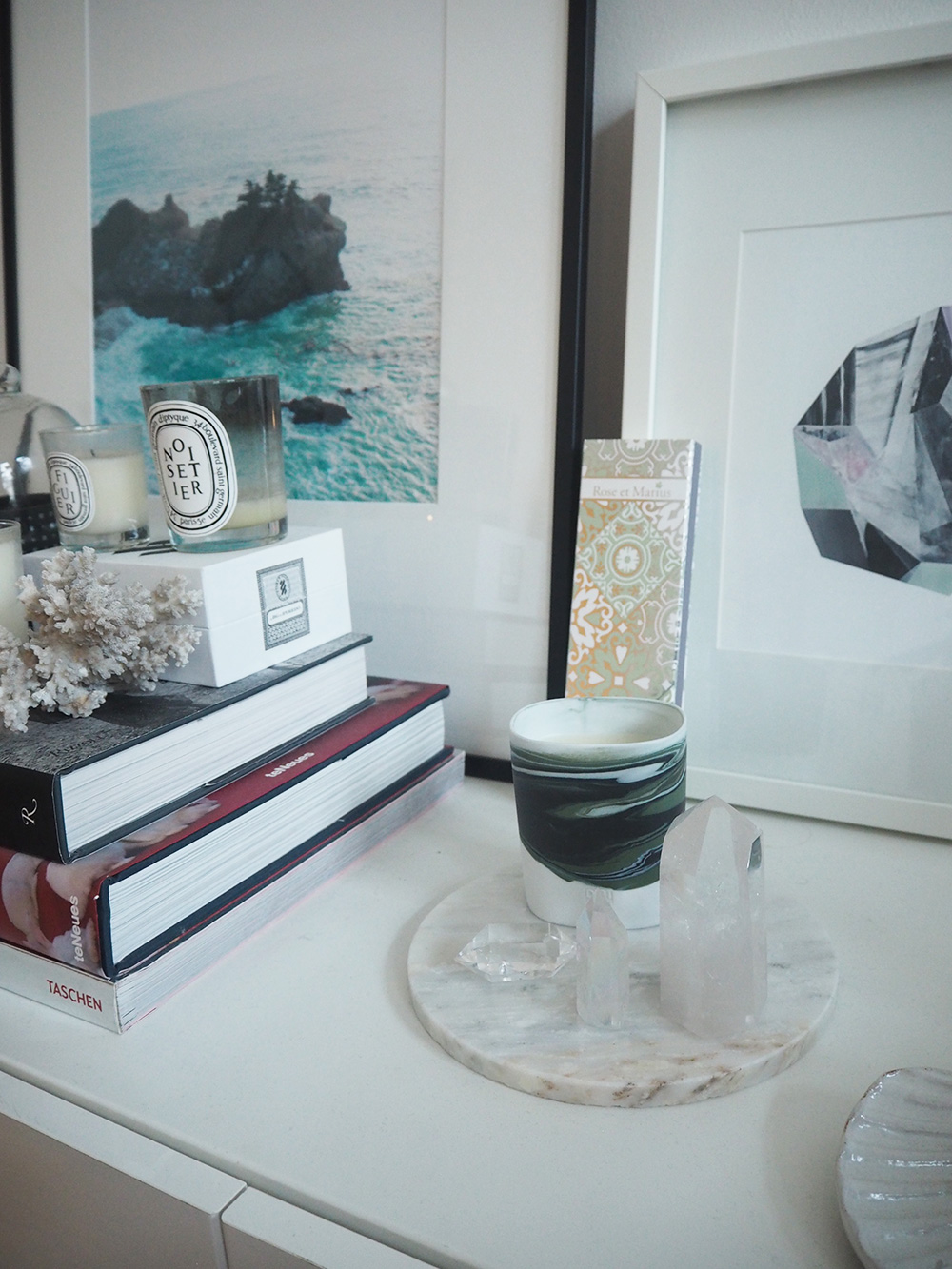 DIPTYQUE CANDLES
Even though spring is coming closer (when it's sunny it seems like it's almost here!), February is still a good month to lighten candles and to enjoy cosy evenings at home (I got hooked on "Sex Education" on Netflix this week and finished watching it last night).
My favourite scented candles are by Diptyque – I'm a big fan of their classics like "Figuier" and "Baies", but I also love their limited editions and special collections, like the candle "La Prouveresse", which comes in a beautiful handmade porcelain pot.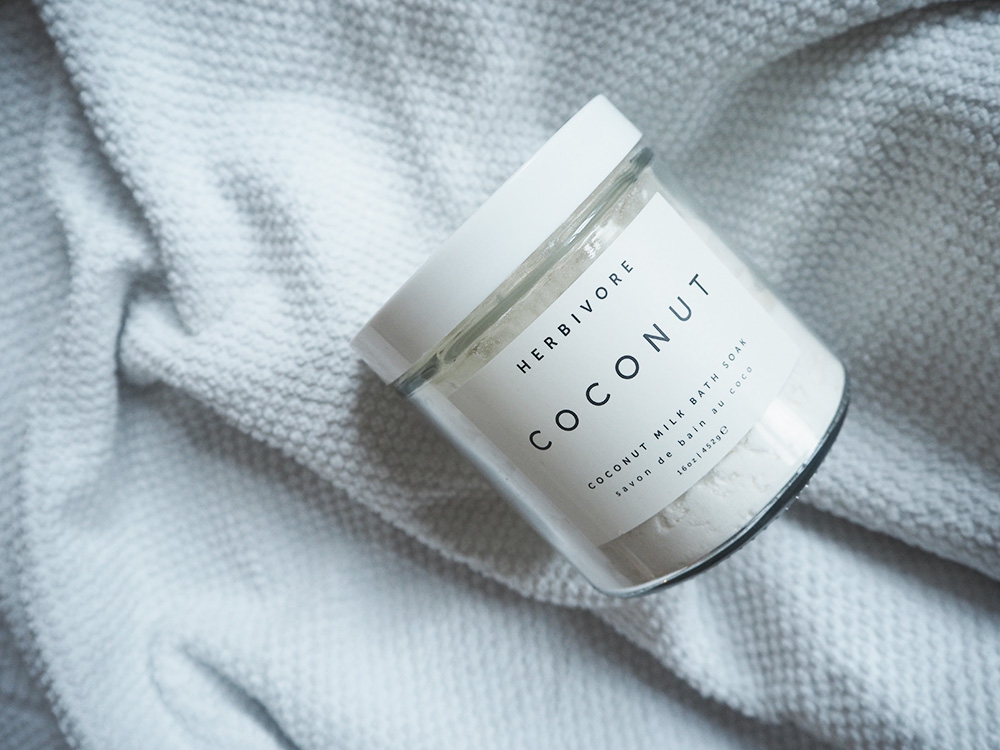 COCONUT BATHS
… and speaking of cosy evenings at home: I am addicted to the "Coconut Milk Bath Soak" by Herbivore (via Niche Beauty). It smells so so good – a mixture of coconut and vanilla –, like the best dessert I can imagine. … It's kind of hard not to eat it. Haha! It's also quite moisturizing, so it's a real treat for your body and skin during winter!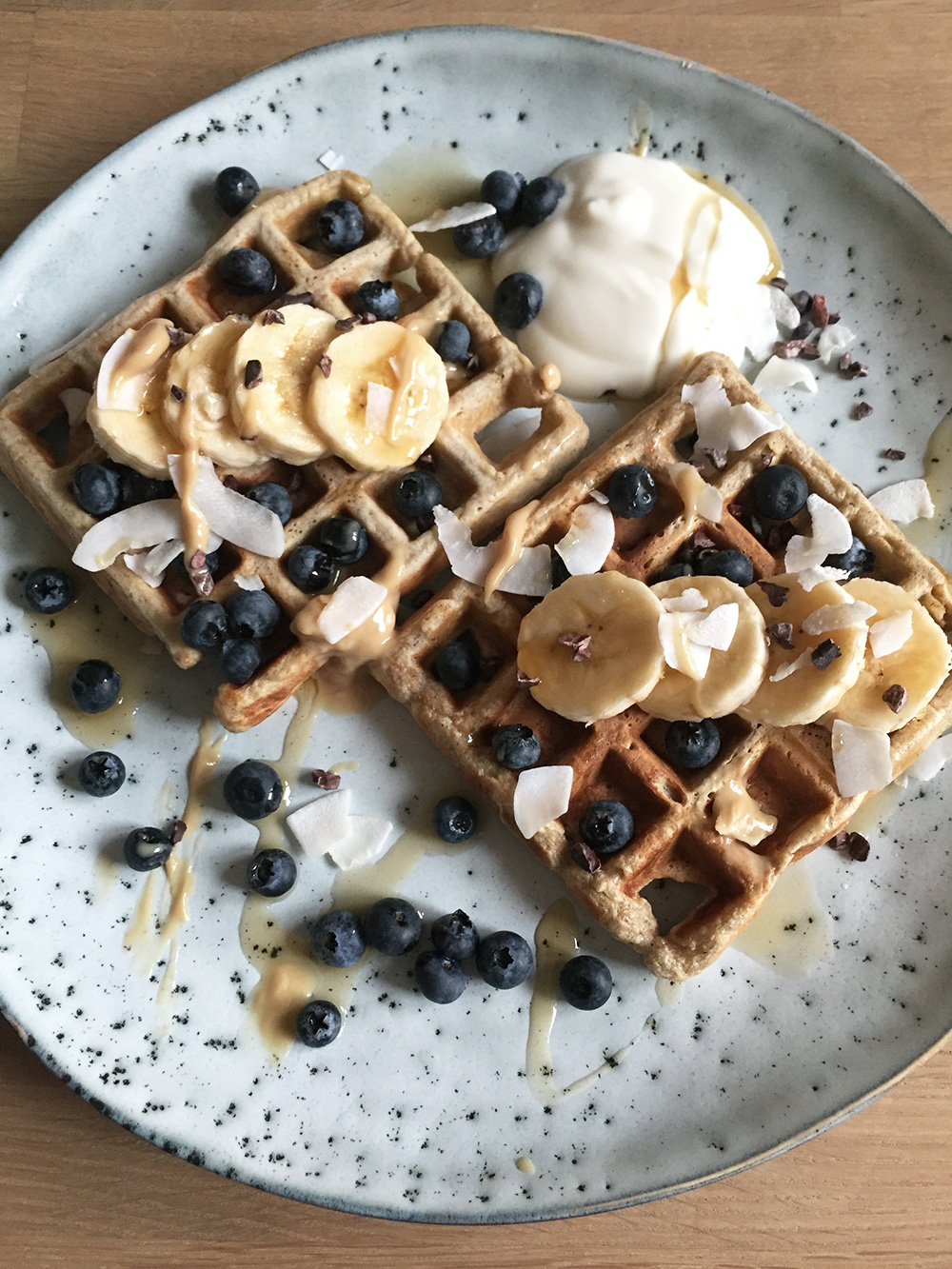 HEALTHY WAFFLES
Buying a waffle iron was one of the best decisions I made last year. (It's the simple things, eh?) Since then I have been perfecting my recipe for healthy waffles every other weekend. I really like this recipe by Heavenlynn Healthy, which I have slightly adapted for my own waffles (I always use oats, wholegrain flour, bananas, oat milk, no sugar, coconut oil for the waffle iron and loads of yummy toppings. I haven't figured out how to make waffles without eggs yet, my vegan waffles never turned out right, but I'm working on it …)
For more favourite things and discoveries, follow me on Instagram!
 – This post contains press gifts –