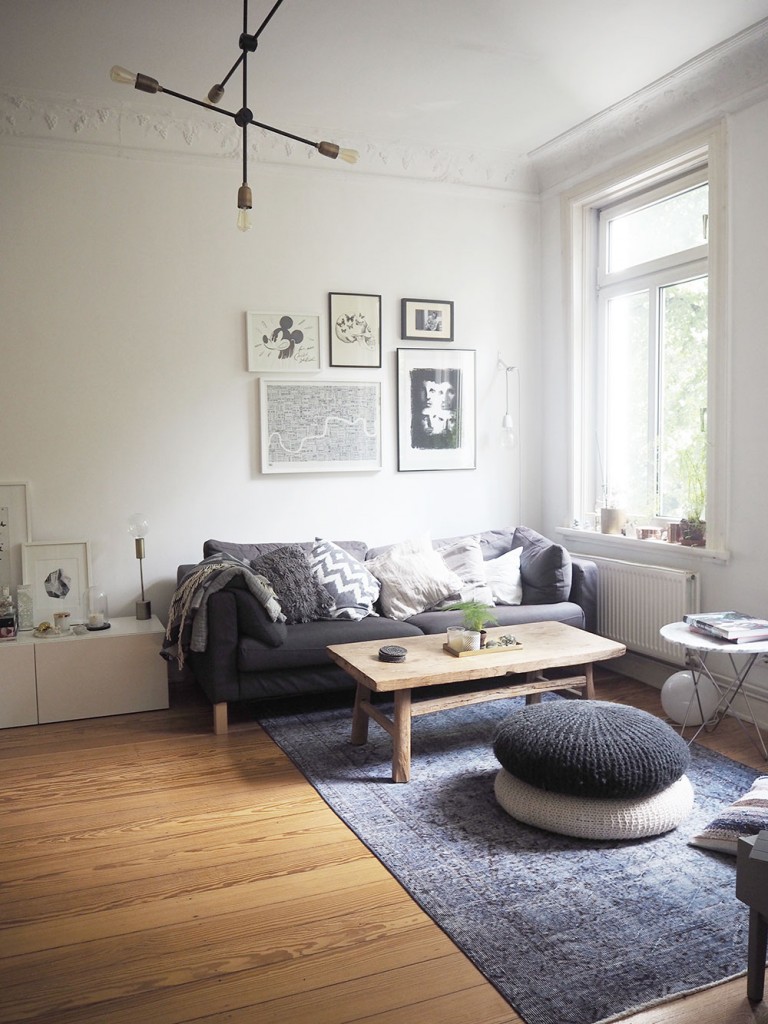 I cannot believe it took me so long to create this post – these were supposed to be my "favourite things in August". But it just took me some time to get everything together as planned, because (as you will see below), during the last couple of weeks, I focused on "home improvement", so to speak. Nevertheless, I also added a few new fashion pieces, which I love a lot!
RUG AND CUSHIONS BY ON THE RUGS
If you follow my blog you will know that I have been looking for a new rug for my living room forever. I was so unsure wether to get a Beni Ourain in black and white or something completely different and I wasn't sure where to get it. Now I have found the perfect rug from On The Rugs! This rug label is Hamburg-based and run by the lovely Anna Wahdat. She has an amazing collection of Berber rugs, Kelims and vintage oriental rugs. Mine is a reworked, vintage oriental one in dark blue, black and white. You can see more of it (and the supercool cushions made from old rugs) on the photos below.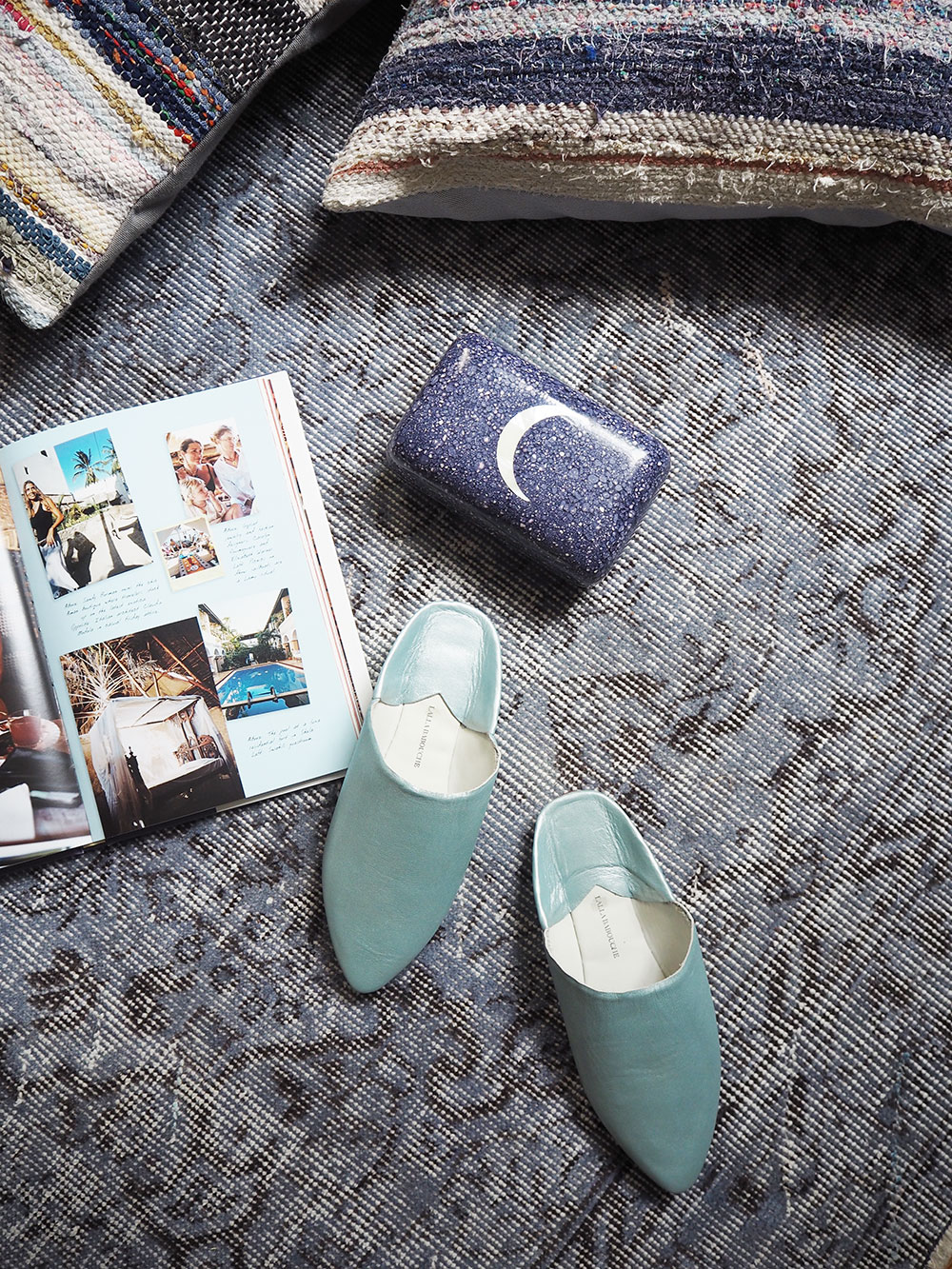 NAY PALAD CLUTCH & LALLA BABOUCHE SLIPPER
If I tell you about these products I also have to tell you about the very inspiring women behind them. Carolin Dekeyser is the founder of Nay Palad, a lifestyle brands which creates jewellery, accessories and fashion together with local artisans in the Philippines and Istanbul. On the Philippines she thereby offers jobs and livelihood to women who otherwise would be homeless and unemployed. I have met Carolin and was so enthused by her positive energy. The bag you can see on the above photo is her "Luni clutch" in amethyst – isn't it beautiful?
Another very creative lady I need to introduce to you is Sarra Turan, who's an artist with a Turkish-Maroccan background and founder of Lalla Babouche. In her web shop she sells very sweet Babouche slipper from Morocco as well as her own collection of raffia bags. I'm her fan!
STUDIO HAMMEL WALLHANGING
… and talking of creative women: Maybe you've heard of Andrea and her label Studio Hammel? Her handmade wallhangings and plant hangers have become very popular among interior design fans. I recently treated myself to a wallhanging with a very beautiful quartz and it makes me so happy whenever I look at it.
MARBLE BEDSIDE TABLES
Okay, like I've said, I have been kind of obsessed with changing little things in my home during the last couple of weeks. One night I suddenly felt an urge to get new bedside tables (I had been using old wooden boxes as bedside tables before), and I eventually decided to get little marble ones from a French web shop.
The candle is "Baies" by Diptyque (I love this scent!), the hand cream is by Grown Alchemist, and the vase is by Lyngby.
VETRO LAMP BY MADE.COM
Last but not least I added a new lamp to our living room. It's the "Vetro lamp" by Made.com, which I had been dreaming of for a while. I think that it looks super cool and almost like a sculpture. It's also a lamp that actually lights up a room (there are five light bulbs, after all) while still creating a very cosy atmosphere.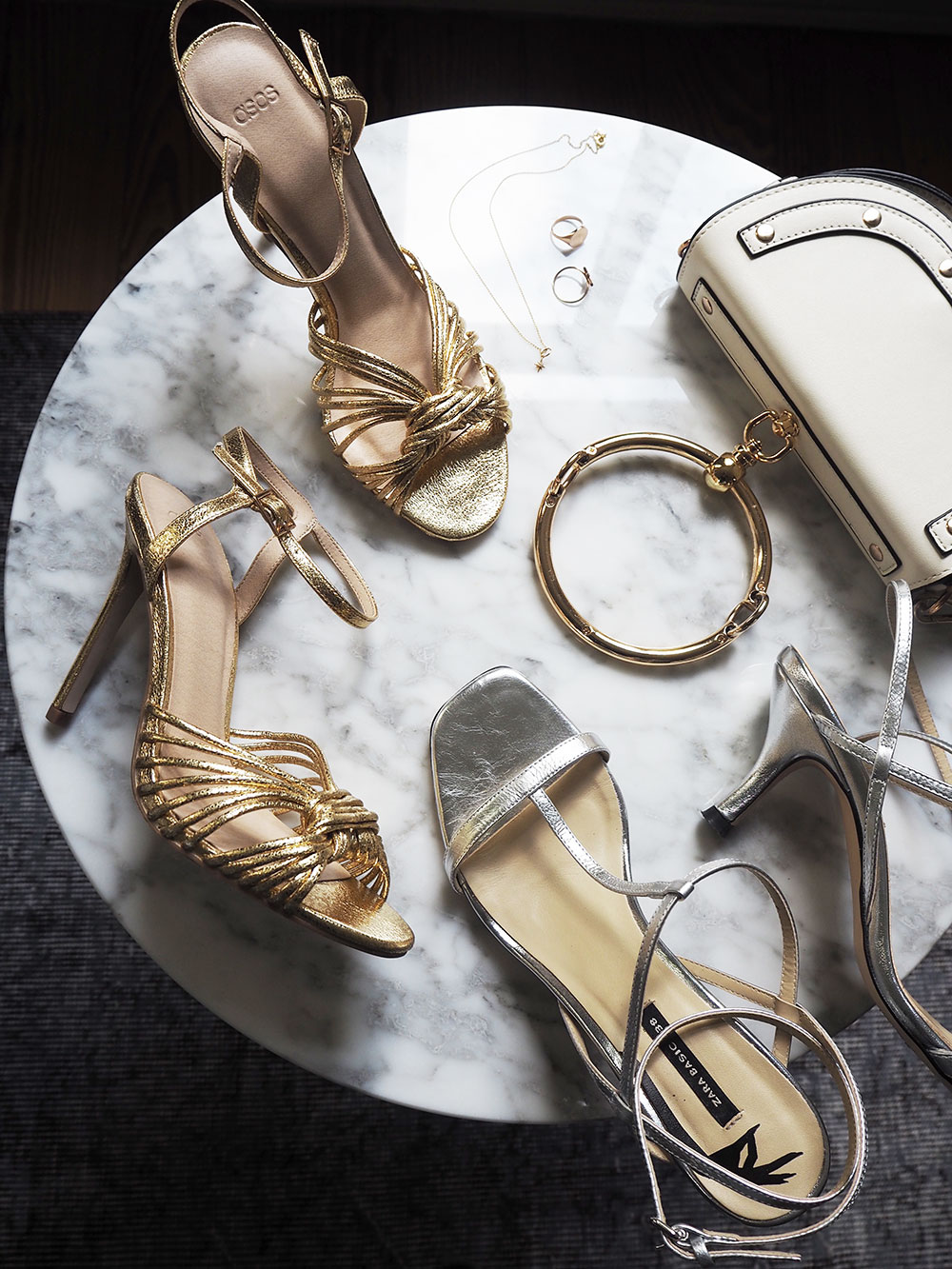 PARTY SHOES
While I stroll around in boots, loafers or sneakers most of the time, I actually love an elegant pair of high heels in the evening and I'm always happy for an opportunity to dress up. One of my favourite online destination for party shoes is ASOS – which is where the above golden strap sandals are from. I'll be wearing them at a wedding soon and I'll definitely post a photo of my whole outfit then, so you get to see them "in action". I think I'll bring the silver sandals as a backup, in case the golden ones feel too high-heeled later during the night.