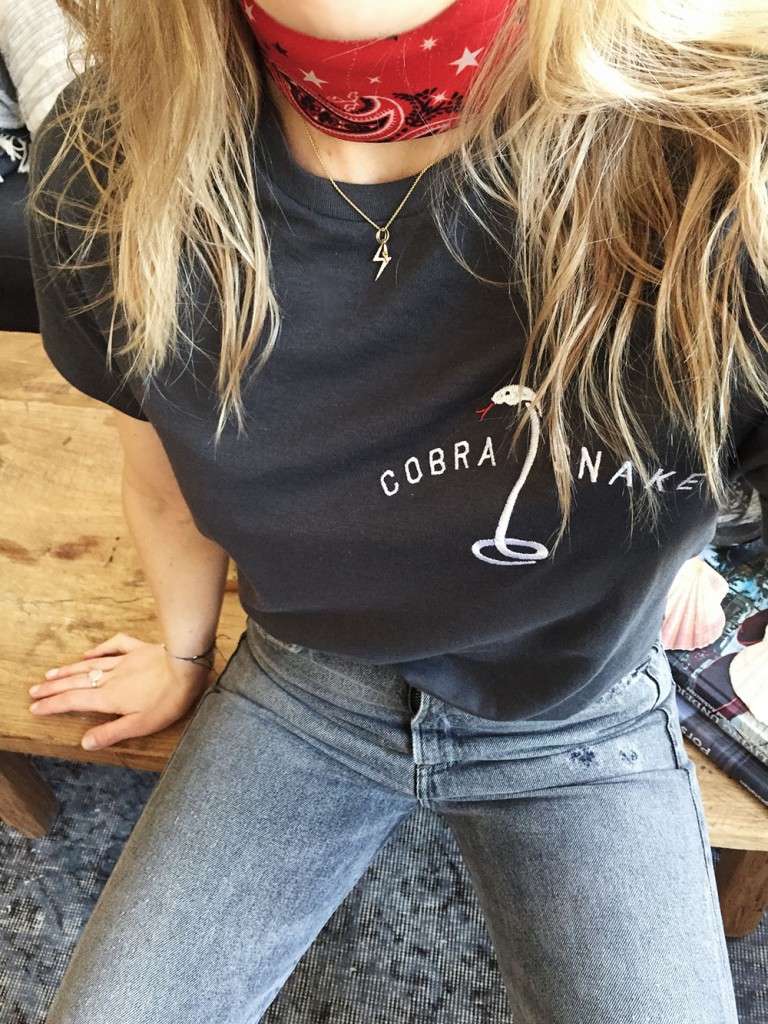 I know what you will say: March? You're a little late, it's April if you haven't noticed. But, to be honest, March has been so stressful and demanding (mainly in my private life but also jobwise), so you'll have to excuse that I'm more than a little late with this post … But anyway,  I've made some wonderful discoveries that I'd like to share with you!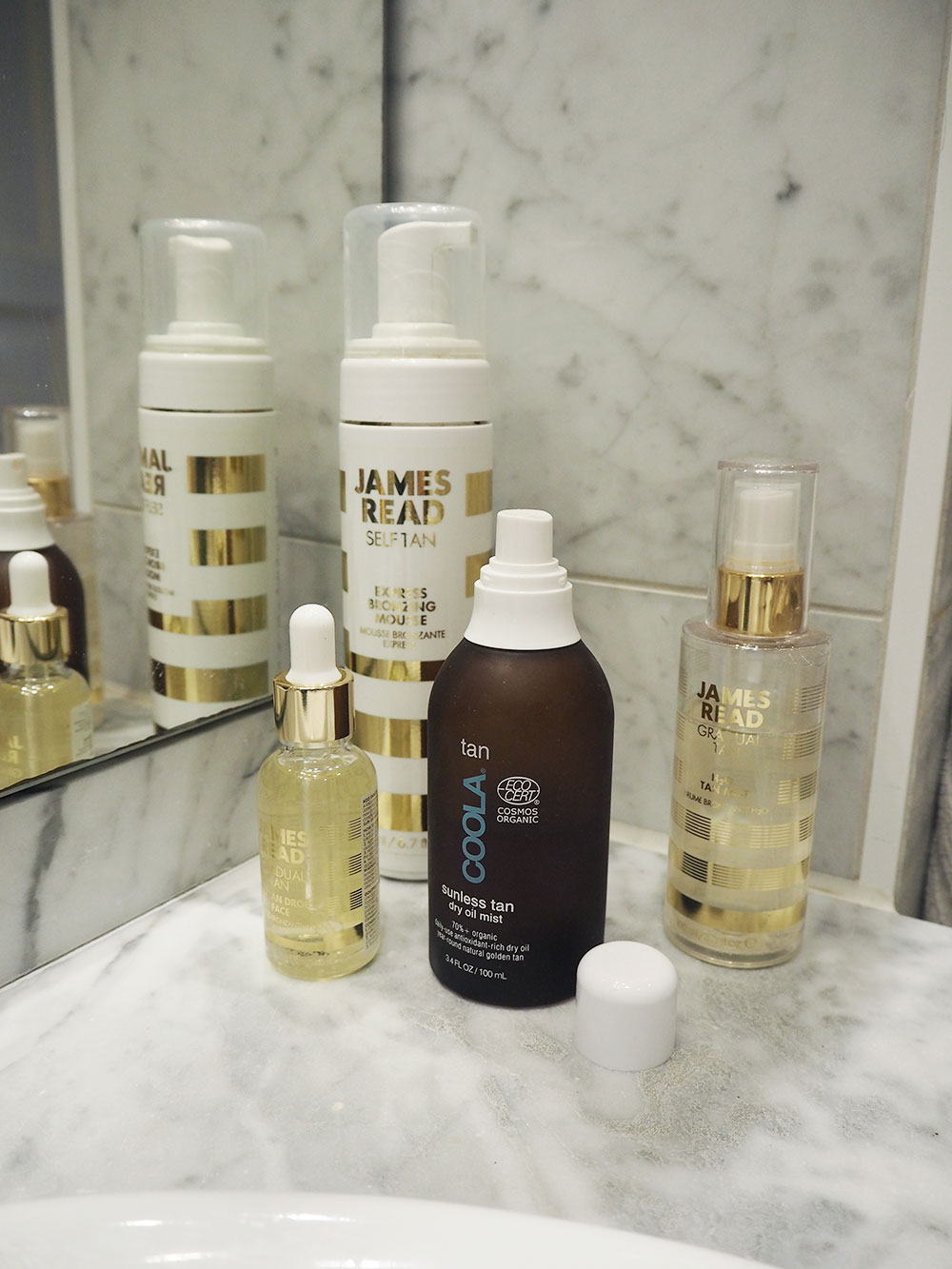 FAKE TAN THAT DOESN'T LOOK FAKE
It's a bit strange, given that I live in Northern Europe, but I don't feel too comfortable when I'm super pale. Usually I spend some time in the sun during September (the perfect time for a Southern European holiday!) to make it through autumn and winter, but last year that didn't work out and I haven't really seen the sun since July. So, looking at my sad pale self in the gym mirror, I decided I had to do something to bridge the time until my trip to Bali in Mid-April (one more week to go!).
Enter: Coola's "Tan Dry Oil Mist"! It's as natural as a fake tan can get – and organic. You just spray it onto your body (I recommend doing that in the shower), massage it into the skin and it only takes a few minutes to dry. It doesn't smell weird and it creates a very pretty light tan.
The "Bronzing mousse" by James Read is amazing, too. However, it's a little more difficult to apply and you need a mitt to apply it. I'll also be trying the new "Coconut Water Tan Mist" and I'll let you know how that is working out.
For my face I've been using this James Read face spray. Alternatively, you can use these tanning drops, which you just add to your moisturizer.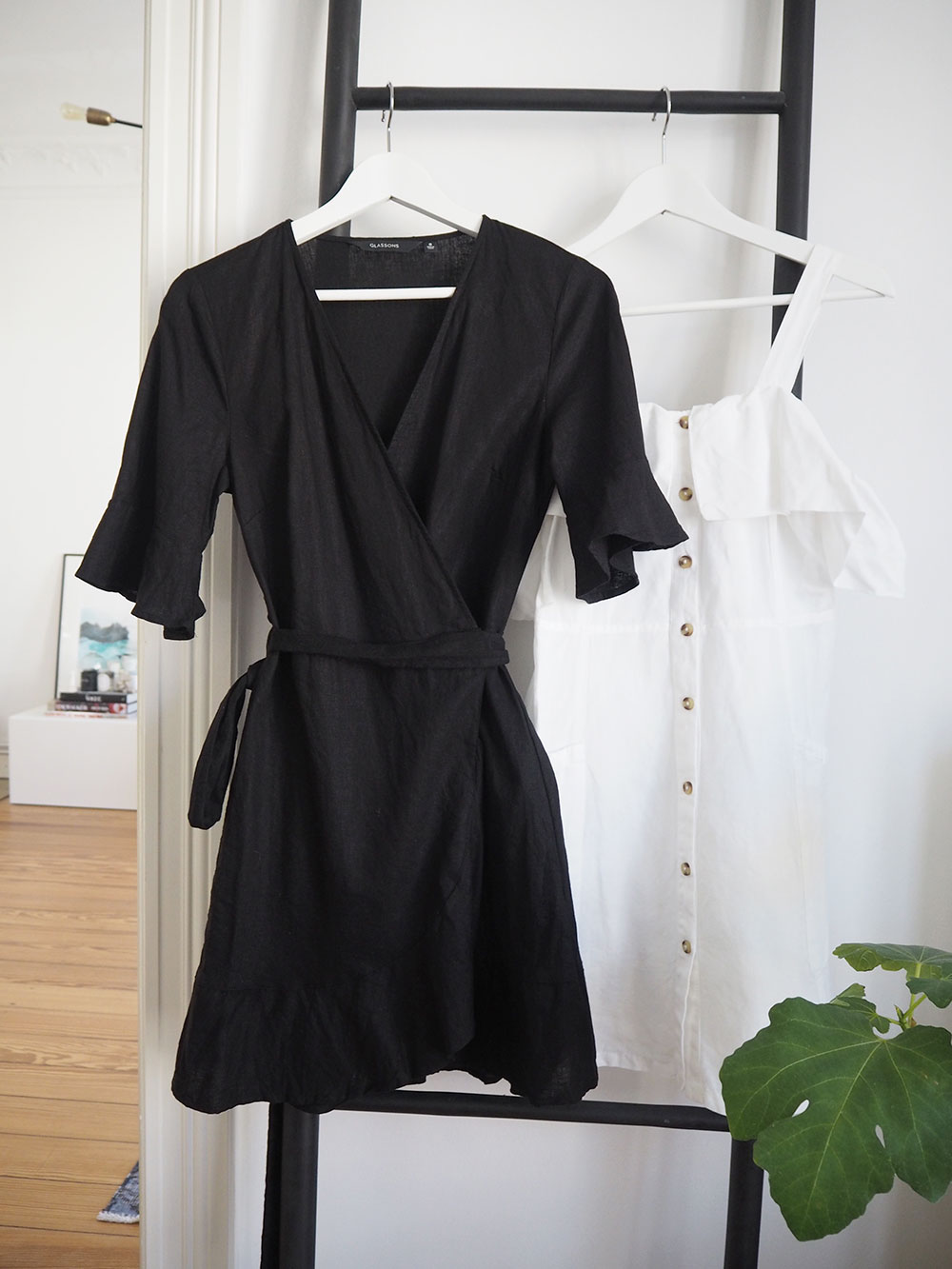 LINEN DRESSES
Speaking of a tan … I'm very excited to finally go to Bali for two weeks this month (it has been on my travel list forever)! And obviously this made me think about summer dresses, swim- and beachwear (even though I'll probably be spending most of my time there in the jungle). My go-to brands for summer and holiday dresses are Réalisation Par and Faithfull The Brand. But I made two exciting new discoveries: Verge Girl (can I have everything, please?) and Glassons!
I ordered the above black linen dress from Glassons and absolutely love it. Also, the shipping was extremely fast. The white linen dress is last summer Mango.
I always get very excited about "holiday dressing" because I so rarely get to wear my summer dresses at home (almost never) – including my straw hats, straw bags, sandals and "holiday jewellery". However, I'll be travelling to Bali alone (my first trip alone since Japan in 2005!), so I cannot promise many photos (this probably makes me sadder than you).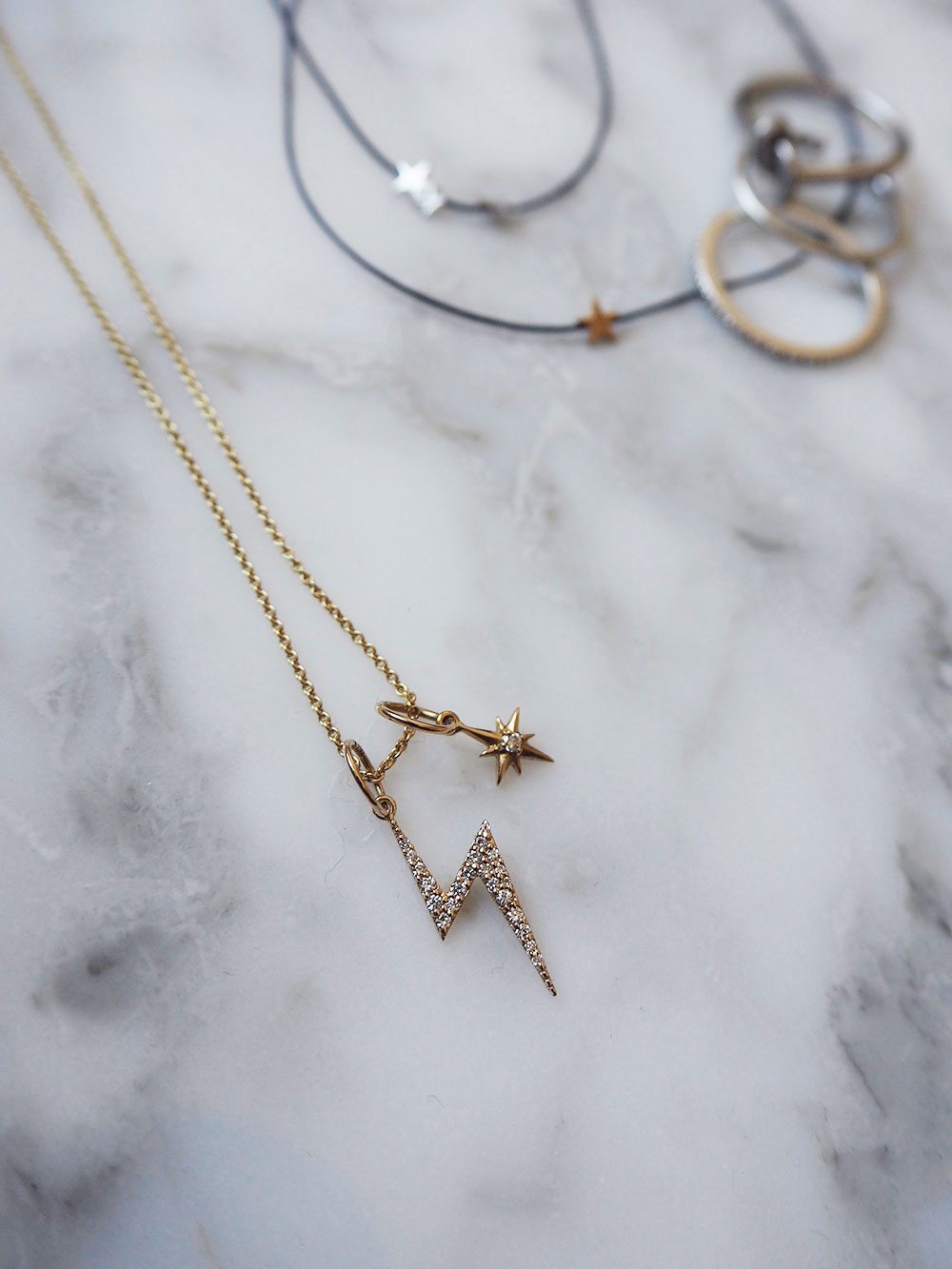 NIVES DIAMOND LIGHTNING PENDANT
 I've written about Nives, the beautiful Zurich-based jewellery brand by Nina Euler, before. I am so happy I discovered her jewellery via Instagram – and I am extremely happy to say that I added the stunning "Diamond lightning pendant" to my collection. I am wearing it with the little "North Star pendant" – don't they make a great pair?
The little star bracelets in the background are by Nives, too.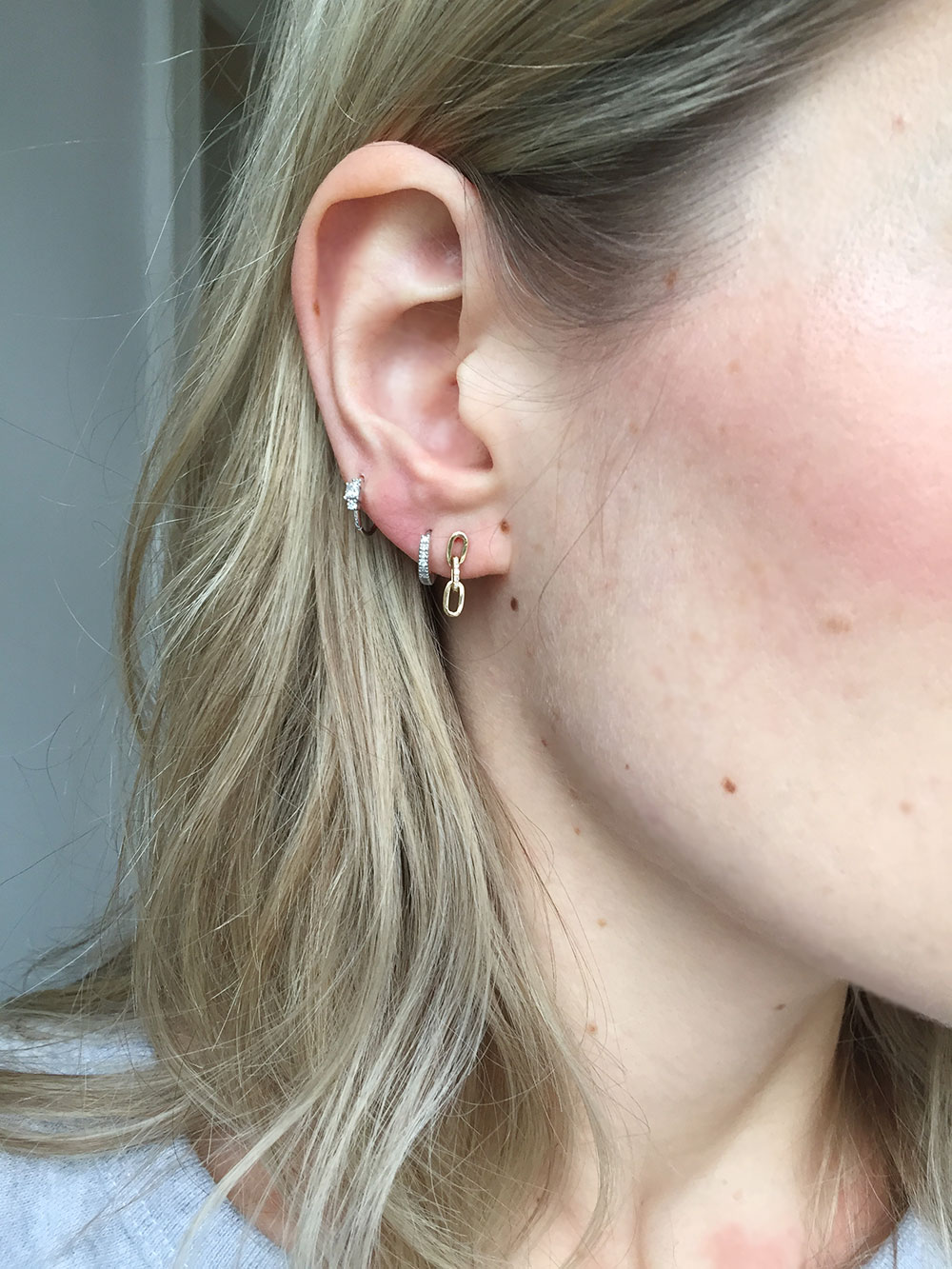 TILDA BIEHN EARRING
Another amazing jewellery discovery: Tilda Biehn. The label was founded by Andrea Lipsky-Karasz, who makes very unique, edgy yet elegant fine jewellery. I treated myself to the beautiful "Aurora Earring", which is also available via Catbird.
Above I'm wearing it with a "Huggie Hoop" by Otiumberg and a "Princess Helix Earring" by Venus by Maria Tash.
ZOE KARSSEN "COBRA SNAKE" T-SHIRT
A loose fit, a soft but not thin material, a slightly washed colour and an eye-catching, beautiful detail with a little Rock'n'Roll twist – everything I love about a T-Shirt comes together here. (I'm loving this Tee, too!)
CALL ME BY YOUR NAME
Something else that gave me great joy last month: the film "Call me by your name". I think everything, from the cast and the acting, to the setting, to the outfits, the music and, of course, the story, was absolutely perfect. It reminded me of the 80s, of summers when I was a teenager, of holidays in Italy, of these very special first moments of a new love … If you haven't seen the film yet, check if it's still in cinemas or watch it when it's out on DVD/online!