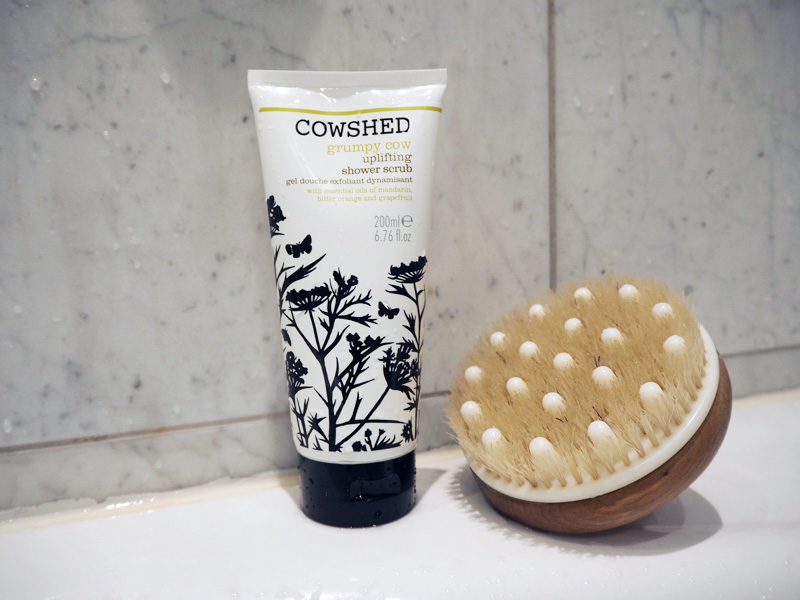 If you're doing your best to stick to a healthy diet and to your workout routine you can proudly say that you're already doing a lot for your body and health. In this post, I'll share some beauty products that I find useful in my endeavor to get back on track after holiday laziness and gluttony, and that help me to make it through winter.
So after my post about things that help from the inside here's:
2. BEAUTY PRODUCTS THAT HELP FROM THE OUTSIDE
On the above photo you can see two products that I love to use in the shower (especially after a workout, to increase its positive effects). Cowshed's "Uplifting shower scrub" not only smells very refreshingly of tangerine, it also leaves your skin super soft. I like to use it with a massage brush (for instance this one) to stimulate circulation and to really wake up the body. If you're brave enough you can take hot/cold showers, too (they're very effective, I just cannot always bring myself to do them).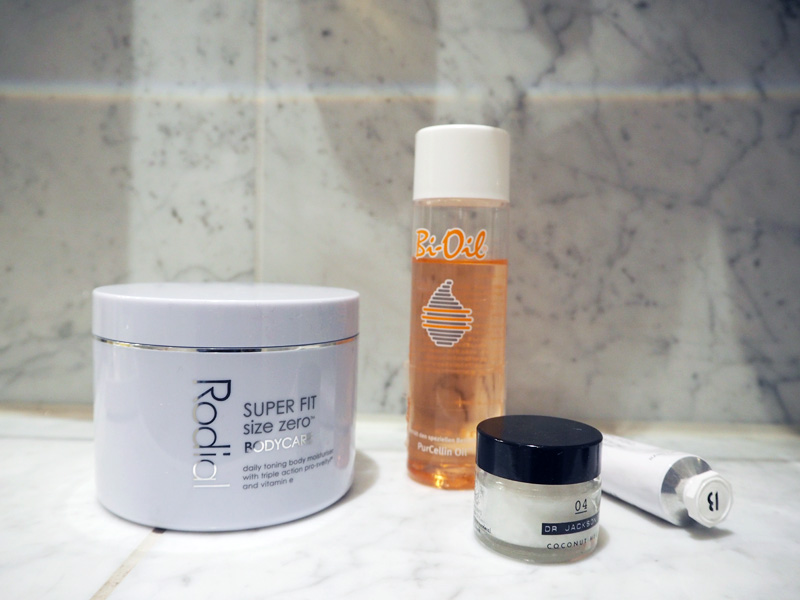 After showering I like to use a firming body lotion. I've already shared one of my favourite products in this post, but I recently got to try "Super fit size zero" by Rodial – stupid name, great product. The lotion feels and smells very good and absorbs into the skin quickly. For those typically dry areas of the skin (shin, knees, elbows, old scars from motorbike accidents) I like to use a body oil – especially in winter. Obviously there are a hundred luxury products but Bi-Oil is still one of the best-value products I know.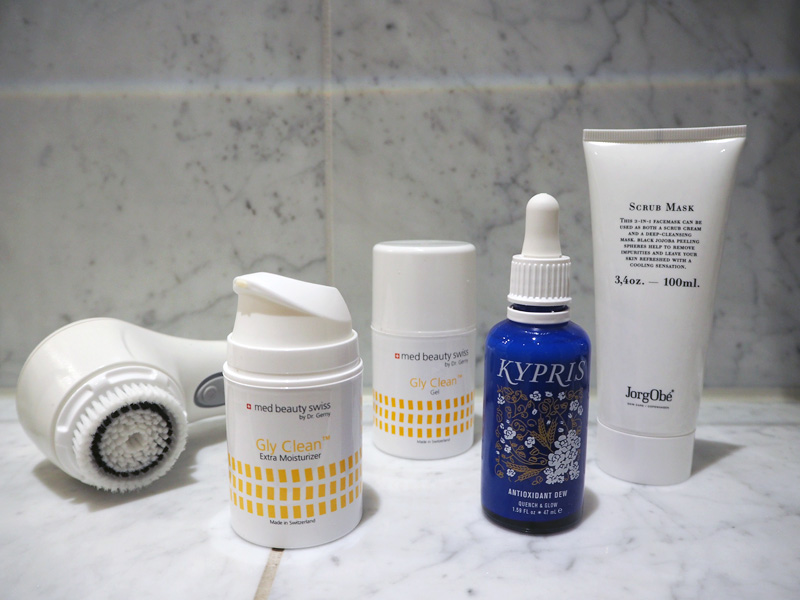 Let's move to the face. And here I need to go further back a bit. My facial skin is quite schizophrenic, as it tends to be dry but is also blemish-prone in some areas. Especially after my over-indulgence in sugar during the month of December it felt like my skin was kind of out of balance. I have tried out a lot of different products but now I think I have found something that truly works for me. A beautician introduced me to the brand Gly Clean by med beauty swiss a while ago. Their "extra moisturizer" always feels like water to my parched skin and at the same time it has an antibacterial effect and calms my twitchy skin. If these problems sound familiar to you, I recommend you try it out. Gly Clean also makes a "gel" with 5% of fruit acid that I use every other night to improve my skin.
Apart from that, I like to use my Clarisonic face brush to clean my skin and to "renew" it (I'm still looking for the perfect cleansing gel/foam/product, I'll let you know when I have found something I love). About once a week I use a face mask – currently I love JorgObe's "refreshing scrub mask" which you can either use as a face scrub or leave it on for 10 minutes and use it as a deep-cleansing mask.
On the photo you can also see a product that Niche-Beauty kindly sent me to try out – and that I immediately fell in love with: Kypris' "Antioxidant dew". It's a serum that moisturizes your skin and at the same time fights inflammations. The beautiful packaging is just an extra. (I think their "Clearing Serum" is great, too).
Okay, one more thing before I finish: I have rediscovered the "Tanaka face massage". I actually believe that my face looks fresher after the massage. I recommend you use a moisturizer or face oil when doing it. Give it a try!