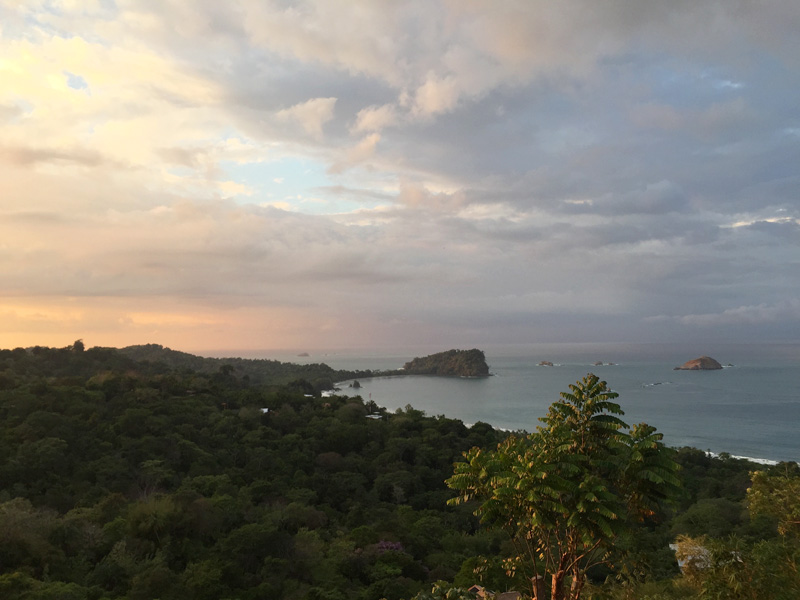 It's become kind of a tradition for my boyfriend and me to travel for two or three weeks in spring. And while we usually have a plan in mind early on, this year, for the first time in several years, we weren't sure where we wanted to go. Since we both loved Tulúm so much, we were thinking about going to another place in the Caribbean. We googled, we checked travel websites, we read travel blogs, thought about Cuba, St. Lucia, and several other places and eventually decided to go to Costa Rica. Ironically we ended up not visiting Costa Rica's Caribbean coast, but decided to focus on the Pacific coast and some other places that seemed most interesting for us. What we were looking for was a mix between lazy, relaxing days on the beach and jungle tours to see some of Costa Rica's wildlife. I'll share our journey in several blog posts.
Unfortunately there were no direct flights from Hamburg to San José, Costa Rica, so we took a train to Berlin and flew from there via Madrid. We only had one hour between the flights and actually missed our connecting flight in Madrid because the flight from Berlin was delayed. We couldn't continue our journey until the next day and spent the evening exploring Madrid. When we eventually got to Costa Rica our plane couldn't land in San José at first, because of heavy winds, so we had to fly to another airport and wait for the weather to change before we – finally – landed in San José. By the time we got to pick up our rental car it was already dark. (The fact that it got dark around 5:45 pm every day was the only thing that really annoyed me in Costa Rica).
We still had a bit of a journey ahead of us and due to the unforeseen delays we had to drive in the dark – not as planned and I would not recommend this.  Most of the roads in Costa Rica are not easy to drive, either because they are very narrow or steep or rocky or all of this at once. Big potholes are also very common as soon as you leave the concreted roads.
When we made it to our first stop, Manuel Antonio, and had found our hotel, we headed straight to our room and fell into bed dead tired. When I woke up at 5 am (due to jet lag and the loud noises of the howler monkeys) and I opened the curtains to our balcony, I couldn't believe my eyes. Costa Rica greeted us with the above view onto Manuel Antonio national park. Now that's a room with a view!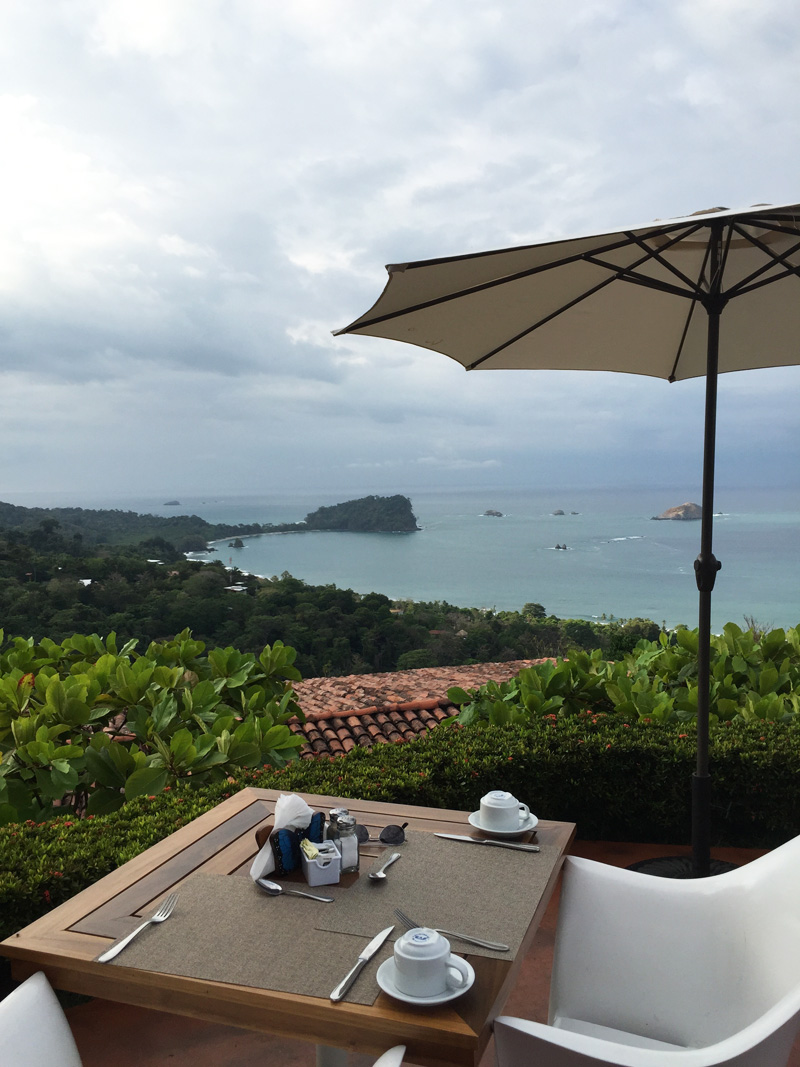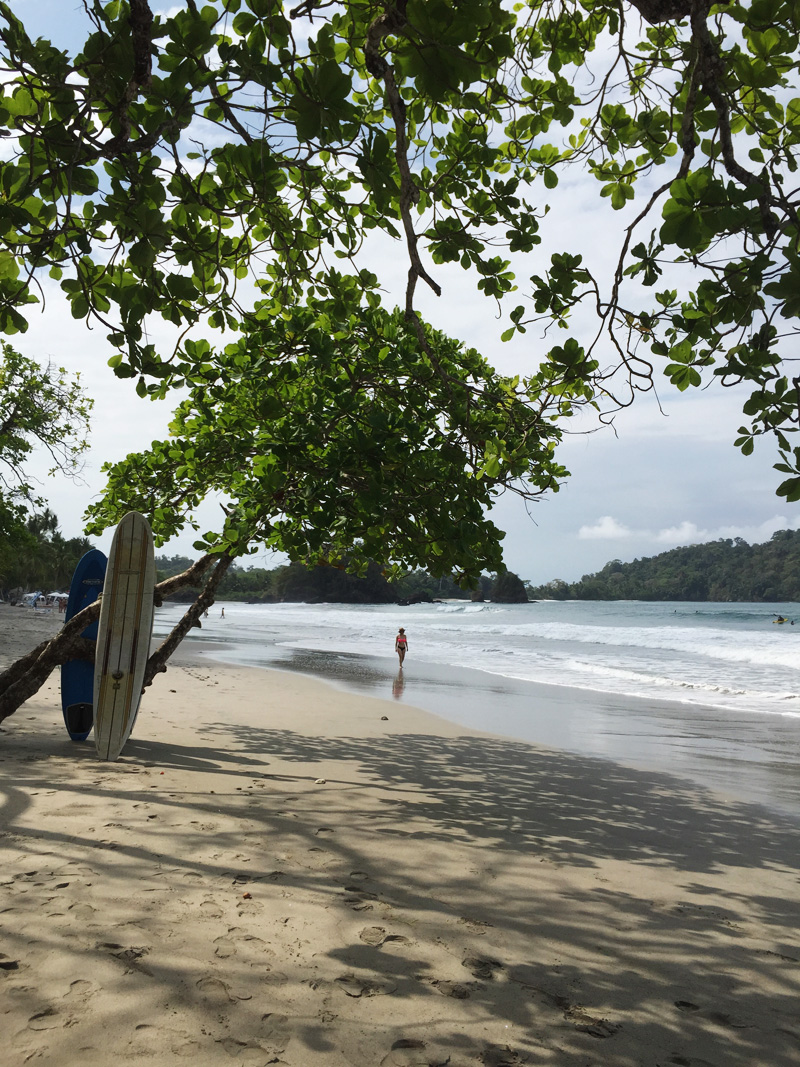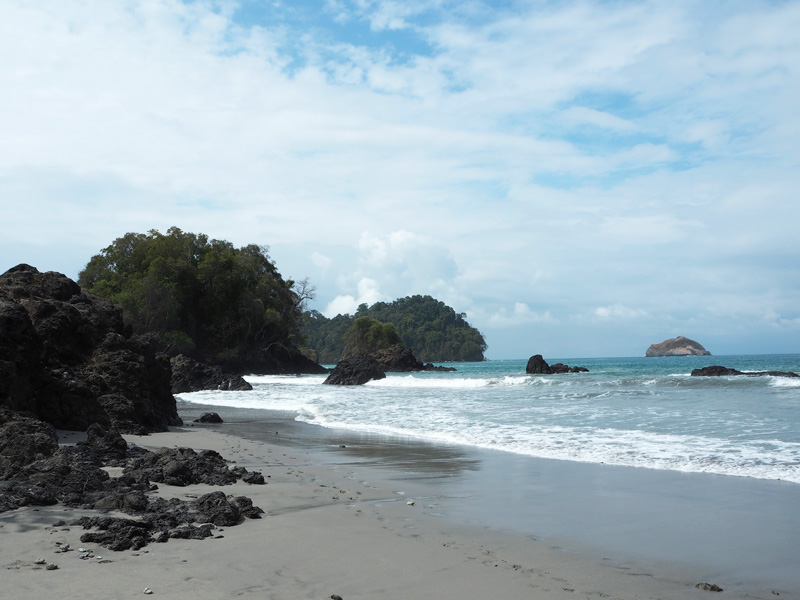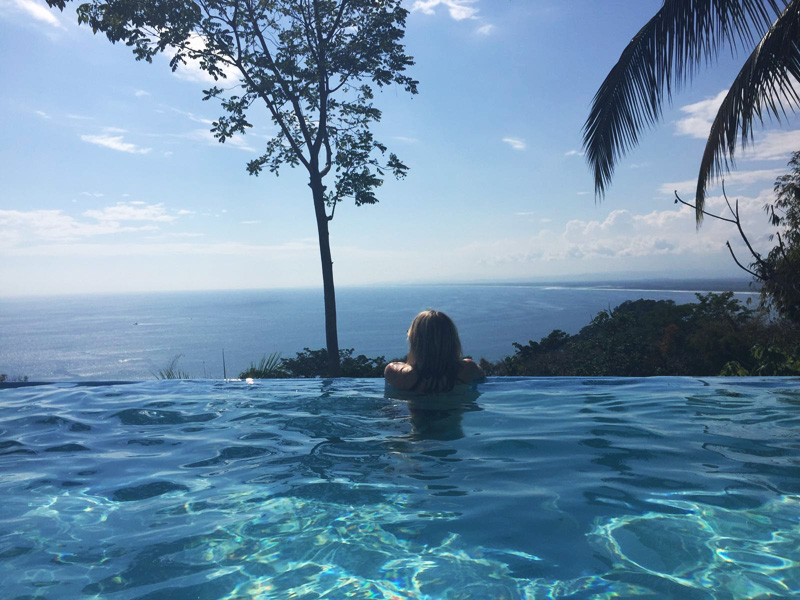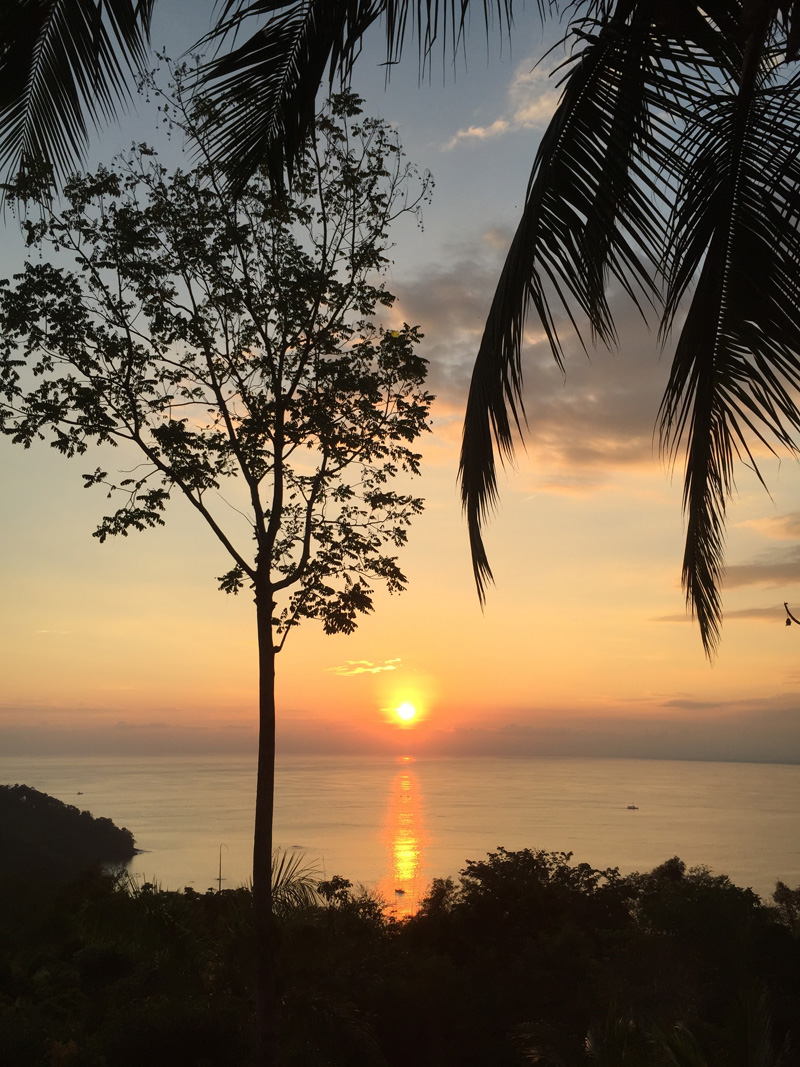 … not just the room, actually. We stayed at Hotel La Mariposa and no matter where you are – in your room, in the restaurant, in the infinity pool, at the pool bar, … – you always have the most amazing view. The hotel has a 360 degree view overlooking the beautiful beaches of Manuel Antonio National Park, the jungle, the Pacific ocean and the coast line. It was stunning! When we watched the picture-perfect tropical sunset while sipping Margaritas I almost could not believe it was real.
After breakfast on our first day we headed straight to the beach – and got sunburned. On our second day we joined a guided tour around the National Park. When I walked around the Manuel Antonio area the first word that sprang to my mind was "lush". Huge pink blossoms, enormous bright blue butterflies, mangos on the trees, green plants and trees everywhere … And then there were the birds, bats, monkeys, sloths, reptiles, raccoons and all the other animals we got to see in the jungle (with more than a little help from our guide). Well, we saw the first sloth when we were having lunch in a restaurant and the sloth was just chilling in a  nearby tree. But it was great to learn a lot about the animals during the tour around the park. Also, the beaches within the park are incredibly beautiful with the most pristine sand and water. You can only reach them when you pay entrance to the park and you are not allowed to take any packaged food, drinks, etc., which helps to keep them clean.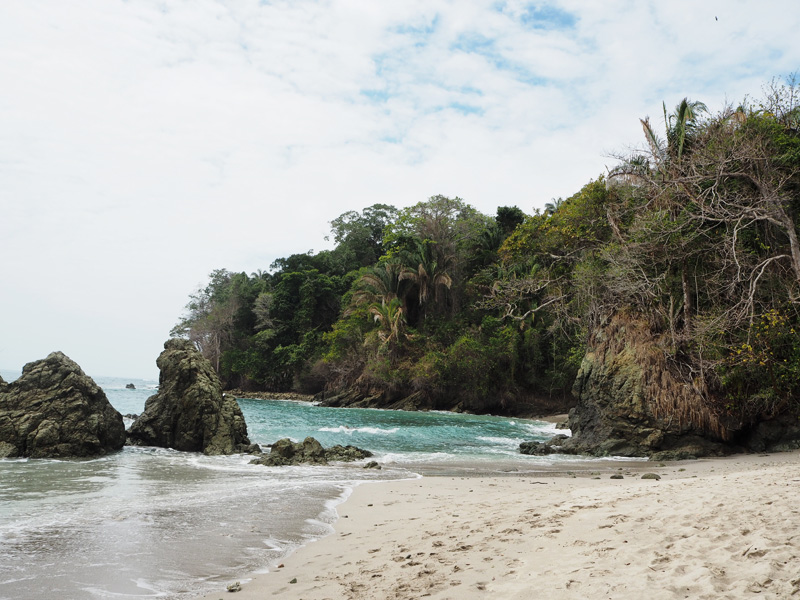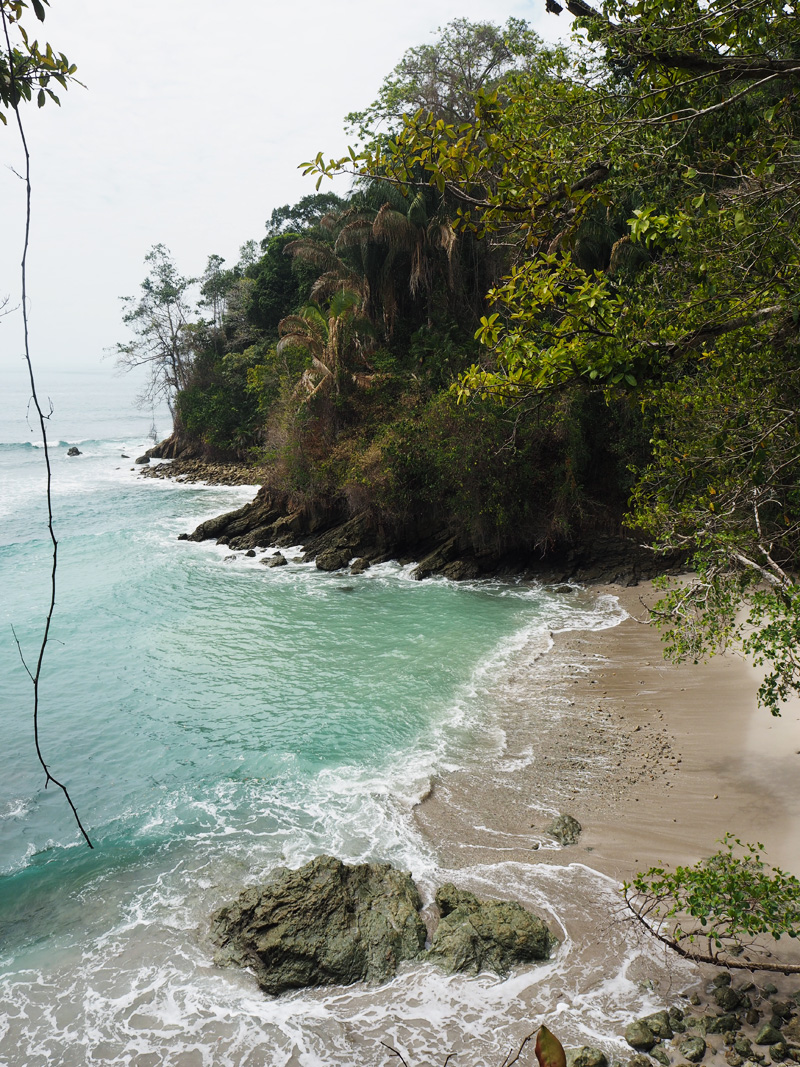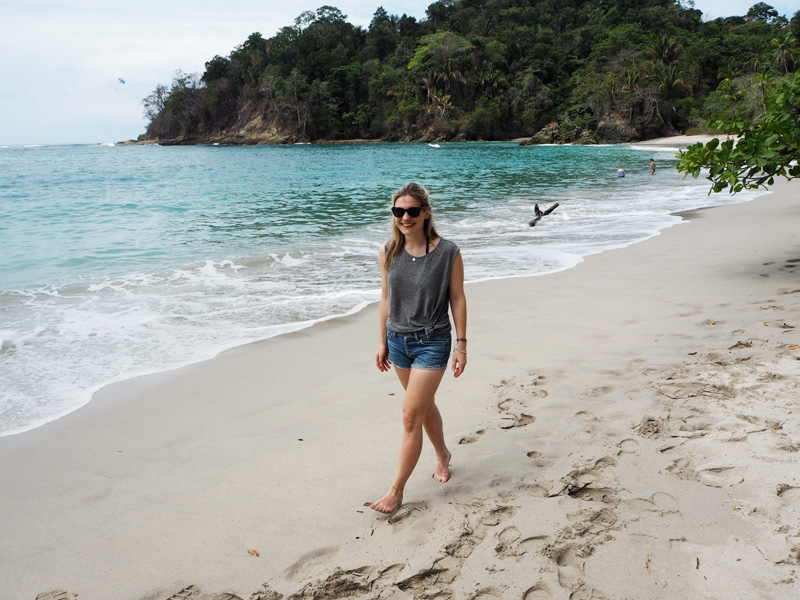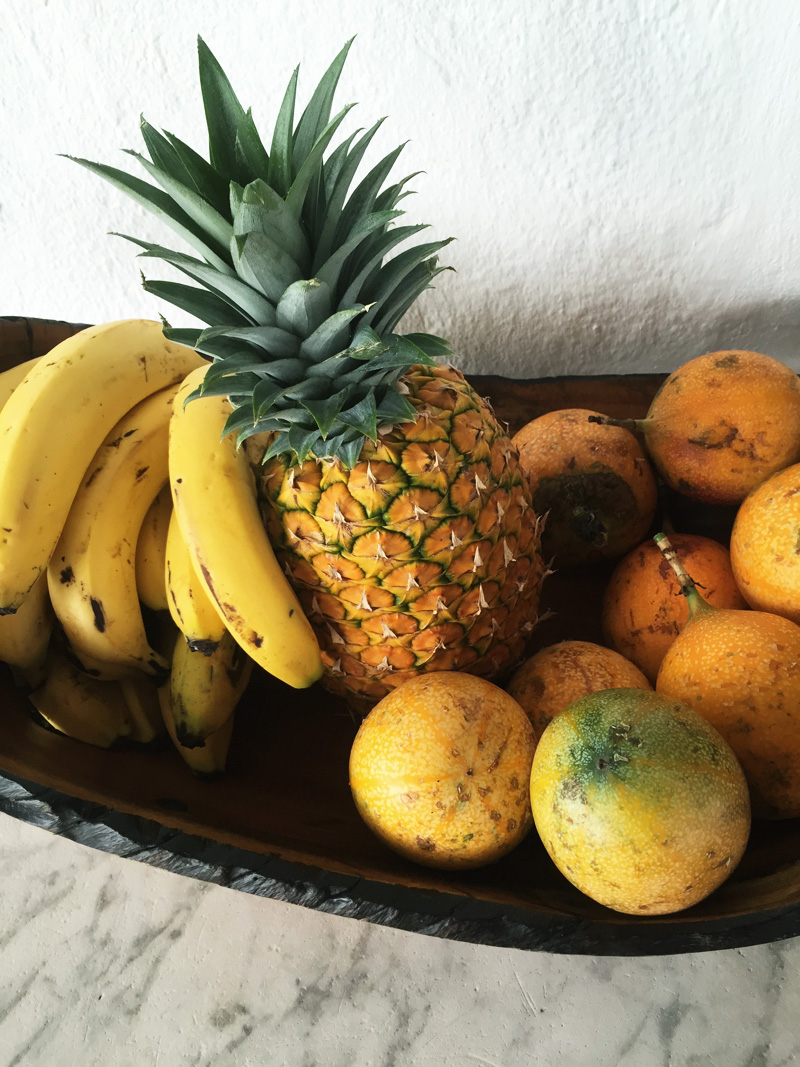 After three nights we packed our bags and headed to a completely different part of Costa Rica. More about this in my next blog post.