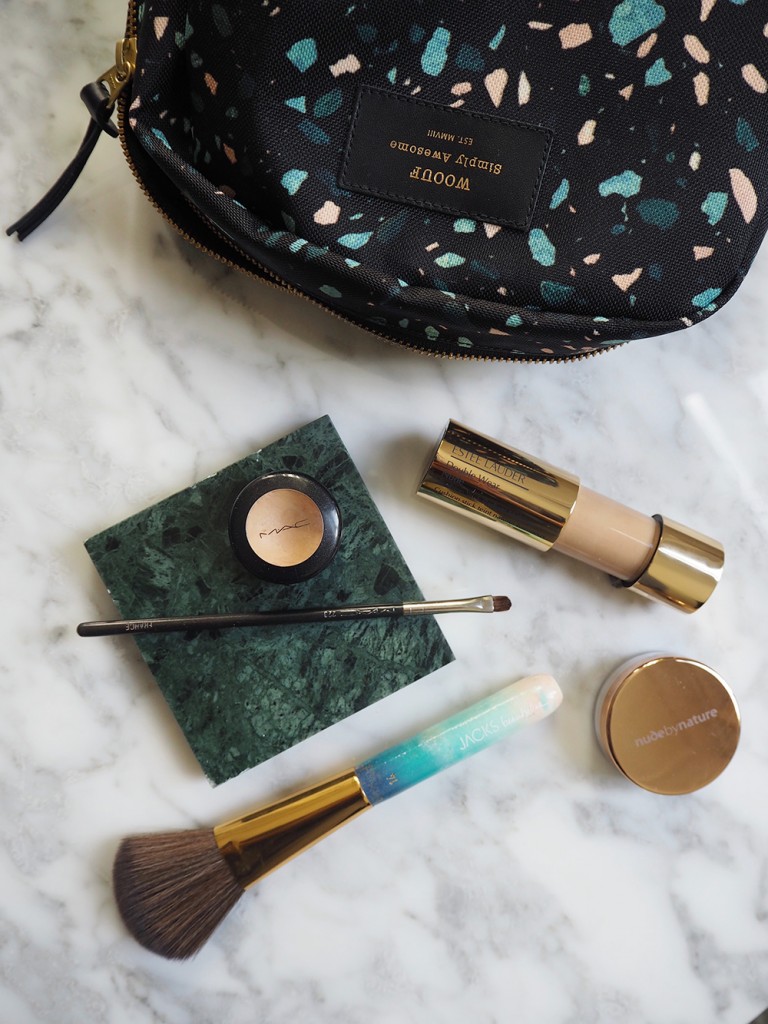 When I'm not on holiday in hot weather (where I wear little to no make-up) or getting ready for an evening event (when I like to wear a smokey-eye or bold lipstick look), I'm following a pretty strict make-up routine. Not because I don't like to try new make-up trends or products, but because I want to limit the time I spend in the bathroom in the morning to a minimum – and, by now, my "standard" daily make-up comes so easily and naturally, that I need less than ten minutes to apply it (and almost don't need to think about it).
Since I'm always curious about make-up recommendations from other women, I thought you might enjoy my morning make-up routine, too. I'll walk you through it step by step.
THE BASE
I start with the "Studio Finish" concealer by MAC (in NC20), which I've been using for years now. Using MAC's 228 brush, I apply it under my eyes, around my nose and use it to cover possible spots. It provides great coverage and is really easy to blend. I then apply Estée Lauder's "Double Wear Nude foundation" (in Desert Beige), which is quite light and feels very nice. It provides light coverage and is great for summer, I think. The cushion stick comes in handy when you travel and don't want to pack too many beauty products (like sponges or brushes). To finish the base I apply some translucent, loose powder – currently I like Nude by Nature's "Translucent Loose Finishing Powder", which I only apply on my T-zone (I like a bit of shine on my cheeks). My favourite brushes are by Jacks Beauty Line, which are vegan, incredibly soft and soo beautiful – for the powder I use brush No. 14.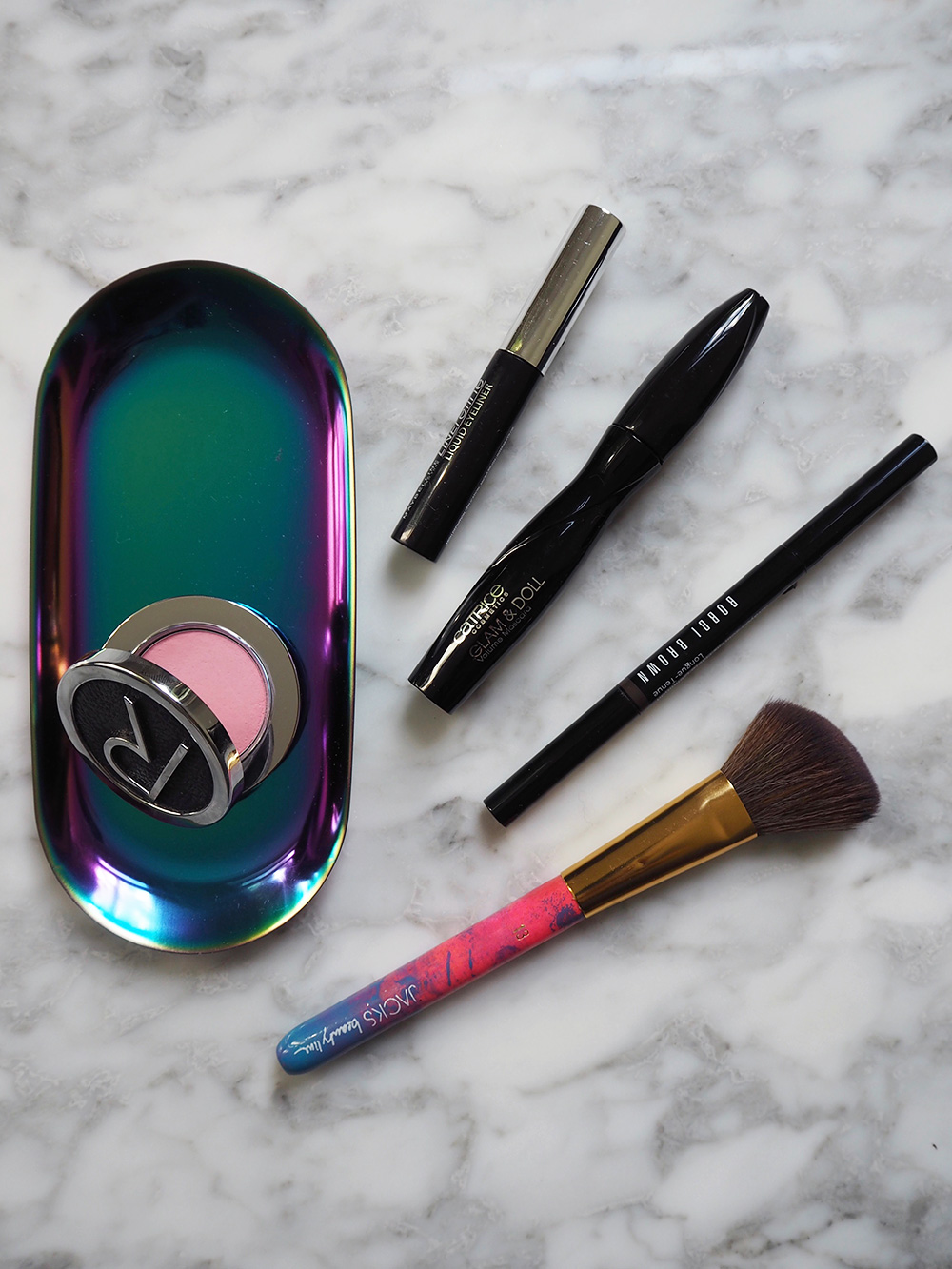 EYES AND CHEEKS
If you know me, you'll be aware that I rarely leave the house without my black "cateye" eyeliner. I can't remember when it started, I only know that I've been practising drawing that line for years (if you need a tutorial, Alexa Chung, obviously, knows how to do it!). I like to use a drugstore classic: Maybelline's "Linerefine" liquid eyeliner (I've learned to do my eyeliner with a liquid eyeliner, so I cannot do it with any of the felt pens, but I've heard that Eyeko's eyeliner is amazing, too). What I also always need is a lot of Mascara! Currently I'm using "Glam & Doll" by Catrice, which can really keep up with expensive brands (I also love Lancôme's mascara!). I always use mascara on the lashes below my eyes, too.
Equally important as the eyes: the eyebrows! I absolutely love Bobbi Brown's "Perfectly Defined Long-Wear Brow Pencil" (in Mahogany), which comes with a little brush on one end.
Eyes are done, now I need some colour on my cheeks. I think, if I ever forgot to use a blusher, everyone would ask me if I'm ill … I like to use a powder blusher and love Rodial's "South Beach". To apply it, I use brush No. 13 by Jacks Beauty.
 THE FINISH
By now, I'm practically ready. All that's missing are the last finishing touches: As I said, I love a bit of shine on my cheeks and for that I use Nude by Nature's "Highlight Stick" (in Champagne). Remember to only apply your highlighter on the highest part of your cheekbones (and maybe some below your eyebrows!). Last but not least: a bit of YSL's "Touche Eclat" under my eyes and left and right of my mouth.
Et voilà!
In the photos: Cosmetic bag by Woouf;  tray by Hay