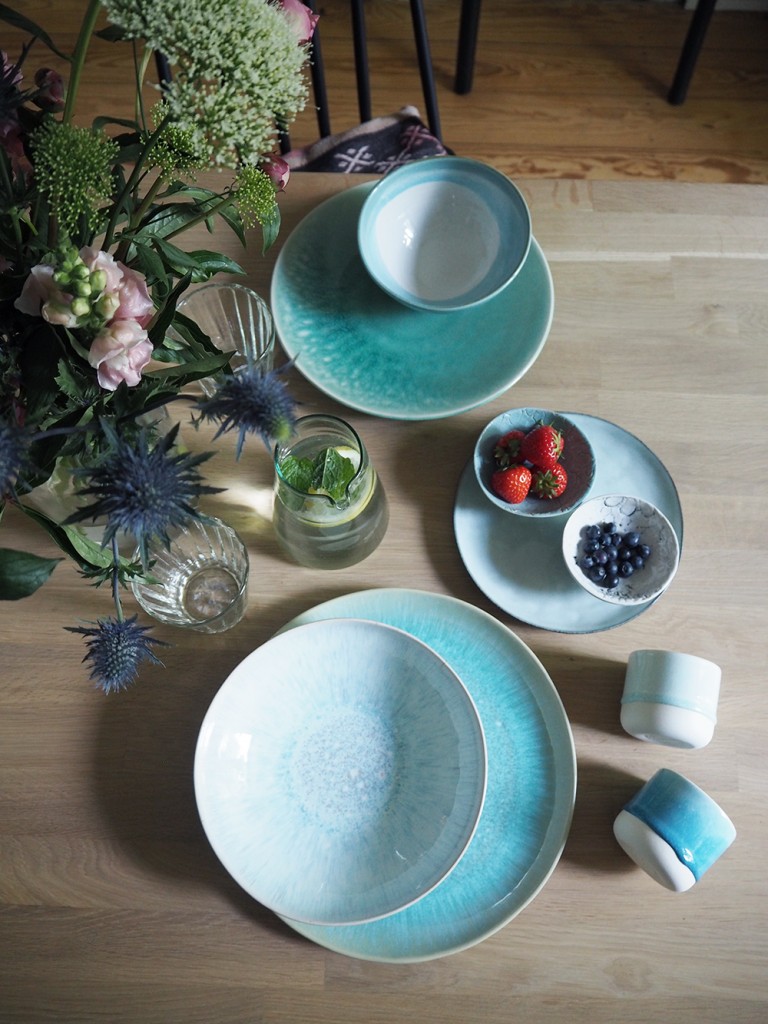 Time for a new round of interior, beauty and fashion disoveries! I always enjoy sharing designers, labels, shops and beauty products, that I find honestly exciting, with you – hope you equally enjoy reading about all this. Since it was my birthday in June (and since I missed this post last month), I have collected a little more than usually.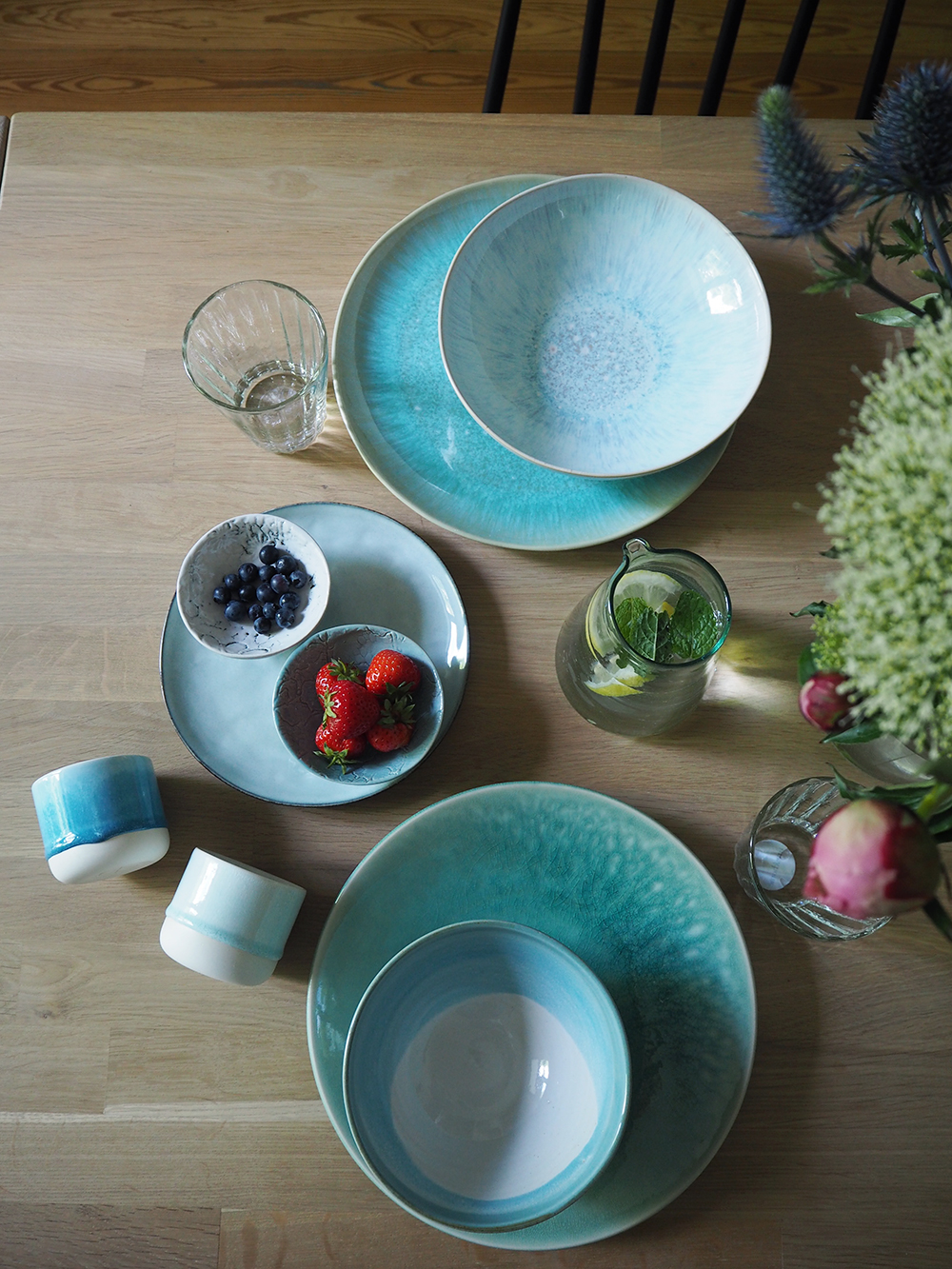 1. LIGHT BLUE CERAMICS
Obviously my friends and family know me well. I was given a lot of handmade – and beautifully matching! – ceramics for my birthday! My parents gave me two cups by Studio Arhoj, which we bought in Copenhagen in April, and bowls by one of my favourite ceramists. Some of my friends gave me plates by House Doctor, and another friend gave me beautiful little vases. … And when Motel a Mio was having a pop up sale in Hamburg, I snapped up some more plates. Now any meal I'm having looks ready to be photographed for a food blog!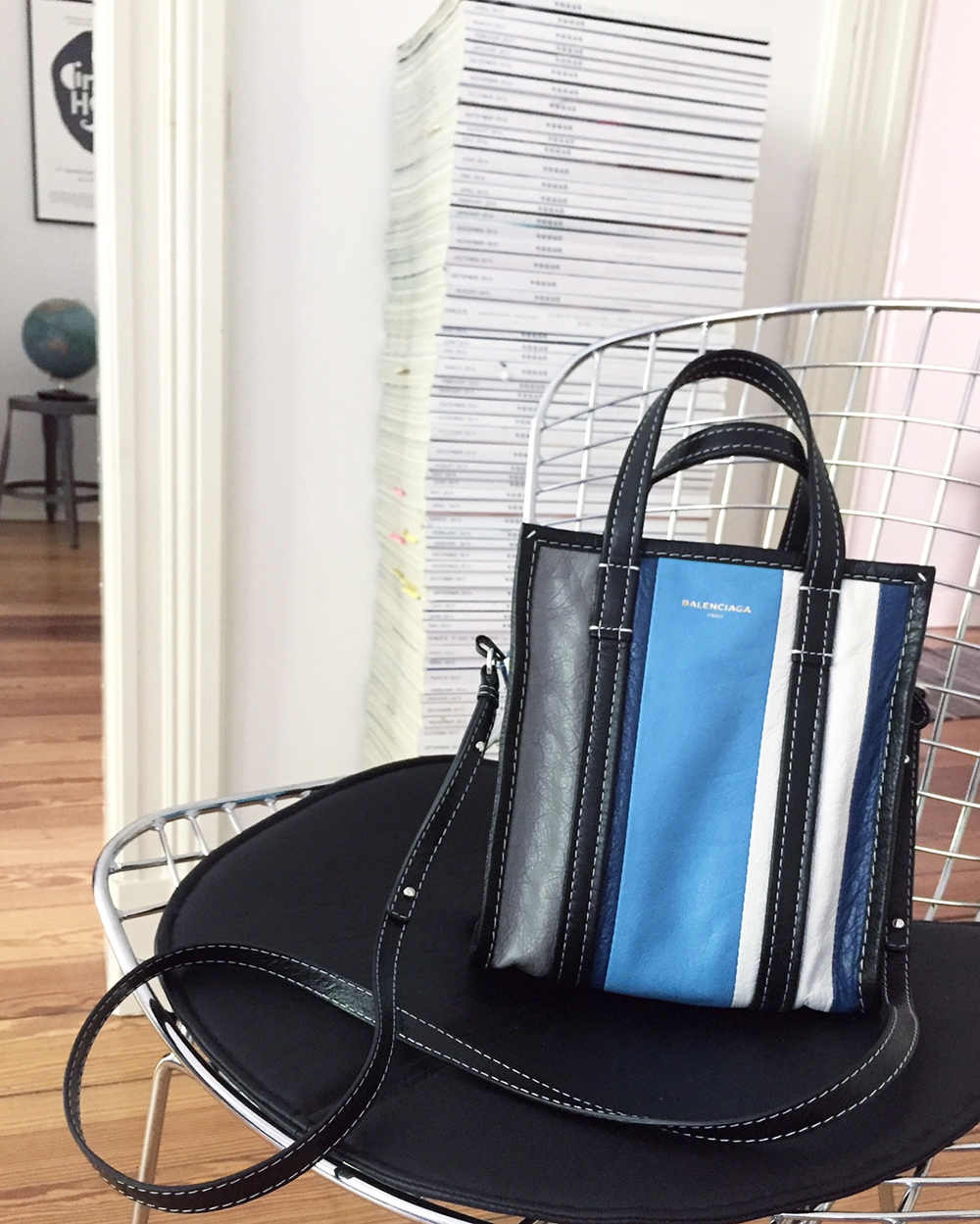 2. BALENCIAGA BAZAR BAG
Here's a gift I made myself (very important to do that from time to time): the XS "Bazar" bag by Balenciaga. This was a total impulse buy for me, seeing that I really only thought about buying it for a few days before clicking "add to cart". It works with anything in my wardrobe and makes me think of sailing and poolside parasols, so no regrets at all.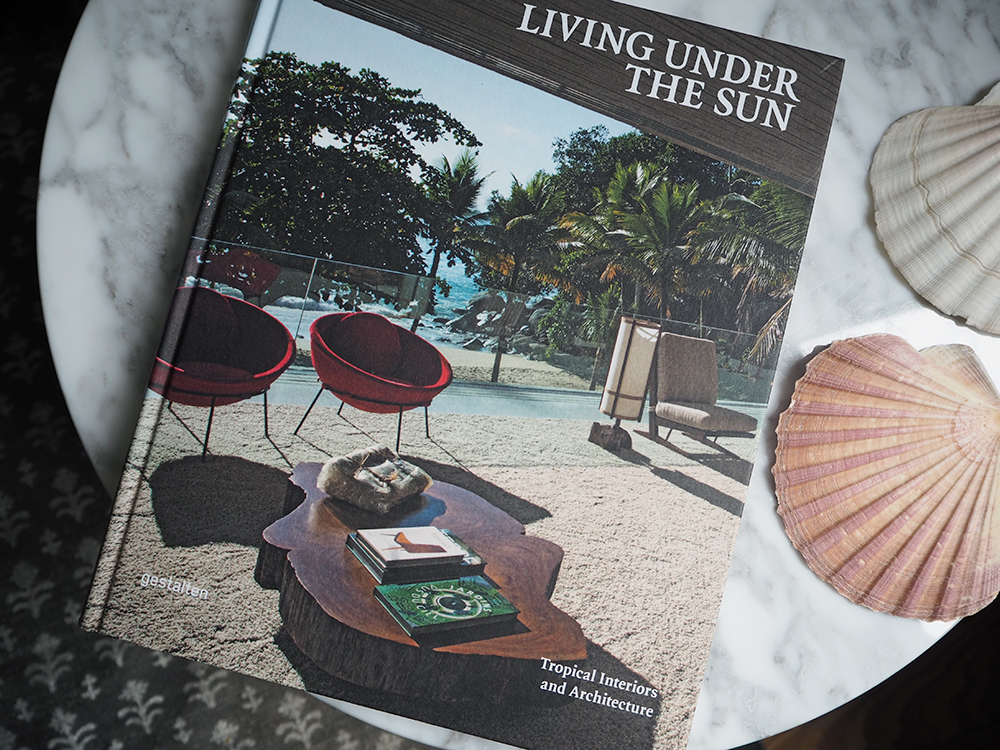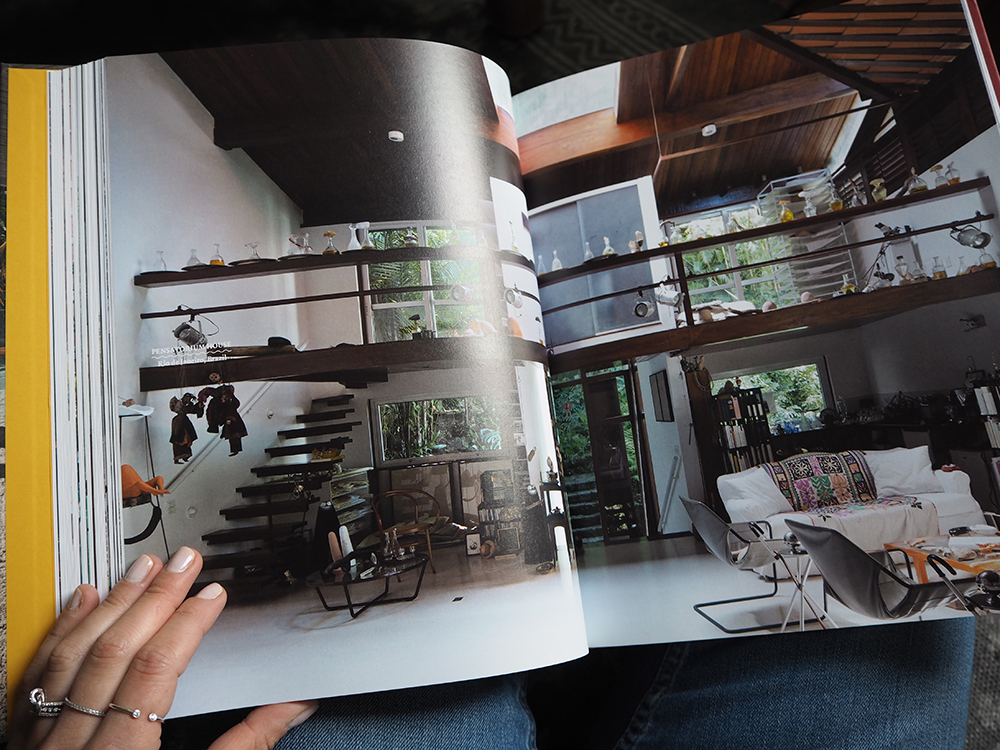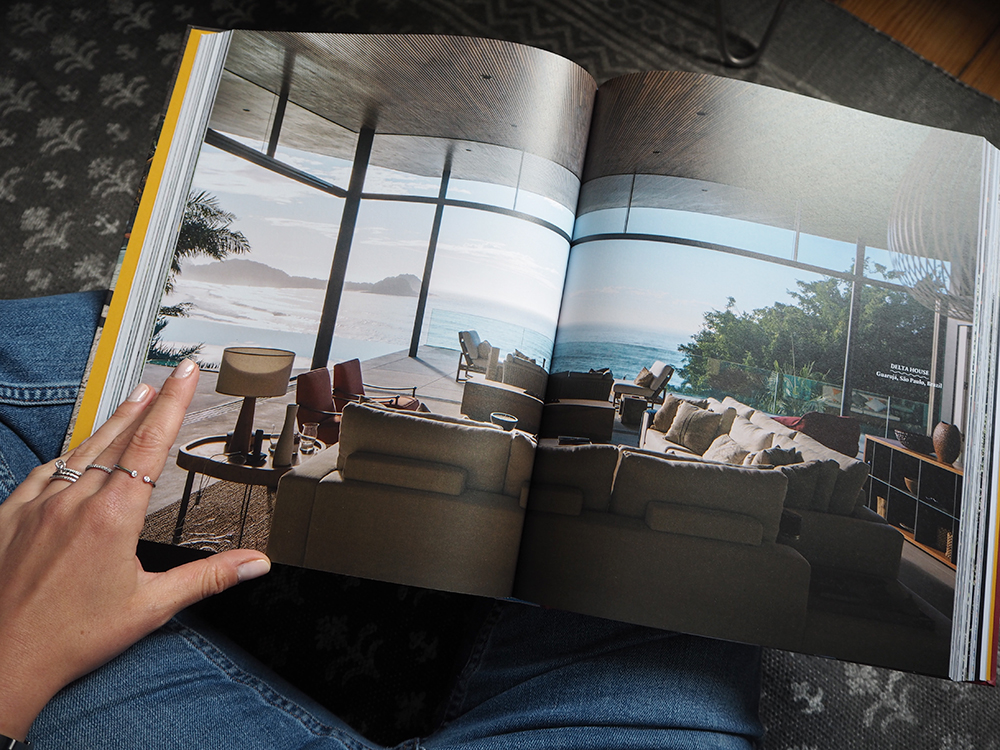 3. LIVING UNDER THE SUN
A secret passion of mine (or not so secret) is architecture – especially mid-century tropical houses (the Sheats-Goldstein-Residence gives me an orgasm every time I look at pictures of it). So, naturally, Gestalten's "Living under the sun", is pure architecture porn for me. A book filled with houses which have more glass than concrete walls (or no walls at all), which are surrounded by palm and banana trees and seem entirely integrated into the landscape. Leafing through this book just makes me happy. And, of course, a tropical house will always be on my bucket list.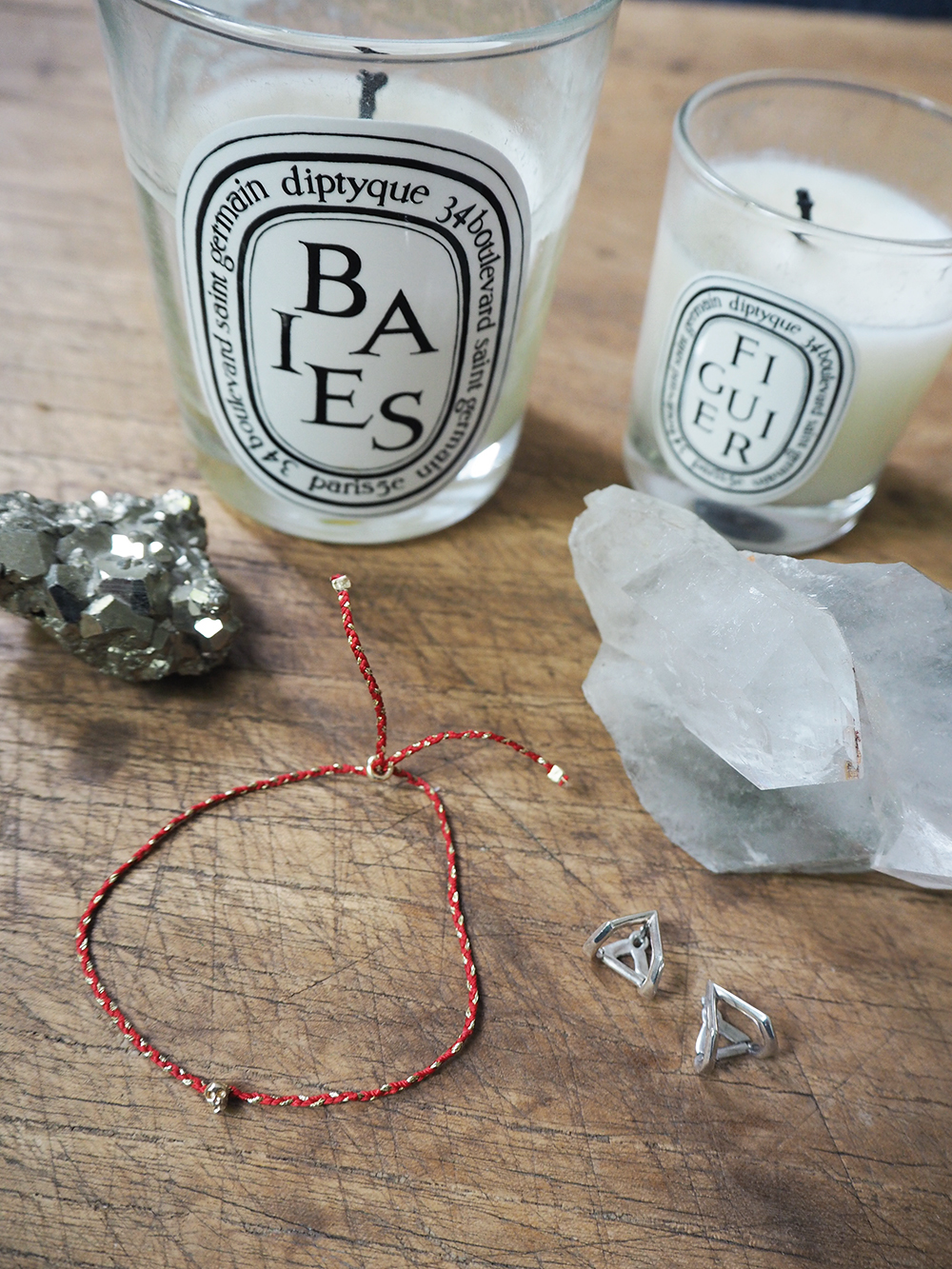 4. IWONA LUDYGA BRACELET
I've written about this Brooklyn-based jewellery designer before: in 2013 I bought her "mini skull bracelet", which I still own and cherish very much. I do not wear it every day, though, because I worry that the delicate silver bracelet might break (that's loving something too much, I suppose). When I saw her "Bali mini bracelet with skull" on instagram, it was love at first sight. It's like a summer version of the skull bracelet – without the risk of breaking a silber bracelet.
The earrings on the photo are birthday gifts by my loving boyfriend.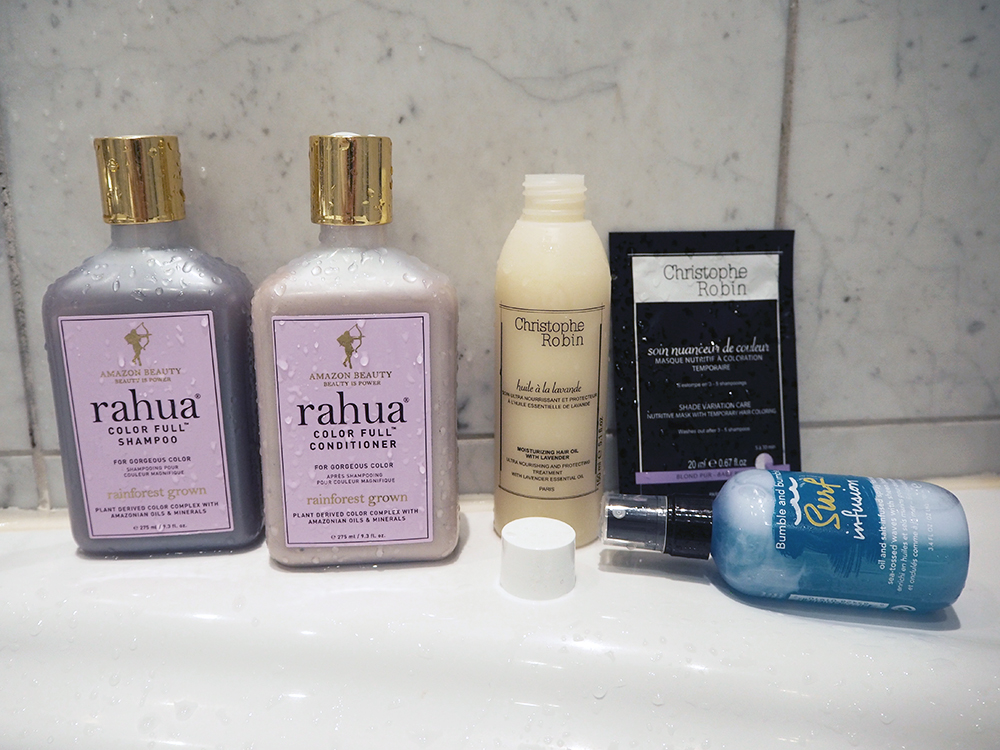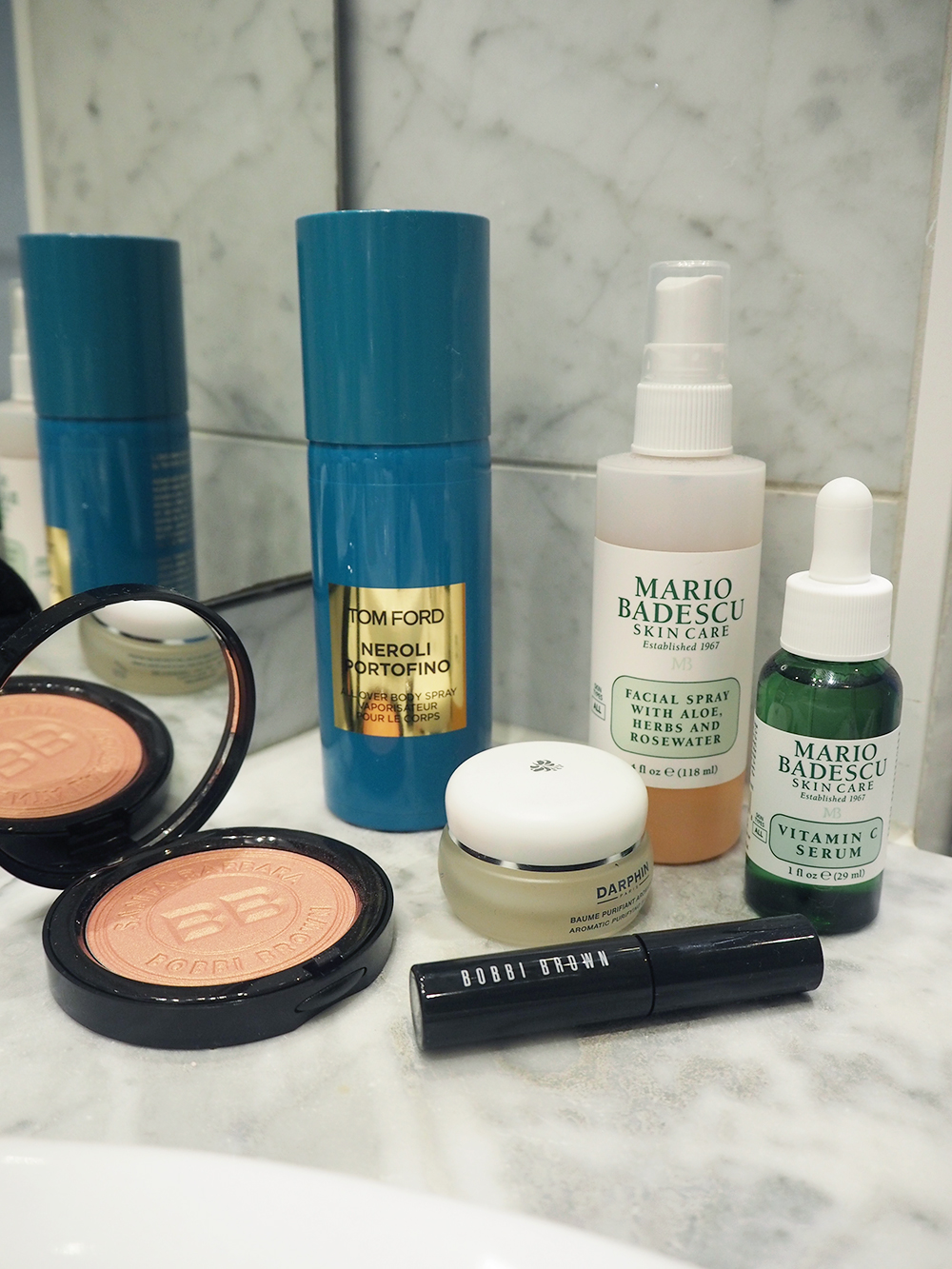 5. BEAUTY DISCOVERIES
This will be a lengthy one … Soo many amazing beauty disdoveries! Let's start with Rahua's "Colorfull" shampoo and conditioner – the new colour care products by the famous natural rainforest brand. I have to say that I was kindly given both products at a press event and that I've never used any Rahua products before. But now that I have, I am a fan! It is not just the beautiful, elegant bottles; their content is even more convincing. The shampoo and conditioner leave my hair incredibly soft! I'd like to try more from Rahua. … And talking of colour and soft hair: You may know I am a fan of  a) hair oil b) cool blonde and c) Christophe Robin. Here are two more products by this French genious: the "moisturizing hair oil with lavender" is like an anti-age night cream for your hair. Whereas the "Shade Variation Care Baby Blonde" hair mask protects your cool blonde hair colour. For the perfect beach waves I add Bumble & Bumble's "Surf Infusion" to my ends and work it in with my hands.
Let's move from hair to face: I think I've already raved about Mario Badescu – and now I need to add another product to the list of magic potions you definitely NEED in your bathroom: the "Vitamin C serum". It's a genious anti-aging product you can easily integrate into your beauty routine. Just massage a few drops on your face every other night before applying your night cream. Talking of which, if you have not tried Darphin's "Aromatic Purifying Balm", you certainly must do so. Don't be mislead by the oily texture – it fights imperfections and balances the skin. And feels so nice.
After so many hair and face care products, I need to share something just for the fun of it, too.  If you're planning a vacation, make sure to pack the following two products: Bobbi Brown's "Illuminating Bronzing Powder" (I love "Santa Barbara"!) and Bobbi Brown's "Natural Brow Shaper" (I use "Mahogany"). Basically the only makeup products you need somewhere warm and sunny. And if you want to smell nice, too, pack Tom Ford's "Neroli Portofino" body spray – it's so much cooler to use a body spray than perfume during summer, and "Neroli Portofino" practically smells like an Italian holiday!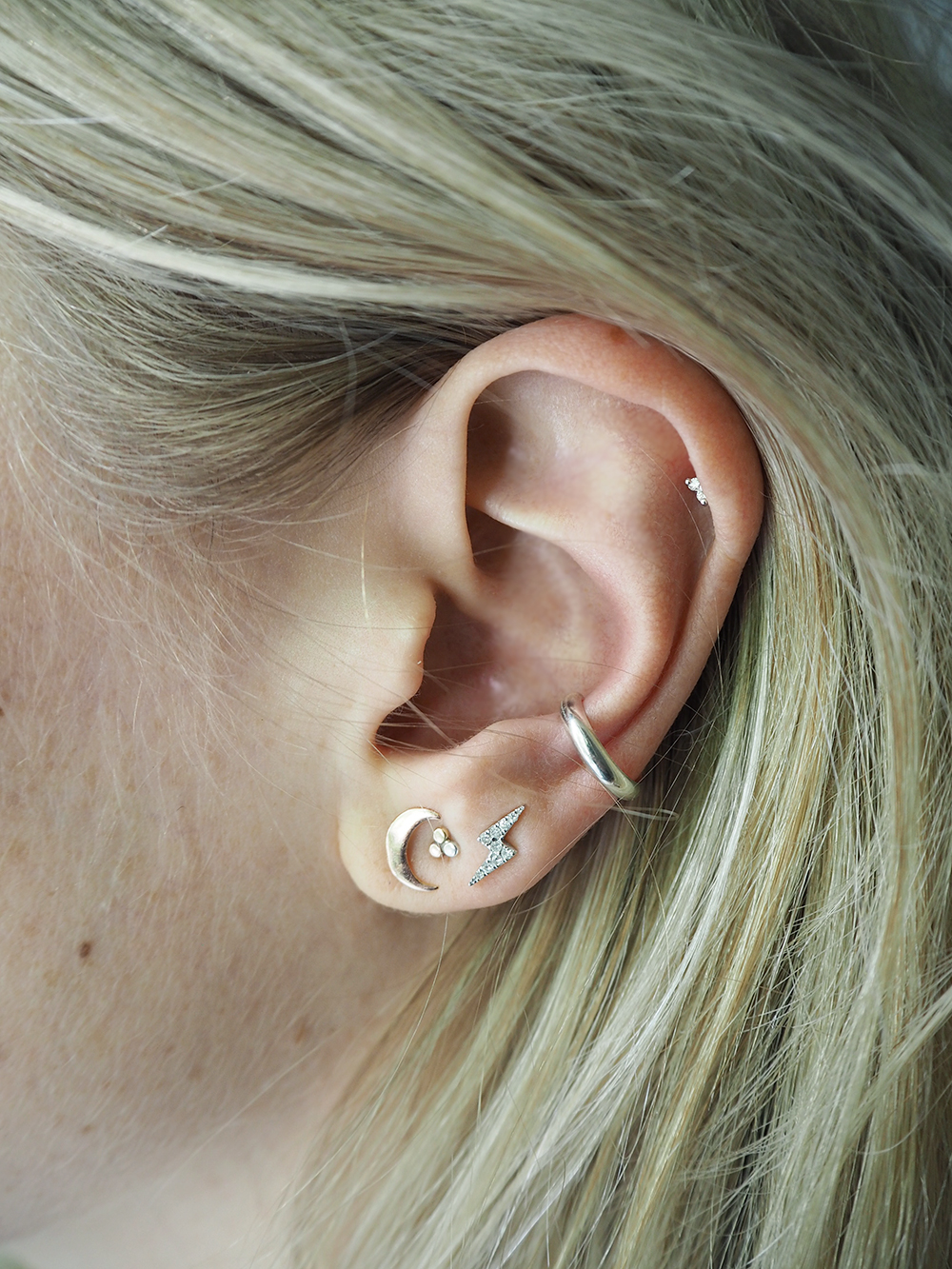 6. DIAMOND LIGHTNING EAR STUD
Sometimes I have an idea, and I cannot get it out of my head anymore. A few weeks ago this ideé fixe was: "diamond lightning ear stud". I knew I needed to add one to my "ear party", absolutely needed to. After an intensive online search, I came across these beautiful micro pavé diamond studs by Emanuel Jewelry Design on Etsy – and bought one right away. When I picked it up at customs a few weeks later and opened the tiny box, I only thought: "it's perfect!".
The moon ear stud and ear cuff are by Catbird. The helix diamond ear stud is by Maria Tash.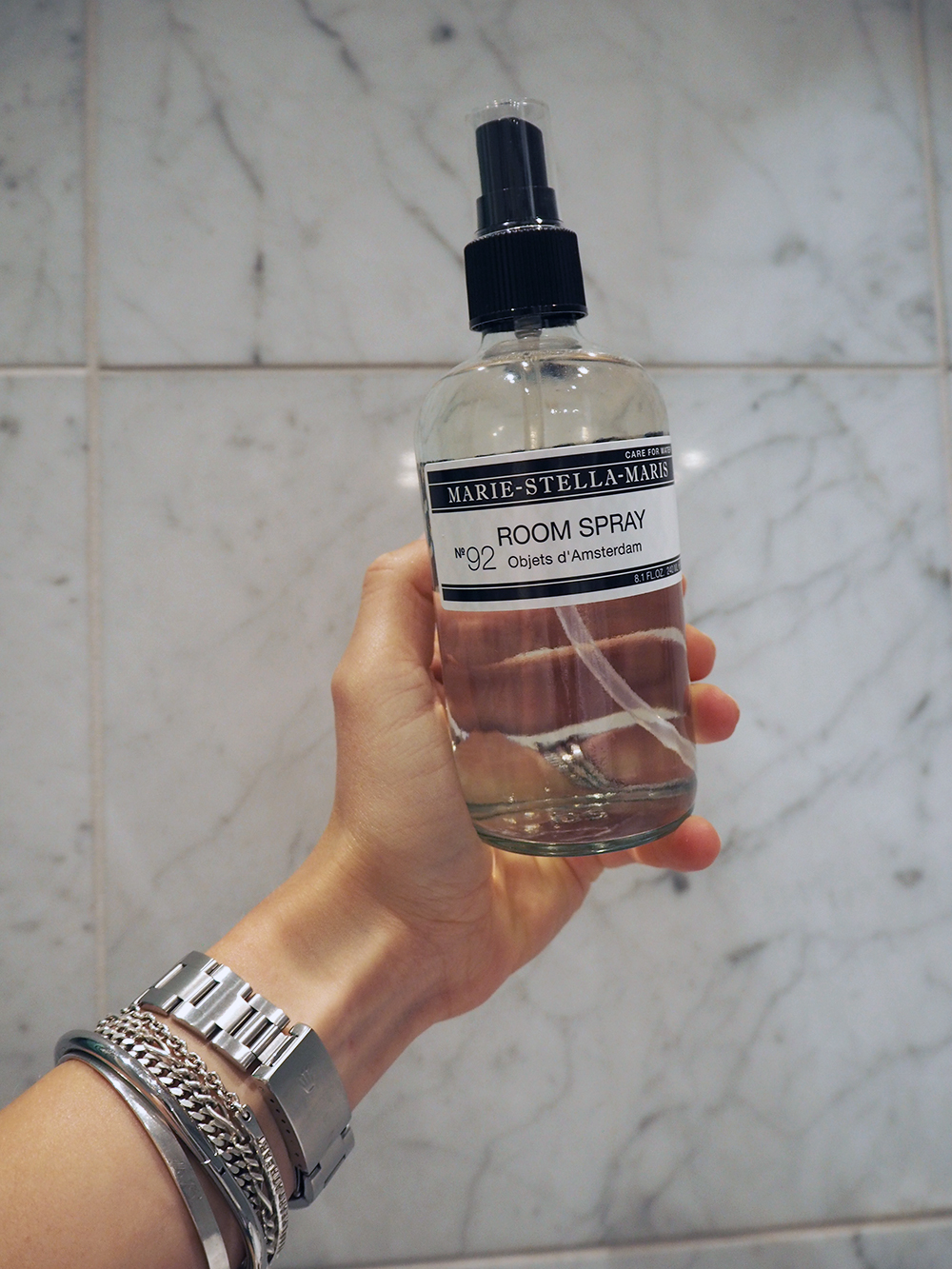 7. ROOMSPRAY BY MARIE STELLA MARIS
It's true that I love (love!) anything scented. I own more scented candles than is healthy for somebody who does not have a store; and a friend once gave me scented matches, which I consider the ultimate decadence yet absolutely adore! My latest obsession: the room perfume by the wonderful Amsterdam-based people from Marie Stella Maris. It smells so heavenly that whenever I spray it in the air, I just want to dance around the room for a while.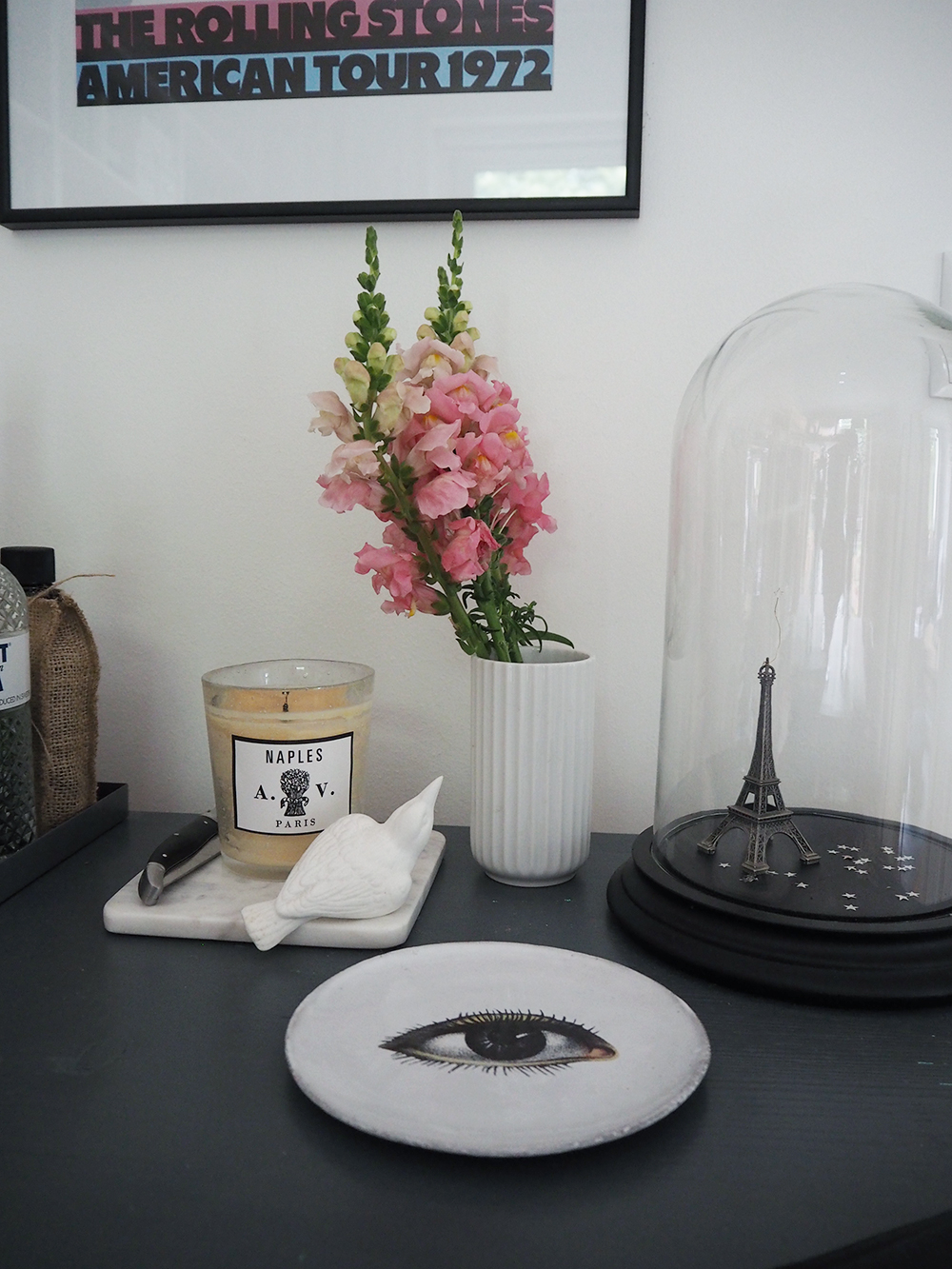 8. SNAPDRAGONS
Maybe you've spotted the peonies on the above photos. They're my favourite flowers and I always get so excited when they start to bloom in June. The summer bouquet of my dreams also contains snapdragons, thistles and anything that blooms on a summer meadow.
The white vase is by Lyngby Porcelain. The eye plate and scented candle are by Astier de Villatte.