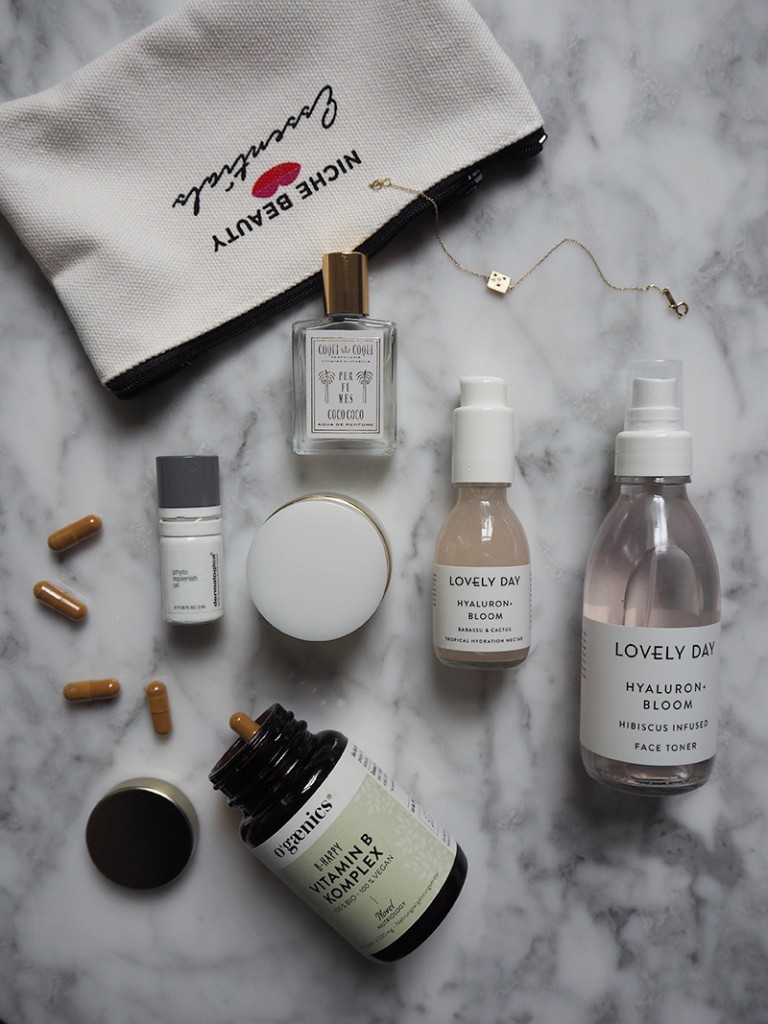 I guess I could also call this post "beauty favourites", because thematically it's a little biased. The reason is simply that I love trying out new beauty products and haven't indulged in a lot of "new season shopping" yet. Still, there are several favourite things I can show you this month.
1. BEAUTY DISCOVERIES
It's about time I tell you about the above products. I have been using Eve Lom's eye cream for weeks and it's one of the nicest eye creams I have tried so far. It does not irritate the area around my eyes but makes it feel nourished and calmed. Grade: A! When I was sent the new "Phyto Replenish Oil" by Dermalogica, I did not know what to expect. Now that I have been using it a few times, I can honestly recommend it. I am usually a little skeptical about face oils because my skin tends towards impurities, but when  I apply this oil in the evening, I wake up with skin that looks refreshed and smoothed! And talking about refreshed skin: You may know I am a big fan of face mists – and my newest addiction is the "Hyaluron + Bloom face toner" by Lovely Day Botanicals. So nice! I am also currently trying out their face nectar and "coco gloss" (coconut!) hair serum. All of their products look and smell amazing, they're natural, vegan and they actually work! Another recommendation: I usually don't take supplements but when I heard about Ogaenics' "Vitamin B complex" I was hooked. The capsules are vegan and contain a mix of vitamins from organic ingredients that will help you to stay healthy during hectic times.
Also in the above photo: my beautiful, delicate gold bracelet by Anni Lu, which reminds me of summer, a mini version of Coqui Coqui's "Coco Coco" perfume, which I am currently addicted to, and little cosmetics bag by Niche-Beauty.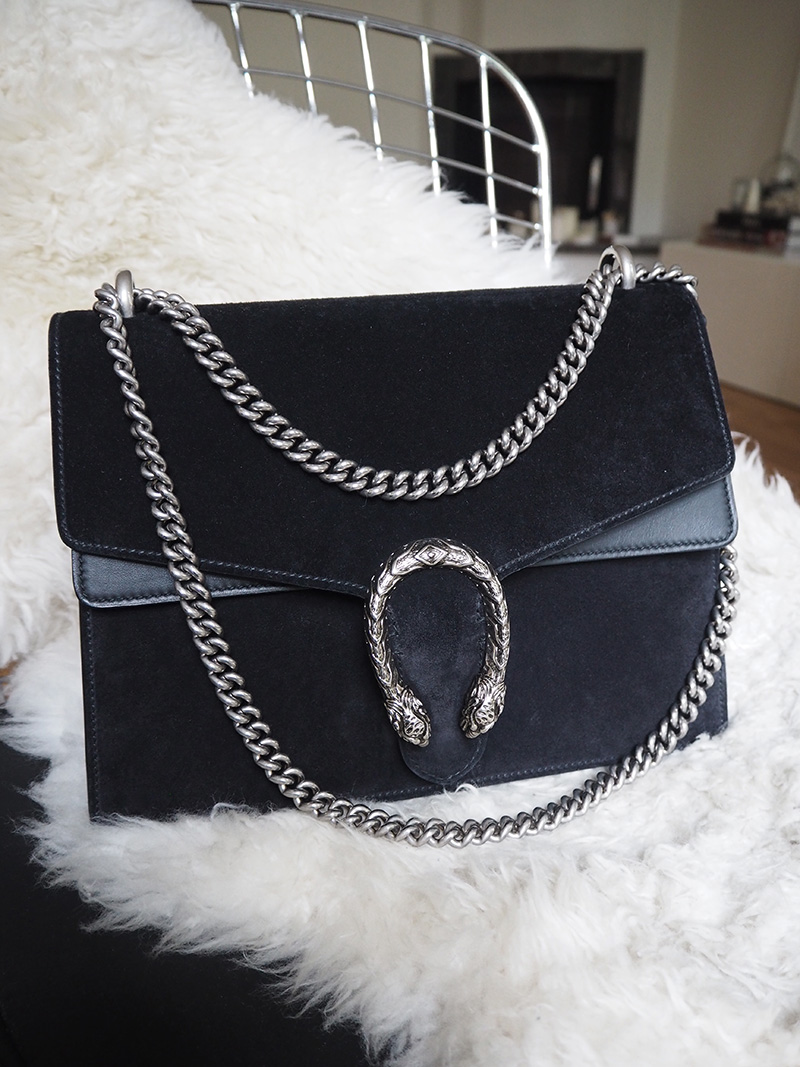 2. GUCCI DIONYSUS BAG
I have already written about my new Gucci Dionysus bag here, but of course I have to include it in this list. It accompanies me almost every day at the moment.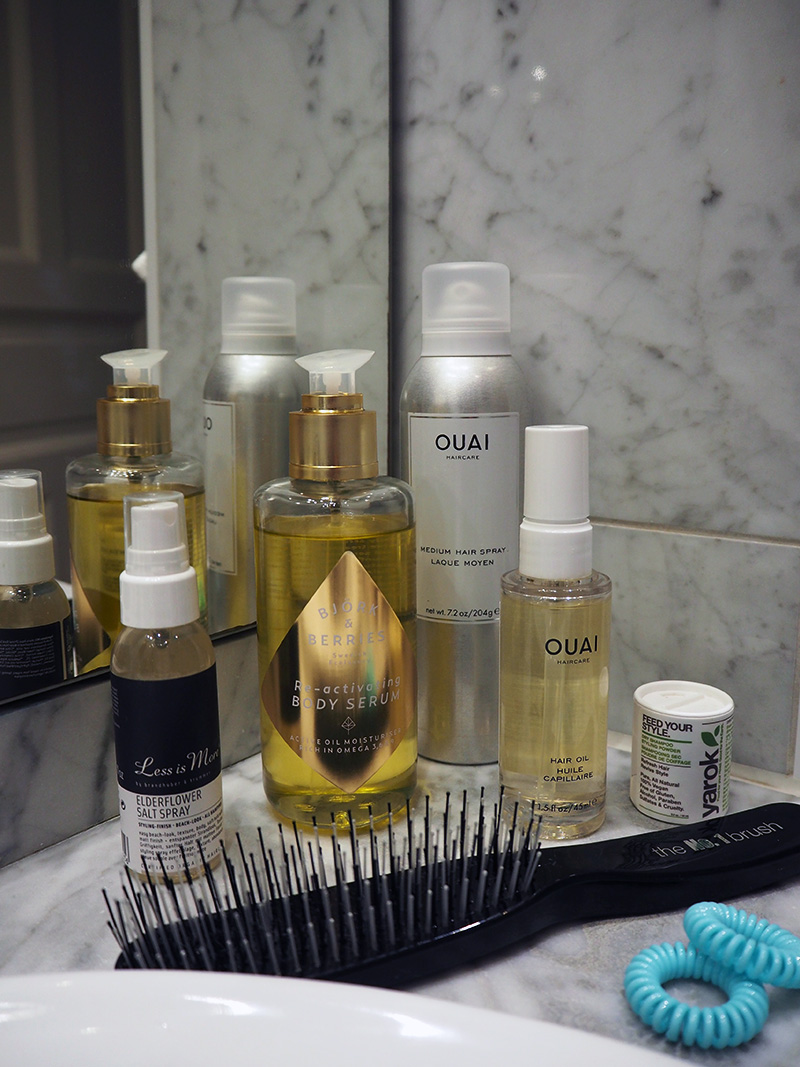 3. HAIR CARE FAVOURITES (AND A BODY SERUM)
I have already shared some of my favourite shampoos and hair treatment sprays, but I need to tell you about Ouai's hair oil, too. It smells wonderful and makes my (formerly) dry ends look really healthy! I also like their medium hair spray, which holds your hair in place and gives it a little more structure without being sticky. After using the hair oil I spray some sea salt spray into my hair upside-down to give it more volume. I currently like the "Elderflower salt spray" by Less is More. When I think my hair looks a little flat later on in the day, I sometimes use Yarok's dry shampoo powder to freshen it up (just don't use too much of it).
Okay, here's a confession: it's a bit paradox, but while I absolutely love hair treatment products I use almost no hair tools. Hair dryer, yes. But straightening iron, curling tong and the likes? Too much effort! However, I have recently discovered a hair brush which is actually, seriously amazing! It's called "The No. 1 brush" and it's by Michael Van Clarke. It doesn't feel like you're brushing your hair, because it's so soft and careful, even when your hair is wet. It feels almost like a delicate massage. I love it! Same goes for Invisibobble hair bands – I was probably the last person to discover them but now I understand why they're so popular. I love them because they don't damage my hair when I tie it back for my workouts.
Last but not least: not a hair care product, but still a new favourite: the "Re-activating body serum" by Björk & Berries – it smoothes and nourishes the skin visibly. I use it on my whole body before I go to bed because it's quite rich.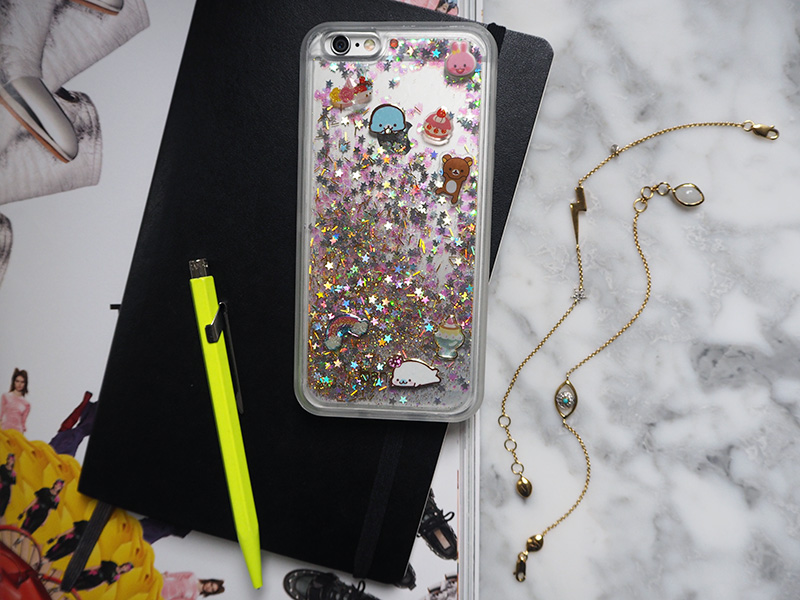 4. BAN.DO IPHONE CASE
I have been keeping my phone in a water glitter case every since I first discovered them last year. I had bought both my iPhone 4 and iPhone 6 glitter cases from eBay. When my case broke because I dropped my phone, I decided to invest in a "softcover" version by Ban.do which I found at Hello Love Hamburg. I think it's a little more high quality. 😉 I added some Japanese stickers to make it even more fun.
The bracelets in the photo are by Missoma.
5. REARRANGED BOOK SHELVES
In my previous blog post I wrote about rearranging my book shelves, and here's the result. These are (by far) not all of the books I own, but they needed some more shelves so they can stretch out a bit. Now I'm thinking about changing the pictures in the living room …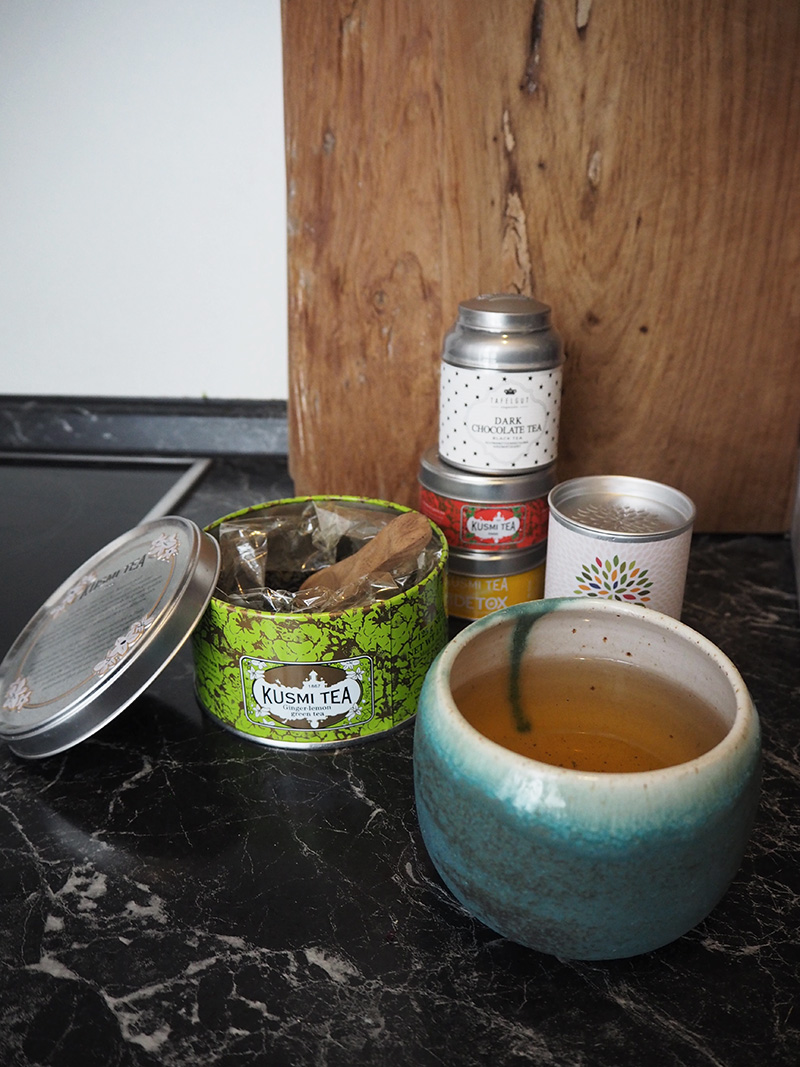 6. TEA TIME
Simple pleasures of autumn: rediscovering my love for tea after a several months long affair with iced coffee. My favourite is green tea, sencha and matcha to be precise. Kusmi Tea's ginger and lemon green tea is very nice. And my personal tip: vervain tea. I love to drink it in the afternoon and evening. Give it a try!
The ceramic tea cup in the photo is by Sinikka Harms.